Bon Bon is one of the most celebrated restaurants in Brussels, applying modern techniques to classic dishes. Angela Dansby visits the kitchen to meet chef Christophe Hardiquest and taste the delicious concoctions
Growing up with a great cook can make it easier to become one. Case in point, Christophe Hardiquest, chef of two-star Michelin restaurant Bon Bon in Brussels, learned from his late Flemish grandmother how to make the best of homegrown ingredients and traditional Belgian recipes.
"When you grow up in the countryside and have access to all the naturality of animals, vegetables and everything your grandmother is cooking every day, you become addicted to this kind of life," he says. "I bring that spirit into my kitchen."
That country spirit is also reflected in Bon Bon's location: it is perched on the Avenue de Tervuren in Woluwé-Saint-Pierre, just before the Forêt de Soignes.
Hardiquest describes his cuisine as "intuitive, classic and modern." He makes traditional Belgian recipes with new techniques and daily influences around him such as extraordinary ingredients, staff and art. He is known for sourcing unexpected, rare ingredients like raw, little shrimps from the North Sea directly from fishermen or huge morel mushrooms dug up 15km from the restaurant. As many ingredients as possible come from Belgium and the rest mainly from neighbouring France.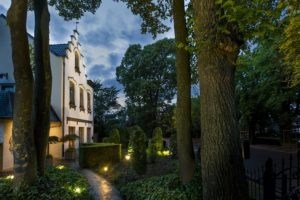 He has two gardens – one outside Bon Bon, with unusual herbs and an olive tree, and another in Flanders. He even recently adopted two goats to make cheese for the restaurant – while wooden sheep are Bon Bon's primary four-legged mascots, greeting diners at the door and holding handbags at each table.
The result is an atmosphere of inclusiveness and intimacy at Bon Bon with an open kitchen, chefs working on a long counter in front of guests (which has six dining seats) and convivial, meticulous staff. Everything operates like clockwork. "The kitchen and dining rooms are in the same room because it creates feedback and a union between cooks, waiters and guests," he says. "It's very important to create this kind of spirit as it can be boring in a restaurant if it's too serious.
Tradition, technique and travel
While the atmosphere of Bon Bon is warm and inviting, its food is taken seriously. "When you eat with your eyes closed, you can feel that this is the cuisine of Cristophe Hardiquest," the chef says. "I'm a real cook. The two most important things in a dish are presentation and gourmandise."
Hardiquest says he wants to stay true to traditional Belgian recipes and cooking techniques. He does not try to trick the palette as in molecular gastronomy. "For me, molecular gastronomy is dumb," he notes. "I want to serve a very natural, gourmet cuisine."
Besides his grandmother's cooking, Hardiquest's creativity is inspired by visual arts and travel, learning unique techniques from chefs from different countries, even in his kitchen. "I'm very open as a citizen of the world," he says. "We have 14 different nationalities represented in my kitchen. I don't want to work with only Belgians."
Cultural sharing inspires his menus. Every Friday night he asks a staff member to create a new dish to develop his or her creativity. If good enough, the dish can make it on the menu.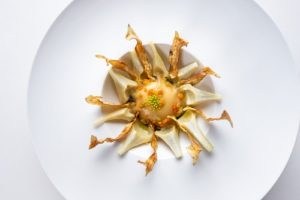 Service is also crucial. Before every lunch or dinner, the maître d' goes over the list of guests, noting who is who, special occasions, allergies, etc. "We take care of guests all the way," Hardiquest notes. "I work with my heart, and it is most important to be happy. It's hard for me to be only a businessman because I'm too human."
Cream rises to the top
Bon Bon's success also comes from hard work and determination. Hardiquest opened his first restaurant, if we can call it that, in a friend's furniture store, starting the trendy pop-up concept in Brussels. "I started alone 17 years ago without money," he says. "Now we are 26 workers together. I'm happy I found a solution myself, without a bank, without loans. It's like an American dream. But I made it in Europe."
In 2011, Hardiquest moved Bon Bon to its current, leafy location in a Dutch-style home. In 2018, the kitchen was retrofitted with new equipment and a dining terrace was installed next to the garden. To keep his staff employed during those two months, Hardiquest set a pop-up bistro.
"What I love is to be where people don't expect me," he exclaims. "It's fun to create a surprise because it brings people together with curiosity, creating a good mood. Sometimes restaurants are boring for me. I want to be in places where people are laughing together!"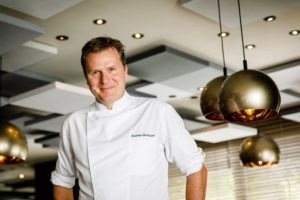 To this end, Hardiquest predicts haute cuisine at large will change in the next decade, becoming more playful, with new creative concepts, less formality and different business models. "People want to eat well, be healthy and enjoy themselves," he says. "For example, I'm thinking of a new way to cook for the next 10 years – not a pop-up, not really another restaurant. Something different."
Hardiquest predicts that high labour costs and the need to think differently will create new business models. A few years ago, he reduced Bon Bon's opening days from six to four (Tuesday-Friday) to give his staff and himself three-day weekends. "You can find a balance in your life and for workers," he says. "We need to change the mentality of the restaurant industry. How can you ask people to work 16 hours per day six or seven days a week? They are not objects, they are human beings. This is one of the best decisions I made to keep my staff, see them with a nice energy, and have continuity with my cuisine and business."
Hardiquest is also on board with other trends among chefs to preventing food waste, eliminating single-use plastic and using environmentally friendly products – his efforts include making his own compost. "Step by step, we want to respect life and the planet," he says. "For me, the future is halfway between 50 years ago and today with new techniques and a new vision of the world: more hand-pressed, close to people, close to the earth and close to the climate."
More importantly, he wants guests of Bon Bon to have a wow sensation after a meal and to feel part of his family there. "I want to give the best quality I can. I want to see all guests with a smile when they go out," Hardiquest says. "Otherwise, they don't need to go to a restaurant. They can stay at home and share good wine and cheese with friends."