Belgium does beer and bars brilliantly, but it's not so obviously hot about coffee and cafés. As Costa Coffee attempts to bring the bean to Brussels, Helen Lyons asks if Belgians are ready for takeaway pumpkin lattes – or if they just prefer sipping their espressos slowly.
If you order a coffee in a Belgian restaurant, blendmaster Manuel DeMets has some advice on what to expect: it should be a short-extracted coffee – a mokkatje in Flanders or a petite espresso if you're ordering in French. The blend should be Arabica: floral, sweet and round. "If the restaurant respects the customer," DeMets says, "you'll have a little speculoos or chocolate beside the coffee."
And most importantly, the 120ml pull should be topped with a long-lasting cream. "If there's no crema on top, that's a catastrophe. Refuse to pay. Throw it in the face of the barista."
He jokes, but DeMets knows his coffee. He completed his culinary studies in his native Belgium, but he has travelled all over the world – most recently with Belgian coffee company Rombouts – and he owned and operated a cafe in Brazil for years.
But his coffee expertise is rarely heard. In a country renowned for its beer, waffles and chocolate, the Belgian fascination with (and expertise in) coffee is often overlooked.
Belgium has a chapter in the Specialty Coffee Association (SCA), boasts multiple barista champions: Kenny Burssens of restaurant Invincible in Antwerp and Kathleen Serdons of Hasselt took home best-espresso awards, and Rudy Dupuy of Malongo is a two-time latte art champion in France, just to name a few.
And there's enough of a market for even the big-name chains are starting to take notice: Costa Coffee is joining Starbucks in setting up shop in the capital of Europe, with a first wave of openings targeting Brussels, Antwerp, Ghent and Liege, and plans for Mechelen, Bruges, Leuven, Hasselt, and Charleroi to follow.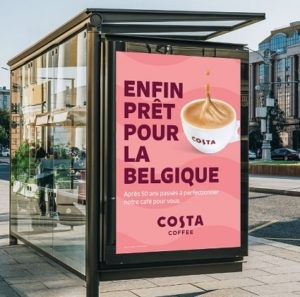 "Belgian people are true coffee lovers with a consumption per person 25 percent higher than the European average. The average Belgian consuming nearly 7kg of coffee a year," says Matt Timmons, Costa Coffee's Brand Manager Belgium.
Timmons says that the coffee category is one of the fastest-growing, and that they and their local partner in Belgium, Coca-Cola Europacific Partners (CCEP), see the market here as, "an ideal target market to not only deliver great quality coffee, but also to offer the innovation that characterizes us as a brand."
But Costa Coffee is a different sort of café than what Belgians are used to. "Belgians are not the kind of people who are already familiar with takeaway coffees," said Tom Wuyts of Horeca Belgium. "We have a very strong bar culture. When we drink a coffee, we want to sit down with it. We drink it at a table, sitting with some friends or company. Picking up a coffee to go isn't so typical in Belgium."
Coffee and nibbles
Belgians also like their coffee with something to nibble on, Wuyts says, be that a waffle or a chocolate or a pastry. That's not as easy to have on the go even if someone wanted to, but Wuyts says they largely don't. "It's not like, for example, in New York where people are always rushing to their job, so they grab a coffee for takeaway. In Belgium, people have their preferred places where they go. We already have a strong coffee culture, with a lot of small family brewers," he says.
That strong coffee culture, which emphasises the café experience, is perhaps why it's taken chain coffee shops like Starbucks and Costa longer to make their debut here.
"It takes time," said Peter Scholliers of VUB, co-editor of Food & History and a member of the editorial boards of Food and Foodways, and Food, Culture & Society.
He draws a comparison to the arrival of McDonald's in Belgium in the 1970s, much later than when it came to neighbouring countries like the Netherlands. "It was very difficult to get into the country because of the different culture around takeaway food," Scholliers said. "It took a lot of marketing to get to where they are today, and I imagine it would be the same for Costa and Starbucks."
He says that the existing cafés throughout the country, in particular in cities like Brussels and Antwerp, will compete fiercely for chains like Costa. "In most coffee bars you visit, they advertise with well-known brands like Illy or Rombouts. It's very Belgian," said Scholliers. "They're advertising with the message, 'We are Belgian, or we are Brussels, we're all from here and we make coffee as you knew it and as your mother and grandmother served it to you.'"
While Costa and Starbucks are decidedly un-Belgian, both in style and in origin, Scholliers points out that they're targeting different types of people.
For his part, Alessandro Carnazza of Caffelatte isn't worried. His espresso bar in the European Quarter, close to the Parliament building, doesn't quite fit the Belgian archetype for a café. That's perhaps in part because he's not selling coffee to Belgians.
"We have customers coming from all over the world," says Italian-born Carnazza, who opened Caffe Latte with his brother eight years ago. "The Belgians are maybe five or ten percent of our customers. The rest are foreigners, often Eurocrats."
He likes this about the job. Caffelatte offers a variety of coffee drinks to cater to the variety of tastes his international clientele have. "Brussels is a European melting pot," he says. "I find it way more interesting to work with coffee outside Italy than inside."
Carnazza is quick to add that Belgians "drink a lot of coffee," pointing out that the country "is fifth in the world for per capita coffee consumption per year." But his café isn't particularly large – only around 50 square metres – which means there isn't a lot of room to sit down with a drink. And its location in the European Quarter plays a big role, as well. "Because we're in a strategic area, a lot of people take a coffee to go. Around 70 percent of our daily coffee drinks sold are take-away."
While they've got food offerings like pastries and a best-selling tiramisu, Carnazza says that 80 to 85 percent of their revenue comes from coffee alone.
Even with the amount of takeaway business they do, he does not see chains like Costa as a big threat. "Our way of doing coffee is very difficult," he says. "The kind of person that comes to our place for a coffee is looking for quality – for the perfect extraction from a professional barista who can extract the best coffee they can get. It's about the quality of products, the way we prepare them, and the customer experience."
Caffelatte's baristas know many of their clientele by sight and their orders by heart – even when the customers themselves forget. "It's a totally different target that we have," Carnazza explains, who says they often get lines so long they struggle to cope with the demand. "We're more of a specialty store than a commercial one."
Can competing coffees coexist?
Blendmaster DeMets agrees that there's room for both the traditional Belgian cafés and the international chains – even if he isn't the biggest fan of their coffee. "When you go to places like Starbucks, you drink mainly milk-based drinks, with syrup and sugar and ice and cream. Some beverages are more like milkshakes. I never drink my coffee with sugar – you don't put grenadine in your wine, do you? – but the customer drinks it the way he wants."
But DeMets admits that the Starbucks and Costa coffees are popular with the younger crowd. "They're not discovering anything about coffee there, but they're enjoying themselves," he says.
He calls the premise of international chain coffee stores "extremely clever": customers can get the same drink in different parts of the world, and have it taste the same, even as the way of drinking coffee differs from one country to the next. "As a roaster, I tell people to stop criticising Starbucks because it's a clever matter. It's the McDonald's of coffee. You can say whatever you want about that, but they're doing business, and fantastic business at that."