From Monday, France introduced its vaccine pass which will deny anyone who is not vaccinated from accessing many areas of public life.
The so-called "pass vaccinal" replaces the "health pass" (pass sanitaire) and applies to anyone aged over 16. It will be required in many public spaces (although not health and social establishments), both for French residents as well as visitors.
From Monday, anyone without a pass will be denied access to the following places:
Bars and restaurants, except for takeaways and collective catering at events;
Leisure activities, including cinemas, museums, theatres, sports arenas, sports and entertainment venues and others;
Trade fairs, seminars and exhibitions;
Department stores and shopping centres;
Interregional transport (planes, trains, buses).
This means that the "vaccine pass" will also be needed to go skiing in the county, which is popular among Belgians. However, the pass is not needed to travel to France as it is still possible to enter the country with a recent negative test result.
It will also not be applicable at private gatherings, meetings, or at work; people visiting doctors or hospitals will also not require the pass but a negative test result will still be needed here.
How to get the pass
People will have to present proof of full vaccination (including a booster dose if the last shot is older than seven months, as was stated in the updated rules), or have a certificate of recovery of more than 11 days and less than six months, or be exempt from vaccination for medical reasons.
A waiver has also been introduced allowing people who have received the first dose to use a negative test certificate less than 24 hours old until 15 February, pending their second dose.
Related News
The "vaccination pass" will not apply to minors aged between 12 and 15, but they will still be subject to the "health pass," which still permits proof of a negative test in the previous 24 hours.
In France, 79.7% of the population has received at least one vaccine dose; 77.8% is fully vaccinated but just 44.8% received a booster dose. The new measure comes as last week the country logged record-breaking daily coronavirus infections. Authorities hope that it will be an incentive for people to get the additional dose.
"Tous anti-pass"
A recent poll showed that two-thirds of people in France support the vaccination pass. However, the country has seen numerous demonstrations against the measure in recent weeks.
One day before protests turned violent in the Belgian capital, opponents of the stricter measure took to the streets across France, including in Paris, Aix-en-Provence, Montpellier, Marseille and Bordeaux.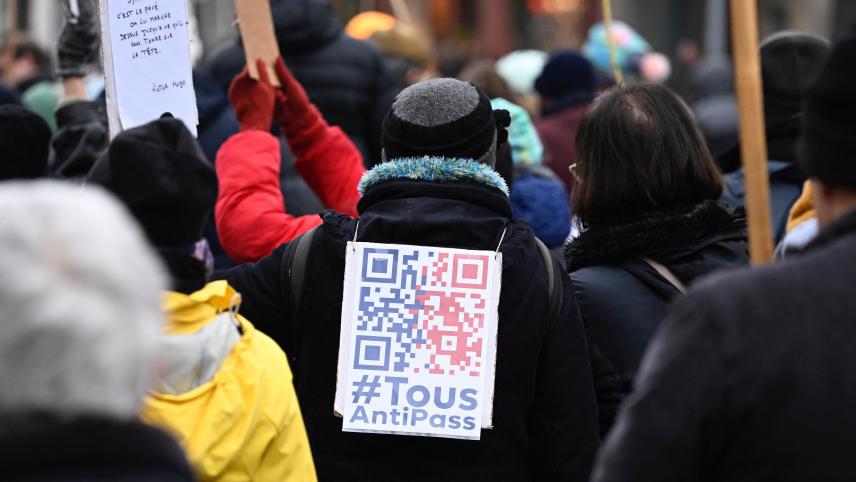 Demonstrators called for "freedom" and criticised the so-called "apartheid" between vaccinated and non-vaccinated people that they felt the measure created. According to the Interior Ministry, a total of almost 40,000 people took to the streets, including more than 5,000 in Paris.