As reports about human rights violations continue on a regular basis, the positive aspects of human rights are rarely highlighted, even though they are of vital importance to everyone.
That's why Kazerne Dossin has launched a new temporary exhibition entitled "Universal Human Rights", which will run to December 11th 2022.
This exhibition gives the museum another opportunity to highlight the idea of "hope", an inherent part of the Universal Declaration of Human Rights.
The exhibition delves deeper in the roots of human rights in our history, legislation, religion, philosophy and even in nature, and focuses on energetic activists from the past and the present. Contemporary advocates offer inspiration and show their total commitment.
During the preparations, the curators looked for objects that have played a part in the history of human rights and this is how the UK came to lend a copy of the Magna Carta.
Ambassador Shearman paid a special visit to the museum to hand over this special item.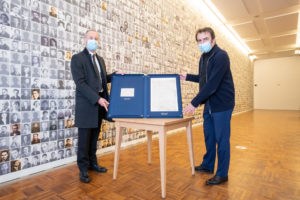 The temporary exhibition, "Universal Human Rights" will run at Kazerne Dossin until December 11th.
Guides tours are available - book your tickets here.