During the recent meeting between Russian President Vladimir Putin and French President Emmanuel Macron, relations appeared cordial, albeit distant, with each leader seated at either end of an almost comically long banquet table.
The 6-hour meeting on Monday was billed as a chance to deescalate the tense military standoff along Russia's border with Ukraine. However, as images of the meeting between the two leaders started circulating, many assumed that this was a not-so-subtle power move by Putin.
Online, memes came in thick and fast, poking fun of the image. In an ode to the Winter Olympics, images showed figure skaters and curlers superimposed onto the large white table. Another showed Jesus and the 12 apostles as depicted in Leonardo da Vinci filling the gap between Marcon and Putin.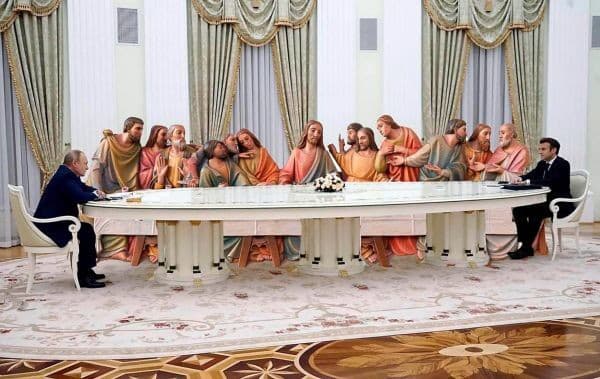 However, the exact reason for the excessive seating arrangement has now been clarified by Macron's representatives, who say that the table size directly resulted from the French leader not taking a Russian physician-administered PCR test, Belga News Agency reports.
"We knew very well that this meant there would be no handshake and that there would be this long table, but we could not accept that they would get their hands on the president's DNA," said one of the two French sources quoted in media reports. It remains unclear whether Macron's aides were busy disinfecting all that he touched to eradicate any trace of the President's DNA.
French officials said that Macron had undergone a PCR test before his departure and an antigen test by his doctor after he arrived in Russia.