Place Montgomery at the end of Avenue de Tervueren will soon become more bike-friendly, as the Brussels regional government is looking to extend the bicycle path to ensure cyclists can bike around the entire roundabout.
At the end of this month, work will start to create a two-way bicycle path around the entire roundabout on the outer lane, while the inner lane, closest to the square's fountain, will no longer be accessible to cars.
"Today's roundabout has four lanes. We will remove the inner one and place a bicycle lane on the outer one. This one, as well as the two in the middle, will remain available for cars," Mobility Minister Elke Van den Brandt's spokesperson told The Brussels Times.
Van den Brandt explained in a statement that Montgomery is an unavoidable roundabout for many cyclists looking to travel to the city by bike from the eastern suburbs, but it is also a very difficult junction for more vulnerable road users, as it is an accident-prone zone for all road users.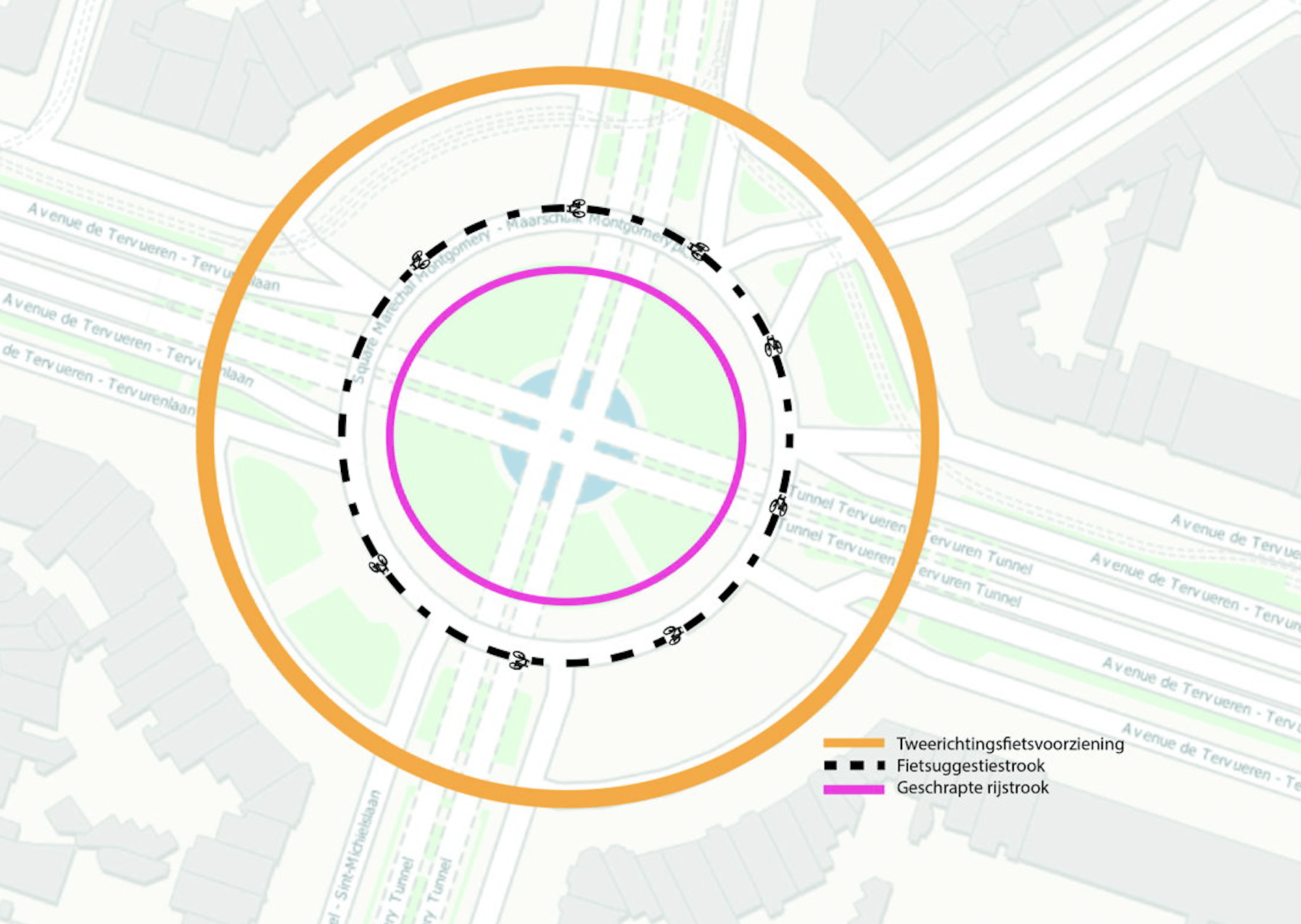 "In its present form, with no fewer than four car lanes, the square is not safe: neither for cyclists nor for motorists. It is one of our black spots," she said.
Fast-tracking safety
The new layout for the square is part of a large-scale redesign of the junction as one of the Brussels Mobility projects for which a permit must be obtained by the end of 2022. However, this particular change will be pushed through more quickly.
"We are not waiting for a definitive reconstruction and are already taking temporary measures to increase the safety of traffic users and prepare for the definitive reconstruction. We are doing this in constructive cooperation with the municipality of Woluwe-Saint-Pierre," the statement read.
The works will be carried out during the first four days of the Carnival holidays, from Friday 25 February at 20:00 until Wednesday 2 March 06:00 to avoid too much disruption. The square will be completely closed to traffic, excluding trams, which will not be interrupted. The pavements will also remain accessible, but all other means of transport will be diverted.
Related News
During the Carnival holidays (28 February to 4 March), the region will also carry out works to make Rue Belliard more bike-friendly. The left-hand lane will be replaced by pavement with a cycle path next to it, while the section between Rue de Trèves and Rue Van Maerlant will be widened to give both pedestrians and cyclists separate spaces on both sides.
This is part of a test to analyse the mobility of all road users following these changes. "In the coming months, the consequences for the flow of pedestrians, cyclists and motorists will be evaluated," Brussels Mobility stated.
If the test proves successful, this new situation will form the basis for the definitive redesign of Rue Belliard.