Victor Horta was one Art Nouveau's pioneers and his extraordinary twisting and curving designs still inspire architecture today. But who was he?
It's hard to find Victor Horta's grave. The Belgian architect is buried in an obscure corner of Ixelles Cemetery. And it's not a very interesting grave when you find it. The man who pioneered the flamboyant Art Nouveau style is buried under a plain polished granite slab, along with his Swedish second wife Julia Carlsson and two other obscure people.
It makes no sense. Victor Horta was famous for some of Brussels' most brilliant buildings, featuring organic shapes, whiplash curves and dazzling details. He had an enormous influence on other Belgian architects who imitated his style in Brussels, Antwerp, Ghent and Liège. Four of his Brussels townhouses are on the UNESCO World Heritage List. And yet Horta's genius was hardly recognised in Belgium when he died in 1947.
Born in Ghent in 1861, Horta claims his love of design emerged when he was 12 when he helped his uncle on a building site. After studying architecture in Ghent, Horta moved to Paris in 1878, but returned to Belgium after the death of his father in 1880, enrolling at the prestigious Académie Royale des Beaux-Arts in Brussels.
His career began to take off in 1884 when he was asked by Alphonse Balat, Leopold II's favourite architect, to work on the royal greenhouses at Laeken. This massive project gave Horta an insight into the architectural possibilities of iron and glass. It perhaps also led to his interest in using exotic botanical forms in architecture.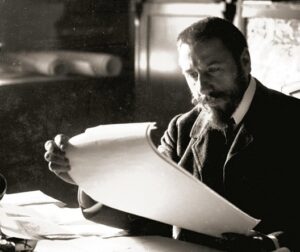 After setting up his own architecture practice, Horta designed a row of three houses in Ghent. But his first important commission came in 1889 through Alphonse Balat, who helped him win the contract to design a little classical pavilion in the Cinquantenaire Park to display a controversial frieze by Jef Lambeaux.
Horta found other rich clients among the progressive liberals and socialists who gathered in the masonic lodge Les Amis Philanthropes in Rue de Laeken. He designed his first Art Nouveau house in 1893 for fellow mason and academic Emile Tassel. His friend Tassel then helped him win a lavish contract in 1895 to design a mansion for Armand Solvay, son of the rich industrialist Ernest Solvay, on Avenue Louise.
That same year, Horta was commissioned to build a kindergarten in the Marolles district. He also began work on the enormous Maison du Peuple for the Belgian Workers' Party. Completed four years later, it marked the high point in the history of Art Nouveau – although its demolition in 1965 is now considered a low point in Belgian architectural vandalism.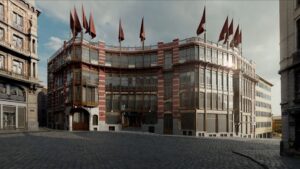 By the end of the 19th century, Horta had become the most successful architect in Belgian history. He received contracts to build houses, departments stores and a museum in Tournai. With his reputation secure, he turned his attention to designing his own house and studio on two vacant plots in Saint-Gilles. Completed in 1898, the building is now a museum dedicated to Horta's architecture.
But Horta's style began to fall out of fashion in the early 20th century. When Belgium was invaded by the Germans in 1914, Horta fled to England and later to the United States, where he earned a living teaching. It was during his exile that he saw New York skyscrapers for the first time and decided that Art Nouveau was a thing of the past.
Back in Belgium, Horta sold his house and studio and moved with Julia into a more modest dwelling on Avenue Louise. He won a major post-war contract to design a radical new Palais des Beaux-Arts that would combine a concert hall, exhibition space, cinema and restaurant. Horta's design is cool and functional, hardly bearing any hint of Art Nouveau. He went on to win another major contract to design Central Station, but it would be finished after Horta's death by his student Maxine Brunfaut.
It took several decades before Belgium fully recognised Horta's exceptional talent. In the 1960s and 1970s, developers tore down some of Horta's masterpieces, while a fire in 1967 ripped through the beautiful Innovation department store on Rue Neuve that he had built in 1901.
By the 1980s, the city was beginning to take more care of its precious legacy of Horta houses and in 2000 four of Horta's townhouses were added to the UNESCO list. He featured on the last series of banknotes for Belgian francs, that ran from 1994 to 2001: the 2000 franc note. Today, there is a pre-metro station named after him in Saint Gilles. It is just a pity this recognition didn't happen half a century earlier.