Deputy Prime Minister Sophie Wilmès will be in Poland on Monday and Tuesday to show "Belgium's full solidarity with its European partner" in the face of the difficulties linked to the war in Ukraine, Belga News Agency reports.
Ms Wilmès, who is also Foreign Minister, will be accompanied by Secretary of State for Asylum and Migration Sammy Mahdi.
The first stage of their two-day visit will take them to Medyka, a town a few kilometres from the Shehyni border post between Poland and Ukraine.
Since the start of the Russian invasion of Ukraine, about 900,000 persons have crossed the border between the two countries, making Poland the European State most exposed to the humanitarian consequences of the conflict, especially since it also shares borders with Belarus and the Russian enclave of Kaliningrad.
While in Medyka, Ms. Wilmès and Mr. Mahdi will meet the Belgian consulate's mobile team installed on the border since 21 February.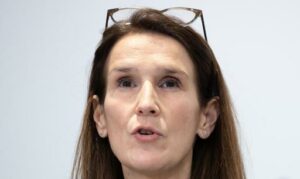 The team is tasked with guiding Belgians who cross the border and facilitating their return to Belgium. It also provides substantial assistance in distributing humanitarian aid sent from Belgium, including tents, blankets and sanitary kits.
Sophie Wilmès will then go to Warsaw, where she will meet her Polish vis-à-vis, Zbigniew Rau, as well as staff from the Embassy of Belgium.
Since the outbreak of the conflict in Ukraine, Belgium has supplied Ukraine with automatic rifles, anti-tank weapons and other arms, fuel, and humanitarian and protective supplies, most of which transits through Poland.