Speaking to Belgium's parliament on Thursday, Secretary of State for Asylum and Migration Sammy Mahdi gave his firm assurance that Belgium will stand firm with Ukrainian refugees, promising "we will not abandon them, not today, not tomorrow, not ever."
The Federal Government, along with the Belgian regions and communities, convened to coordinate the reception of Ukrainian refugees, which will be the biggest challenge Europe has faced since the Second World War.
"Every person who arrives in Belgium from Ukraine and is a refugee from Ukraine will receive protection and be welcomed in our country." He added that so far, 3,000 people have been registered.
However, despite the minister's sincere promise, the reality for those arriving in Belgium is far less straightforward. So far, thousands have arrived in Belgium, and every day, hundreds of Ukrainians are waiting in line at a registration centre in the former Jules Bordet hospital on Brussels' Boulevard de Waterloo Avenue, seeking to register their presence and receive government support.
More than 200,000 people are expected to arrive in Belgium in the coming weeks.
'Governments not doing enough'
One Ukrainian man named Vasyl fled Kyiv together with his girlfriend who lived in Mariupol, and has been queueing to register at the centre for several days now, including overnight.
"At least 50 people were in the queue ahead of us, despite us having queued for hours. We decided to leave and we will return around 01:00 to hold our spot," he told The Brussels Times.
On Wednesday, Mahdi stressed that people who have a place to stay do not have to register in Brussels immediately. "They have 90 days to come to this centre and register officially," Mahdi said, adding that he recommends people to go to the nearest municipality for an Appendix 3 arrival declaration first.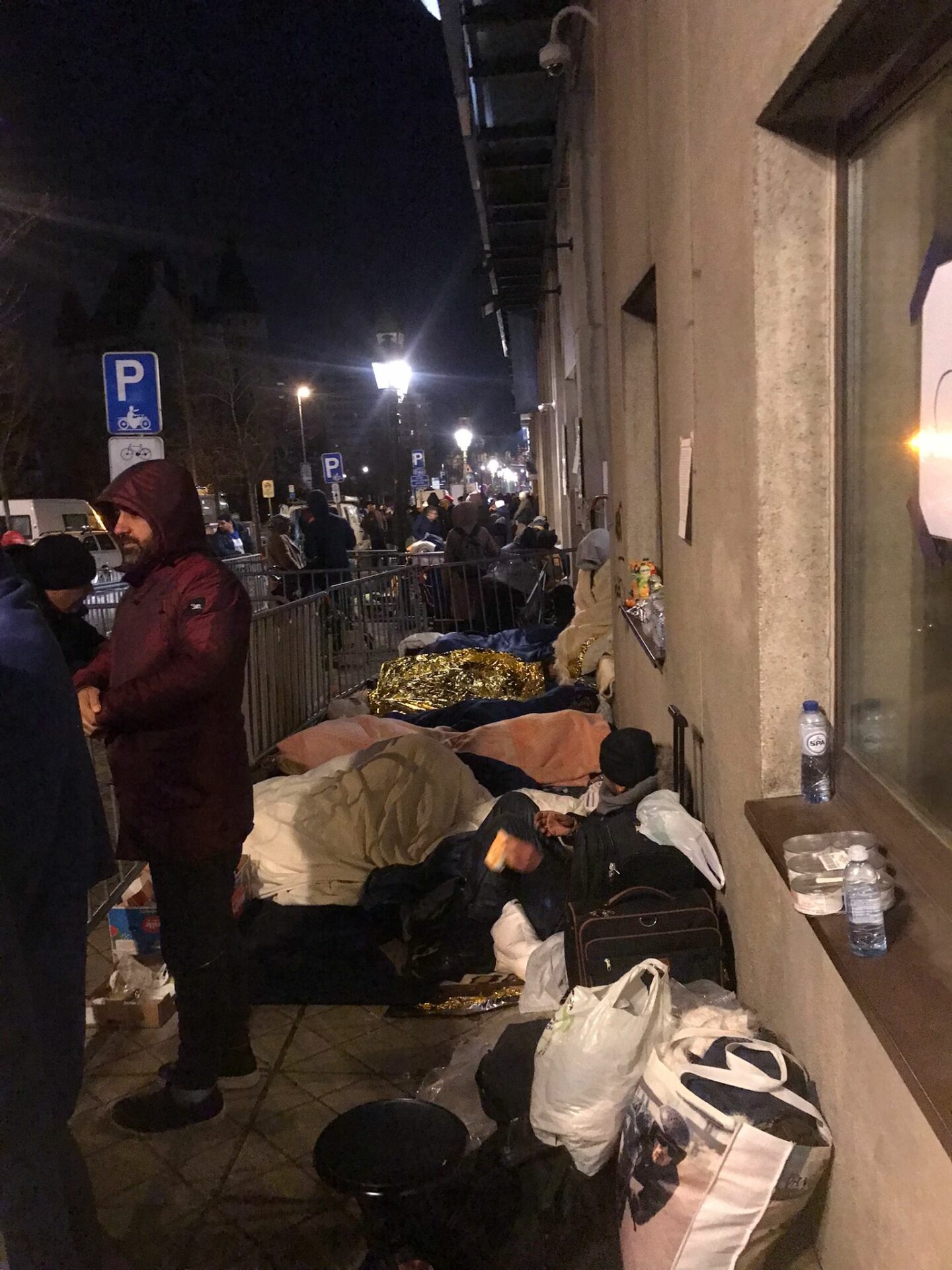 However, Vasyl said that most people in the queue were not aware of this possibility and believes that government efforts are poorly coordinated. "The government must think more deeply and systematically about this."
"In Germany, refugees can register online so people don't have to queue, here it is like the Middle Ages. Simply to arrive in Belgium has been an enormous effort. Standing in the queues for days to get this one paper is ridiculous," he said.
"We are not just numbers on paper. We are people who fled from the horror of war, from hunger and thirst, from the deaths of relatives, destroyed houses, broken lives. Politicians have declared to the whole world that they are ready to help, they give hope, but they must also do it."
He emphasised his gratitude for the citizens who are volunteering by handing out clothes and food and the humanitarian organisations, such as the Red Cross, are on the contrary extremely helpful. "They come in the mornings when we are queueing and give us hot coffee and hot food and diapers for the babies. They do a lot for us."
Federal Government to handle refugee crisis reception
Following Mahdi's request on Wednesday and in light of the exponentially increasing number of refugees, it was decided following the meeting on Thursday that the federal government will be responsible for crisis reception, registration and emergency accommodation.
Related News
The idea is that the National Crisis Centre will coordinate all assistance, as was done during the floods in Wallonia and during the pandemic. An additional reception centre will also be created in the capital that is expected to open next week. The creation of a new reception centre in the Heysel district was confirmed to The Brussels Times by Philippe Close, mayor of the City of Brussels's cabinet.
Mahdi stressed that it will also be necessary to decentralise this task to other cities and provinces.
LIVE. Kamer houdt stiltemoment voor slachtoffers oorlog in Oekraïne - La Chambre observe une minute de silence pour les victimes de la guerre en Ukraine https://t.co/bMpkiTFlTY

— Alexander De Croo 🇧🇪🇪🇺 (@alexanderdecroo) March 10, 2022
The session on Thursday began with a tribute to the victims of the war in Ukraine. MEPs observed a minute's silence in the presence of two of the country's representatives in Brussels, Chargé d'Affaires Yehor Pyvovarov and Counsellor Natalia Anoshyna, who received a round of applause.