A chocolate store in Courtrai has sparked controversy by selling chocolate hand grenades and donating part of the profits to Ukraine.
Since the outbreak of war on 24 February, there has been no shortage of commercial and citizen initiatives to raise money and awareness for Ukraine and Belgium wouldn't be Belgium if it didn't involve chocolate in its efforts.
Beugnies Les Chocolats in Courtrai struck a chord with their chocolate hand grenades that sell for €5, half of which goes to Consortium 12.12 – an NGO that supports Ukraine. The chocolatier has sold 400 of the chocolate grenades so far.
But the idea has not been to everyone's taste, with many taking to social media to express their aversion.
"Every initiative to help Ukraine is welcome," craftsman Nicolas Beugnies responded to the criticism. "It may be shocking, but it gives food for thought."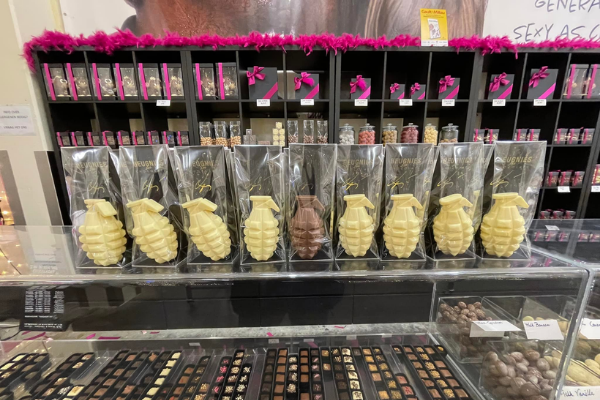 The grenades are limited edition, as there are only 2,000 pieces in total. If all the chocolate grenades are sold, the check donated to Consortium 12.12 will amount to €5000.
The Belgian chocolatier isn't the only one to raise eyebrows in the effort to support Ukraine – Lego has raised over $16,000 by selling tiny Molotov cocktails and minifigures of President Zelenskyy.
View this post on Instagram
The entire amount was donated to Direct Relief to assist their efforts to bring medical supplies to those in need.