The former international football player David Beckham allowed Ukrainian paediatrician Dr. Iryna to take over his Instagram account on Sunday in order to show the world the situation in Ukraine.
In a series of stories, Iryna– identified only by her first name– showed how the war is impacting the city of Kharkiv right now. Featured among the stories is a basement to which pregnant women and new mothers are evacuated.
The Ukrainian doctor posted pictures of newborn babies who had to rely on oxygen machines donated by UNICEF for survival.
Related News
"My name is Iryna and I want to show you how we work in the midst of war. I work 24 hours a day and I am here all day. We're probably risking our lives, but we don't think about it because we love our work," said Iryna on David Beckham's Instagram.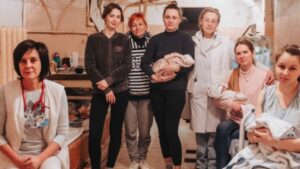 The paediatrician added that she and her colleagues are in desperate need of the support that has come from UNICEF.
Beckham, who has been an ambassador for UNICEF since 2005, encouraged his followers on Instagram to donate to the relief organisation to support the victims of Ukraine.