The Royal Greenhouses of Laeken will be open to the public from 15 April to 8 May, the Palace announced on Friday.
The programme will include night-time visits on Fridays, Saturdays and Sundays, and on 18 April for Easter Monday, Belga News Agency reports.
This year, visitors will be able to make both indoor and outdoor visits of the park. The long visit, lasting about two and a half hours, begins in the gardens of the royal compound, and offers a view that highlights the architecture of the greenhouses. On the way there, visitors will be able to view ancient ruins along the banks of one of the pools and the rose arch.
This itinerary links up with the shorter one, lasting about 90 minutes, which leads to the interior of the greenhouses. This indoor visit begins at the palm tree plateau with the Débarcardère (Landing), the palm, azalea, Diane and Miroir greenhouses as well as the geranium gallery. The road then leads to the bigger greenhouses, beginning with the Embarcadère and Congo, which contains subtropical plants.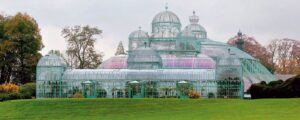 Visitors will also get a chance to walk in the cupola of the winter garden, where they will find very high palm trees and tree ferns in the Orangery, in which orange trees, laurel bushes and camelias spend the winter.
Only the shorter itinerary is available at night.
The price per person is four euros per visit. Tickets must be ordered at www.koninklijke-serres-royales.be, even for children under the age of 12 years, for whom entry will be free of charge. It will not be possible to purchase tickets on site.
Special accompaniment and an adapted two-hour circuit have been set aside for Thursday 28 April for persons with reduced mobility.