Six years ago, it felt like extremist terrorism would haunt us permanently. The March 2016 bombs in the Brussels metro and airport left 35 people dead.
They came after the November 2015 attacks in Paris that killed 138. Jihadists claimed responsibility for other mass murders in Berlin, Barcelona, Manchester and Istanbul. But in recent years, these shock attacks have faded away, and it has been years since any major terrorist attack in Belgium or elsewhere in Europe. Does this mean the danger has passed?
The short answer is no. Terrorism remains the number one issue for security officials in Belgium. They know that Islamic terrorism has deep roots in the country, and even if it is dormant today, it could re-emerge tomorrow.
To understand the threat, we need to go back to the 2011 Arab Spring, when revolutions spread like wildfire throughout the Middle East and North Africa. Nobody thought this popular uprising would result in a series of bloody attacks that swept across Europe a few years later. But it did.
In September 2012, the first foreign fighters left Belgium to join the civil war in Syria. The following years saw 422 people depart to serve in the ranks of various rebel groups. By that time, the recruiting networks in Belgium were diverse but the most important three were Sharia4Belgium, Resto du Tawheed and Zerkani.
The Belgians joined groups like Majlis Shurat al-Mujahidin and other al-Qaeda affiliated organisations that were actively fighting the ruling Syrian regime of Bashar al-Assad. When the Islamic State in Iraq (ISI) turned its attention to Syria, most of the Belgian and other European foreign fighters joined its ranks, as it became known as the Islamic State of Iraq and Syria (ISIS).
How Belgium became the Jihadist hotspot
The first attack by ISIS in Europe was the shooting of four people in the Jewish Museum in Brussels on May 24, 2014. The assailant, Mehdi Nemouche, was arrested a few days later in Marseille. Then, in January 2015, al-Qaeda and ISIS attackers killed 17 people at the offices of Charlie Hebdo magazine and a kosher supermarket in Paris.
Just a week after, on January 15, 2015, Verviers in eastern Belgium escaped what would have been a major attack: a raid on a police station to kill a high-ranking police officer. This prompted the Belgian government to realise the immense problem the country was facing: the hundreds of foreign fighters who left for the war in Syria had now returned as battle-hardened warriors.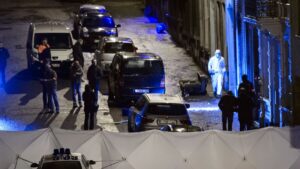 In the aftermath of the foiled Verviers attack, the Belgian government took its first measures to contain the issue. But soon, Belgian foreign fighters were playing a pivotal role in strikes on European soil. On August 21, 2015, Ayyoub El Khazzani, a heavily-armed Jihadist attempted to attack a Thalys train from Amsterdam to Paris. El Khazzani, who was eventually handed a life sentence in December 2020, was under direct orders of Abdelhamid Abaaoud, the leader of the November 2015 Paris attacks.
Abaaoud was a Brussels based and born member of the Zerkani network. The Paris attacks left 138 people dead (including seven of the attackers) and wounded over 350, making it by far the most brutal ISIS attack in Europe. The remaining part of Abaaoud's network then unleashed its attacks in Brussels on March 22, 2016, both on the airport in Zaventem and the Maelbeek metro station.
But by then, the mother network, now renamed Islamic State (IS), was crumbling. IS's physical caliphate, established in 2014, had steadily shrunk under attacks by the United States and its allies. By mid-March 2019, its last remnants were overrun by the international coalition in the town of Baghuz on the border of Syria and Iraq. Having controlled an area the size of Britain just years before, it was now no more.
At least physically, that is. The remaining fighting forces were either dead, had fled or were locked up by US-backed forces in Syria. While the fall of the caliphate lowered the threat of large-scale IS attacks, individual attackers would still strike.
The risks from returning fighters
That is where we are today. But now, Belgium, like other Western countries, faces a plethora of issues when it comes to IS's legacy.
Firstly, what should we do with former Belgian foreign fighters and their families, locked up in Syria or Iraq?
The most recent data shows there are 35 adults and 38 children in the custody of the Syrian Democratic Forces (SDF), the US-backed alliance of Kurdish and Arab fighters. This is an international issue: many Western countries do not repatriate their citizens. But the SDF are reluctant to maintain these prisons and keep IS families locked up. The situation in the camps is untenable, to say the least: IS detainees, who still adhere to the Jihadist ideology, attack the camp guards and other prisoners. It is only a matter of time before a crisis erupts.
At least 130 Belgian fighters have returned. Some were sentenced, some not, but there is no detailed information on the current status or whereabouts of those still at large. A bigger problem is Belgium's judiciary system. Until last year, the maximum penalty for terrorist activities was a five-year jail sentence. A new law raises that to 10 years, but it might not be enough.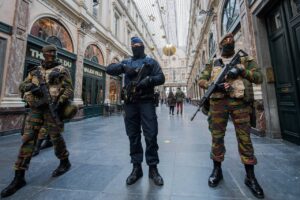 Some of Belgium's foreign fighters leave prison more radicalised than before their sentence, like Jean-Louis Denis, who once led Resto du Tawheed. When he was released in 2018 after five years in Ittre jail, he was still pledging allegiance to IS ideology.
It's not just foreign fighters who continue to be a concern, but also hate preachers. Britain's Anjem Choudary, the founder of Sharia4UK and inspiration for Sharia4Belgium and Sharia4Holland, was recently released from prison after serving time for recruiting fighters for IS: his ban on speaking in public was lifted last July and he is preaching again. And last October, Mohamed Toujgani, the Moroccan imam of the Al Khalil mosque in Molenbeek, the largest in Belgium, was ordered to leave the country over a "serious threat to national security" after a video emerged in which he called for Jews to be burned.
In an interview with newspaper De Standaard, Paul Van Tigchelt, the former head of the threat analysis service OCAM/OCAD, said that only "a minority of foreign fighters disengaged from violent radicalism". Most Belgian foreign fighters are set for release soon after serving sentences that are remarkably short by western standards for terrorist offences. They are unlikely to all reintegrate into society easily.
More worrying, at least 125 Belgian foreign fighters are completely unaccounted for. Nobody can say what happened to them. They might have been killed in the apocalyptic Battle of Baghuz Fawqani, but some likely survived. If they are still at large, where are they? There are rumours that the former IS fighters who fled Baghuz might have reached Afghanistan or Africa.
Preparing for the next wave
After the fall of the physical caliphate in March 2019, Europe faced several small-scale attacks, mostly by individuals. But the threat of organised attacks from within the group's core seems to have diminished, if not depleted. IS at this point cannot plans large-scale attacks like in Paris and Brussels. It no longer has the logistics and financial support it had from the IS central leadership. Nowadays, most IS attacks are inspired by the network's ideology but are not directed as in 2015-2016.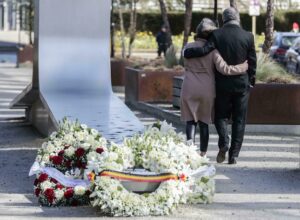 This does not mean IS is defeated. Not nearly. In Afghanistan, the local so-called IS Khorasan Province (IS-K) attacks the Taliban or Shi'a targets daily. In Africa, the insurgency is led by three different provinces or Wilayat: IS in the Greater Sahara (ISGS), IS's West-African Province (ISWAP) and IS's Central-African Province (ISCAP).
The level of terrorist activity throughout western and central Africa has risen sharply in recent years and will likely continue to rise. IS-claimed attacks since 2015 number 26,549 in 48 countries. Half of them were in Iraq, 25% in Syria and 52 in western countries. That works out at an average of 11.7 operations per day. All these attacks have left 102,823 killed and wounded. Improvised explosive devices (IEDs) were used in 65% of all IS operations.
All these factors mean that we cannot assume 2022 will be incident-free, in Belgium or elsewhere in Europe. Although the immediate threat has diminished, the dynamics around Jihadism suggest that a new wave of militants could surface, in the same way that IS emerged after the defeat of Al Qaeda. Belgium has been relatively trouble-free over the past six years, but the would-be terrorists might just be waiting for the right moment.