Language is the house of Being. In its home man dwells.
So wrote Martin Heidegger. Except he didn't; the philosopher's actual words were in German, but to the same effect. And putting aside Heidegger's deplorable political views, the intrinsic link he draws between language and home remains pertinent as our lives become ever-more international.
Brussels, in particular, is the nexus of numerous nationalities with people from across the world converging in Belgium's capital. Ostensibly a francophone city, many newer arrivals get away with speaking only English, taking advantage of the linguistic capabilities of locals to remain unbothered by Belgium's national languages French and Dutch.
That is, until they have to jump through any of the many administrative hoops necessary to properly register in Belgium and benefit from the country's social, healthcare, and professional services. Suddenly just blagging it in English ne coupe pas la moutarde (as they most certainly do not say in French).
Navigating through the reams of forms and meetings with the municipalities is a notoriously complicated and convoluted process rendered all the more difficult if languages are not your forté. By Belgian law, documents for residents must be in French or Dutch – a stumbling block for many in Brussels, where around one-third of residents are from abroad.
Which is why the decision by some communes to offer their services in English will be welcome news for those a little less at ease with the official languages. The exact legality of this is a little unclear, but Schaerbeek commune (north Brussels) sees it as a logical step to integrating foreigners with the district's social and administrative fabric.
Other municipalities are watching closely and are expected to follow suit, perhaps even in other languages that are highly represented in that area. Though defenders of the country's official languages might interpret this as an effort to dilute the use of French or Dutch, it really makes little sense to ostracise non-nationals for their under-developed language skills.
Brussels is rich in diversity and this is all about inclusivity rather than having a fractious cluster of segregated communities. Schaerbeek officials call this a "friendly service" and hope that it will make the city more appealing to people of all backgrounds. That is something to celebrate, no matter what the language.
Vind jij dat ook? Let @Orlando_tbt know.
Belgium in Brief is a free daily roundup of the top stories to get you through your lunch break conversations. To receive it straight to your inbox every day, sign up below:
Two Brussels women with Russian and Ukrainian roots, Maria and Kira, will open a free and bilingual school for several dozen Ukrainian children in the Rue Belliard after the Easter holidays. Read more.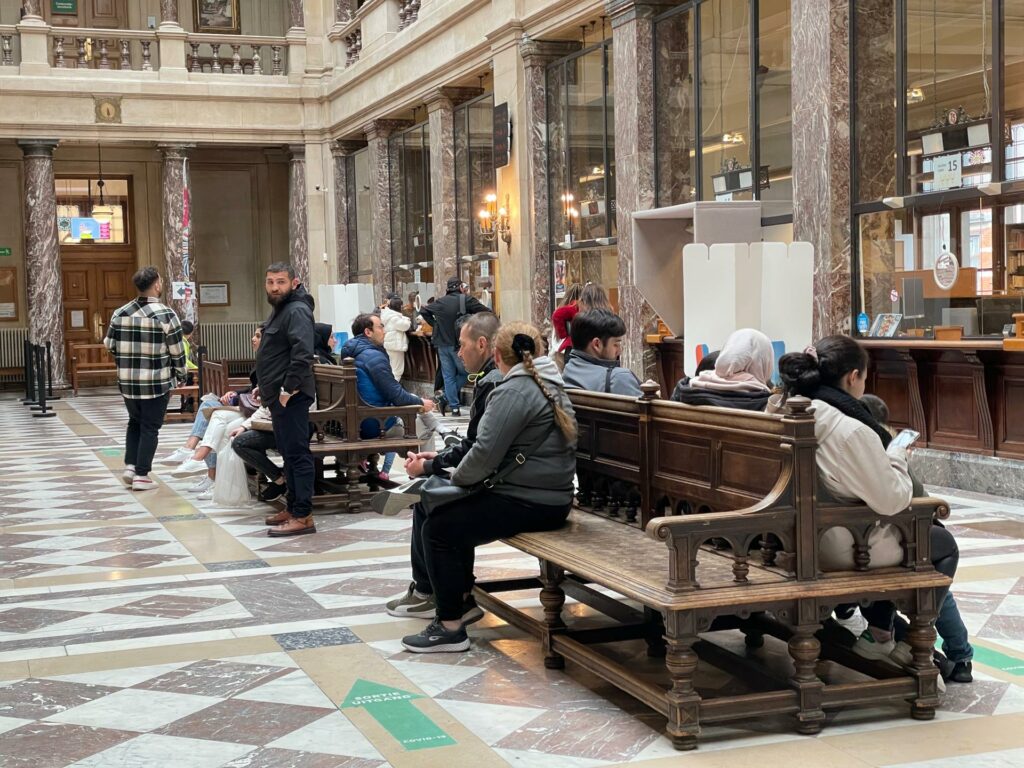 In a move to accommodate foreign-born residents, civil servants of the Brussels commune of Schaerbeek have started assisting people in English, even carrying out weddings in the language. Read more.
In chaotic scenes on Thursday, around a dozen artists rushed to the Balthasar Brussels concept store on the Place du Grand Sablon to retrieve their artworks, before they would reportedly be seized by a new curator of the gallery. Read more.
This weekend, railway works started at the Flagey square in the Brussels municipality of Ixelles, causing a number of disruptions and diversions to buses and trams in the area. Read more.
From the end of 2022, some 25,000 Belgian military personnel will receive a new uniform with a different camouflage pattern, and – for the first time – also a model for women. Read more.
As the fog of war lifted on Sunday morning over a liberated Kyiv region of Ukraine, the full scale of the atrocities committed by retreating Russian troops in surrounding towns and villages has shocked the international community. Read more.
The Japanese garden in Hasselt is the largest in Europe, but it's still quite small. Read more.