March was an extraordinarily dry month, which has had a clear impact on groundwater levels in Flanders, as recent levels at half of the measurement sites were very low for this time of year.
Precipitation remained very low last month. In Uccle, the Royal Meteorological Institute (KMI) recorded 2.2 mm of precipitation, only 4% of the normal amount, making it the lowest observation for the month of March since 1991. In Flanders, this resulted in 51% of the measurement sites experiencing low (34%) to very low (17%) groundwater levels.
"This shows once again that the groundwater levels in Flanders are very fragile," Flemish Environment Minister Zuhal Demir said. Historically, Flanders faces water shortages during the warmer months of the year, and has faced droughts for several years in a row.
Demir stressed that this precarious situation once again highlights the need to further implement the Flemish government's Blue Deal, through which it wants to combat drought and water scarcity through several measures and investments in infrastructure.
Absorbing and retaining water
Aside from the dry month of March, Belgium is notoriously known as a country where rain is not scarce, however, the country struggles to retain the water that falls from the skies.
Since the launch of the Blue Deal, small- and large-scale works have started in 110 places in Flanders to climate-proof water systems, allowing them to absorb and retain more water and make Flanders as a region more resilient to extreme weather situations.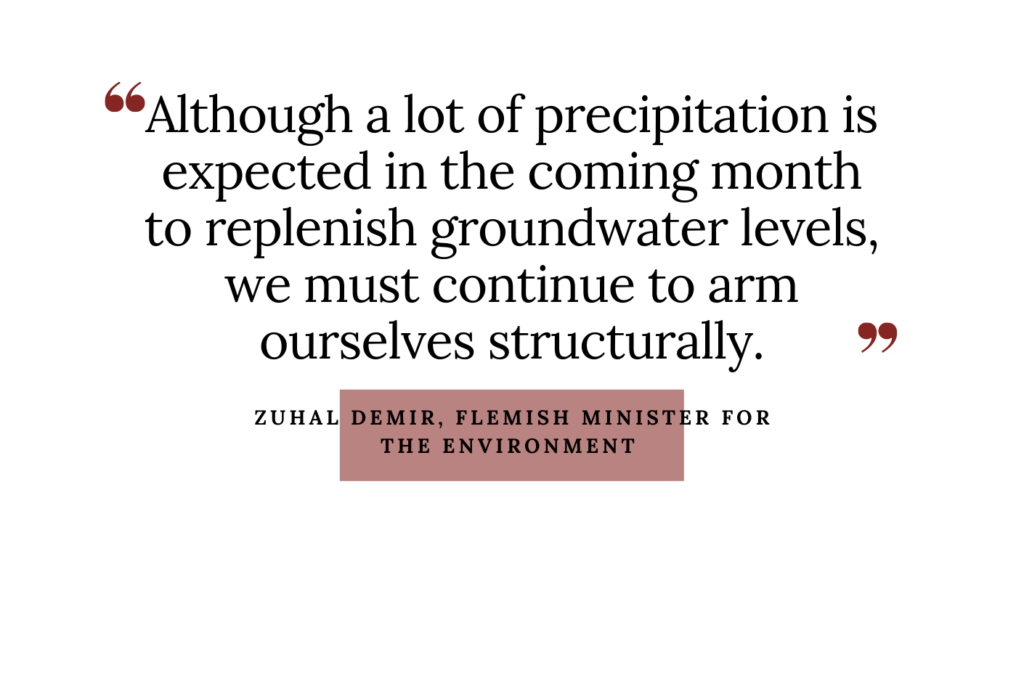 The region, among other things, is looking to create 1,658 ha of "wet nature," which can take on various forms, from humid hay meadows, swamps, puddle and marsh areas, to wet meadows. Meanwhile, an additional 750 ha in open space will be made more drought-resistant through re-excavation and renovation.
The Blue Deal policy has also been implemented, meaning permit applications in water sensitive areas are more strictly monitored and the team of environmental supervisors for illegal groundwater use has been expanded.
More rainfall expected, but caution remains
Between 10 and 20 April, between 0.4 mm and 11.2 mm of precipitation is expected, which according to the Flemish Environment Agency (VMM) could see the situation return to normal across Flanders in the short term. However, Demir said it is not time to "rest on our laurels."
Related News
"Although a lot of precipitation is expected in the coming month to replenish groundwater levels, we must continue to arm ourselves structurally," she said.
"That is why we continue to put the Blue Deal into practice day after day by investing in wetlands and softening so that rainwater in Flanders gets the maximum chance to seep into the soil," Demir concluded. Another €10 million will be awarded to municipalities in the region for this purpose.