Protestors from Belgium-registered Ukraine advocacy group Promote Ukraine, alongside environmental charity Rise for Climate, staged a sanctioned protest against Russian shipping and oil on 16 April in the Port of Antwerp.
The activists called for a complete oil embargo on Russia, as well as an end to the use of European ports by Russian ships.
The NGO has been protesting against Russia's invasion of Ukraine since the start of the war. To date, it has advocated for an end to the Belgian diamond trade, closed skies over Ukraine, a complete gas and oil embargo of Russia, and a boycott of Russian fuel company Lukoil.
The protestors, composed of volunteers and members of Belgium's Ukrainian diaspora, held flags and banners in front of ships moored at the harbour.
According to the organisers of the protest, European sanctions on shipping should extend to fuel tankers also.
"Today, most Russian ships can't enter Belgian ports, but there are exceptions for agricultural ships and oil tankers," the organisers wrote on Facebook. "We don't have time for half measures, no exceptions should be made, they are just loopholes for Russia to keep funding the war."
Belgium a hub for Russian ships
Since the start of the war, 55 oil and gas tankers from Russian ports have docked in Antwerp and Zeebrugge, with a total capacity of 3.5 million metres cubed of oil and gas, according to data published by Greenpeace. That's equivalent to around 1,400 Olympic-sized swimming pools of oil and gas.
Activists from the environmental action group have previously attempted to block and delay Russian fuel shipments to the Port of Antwerp.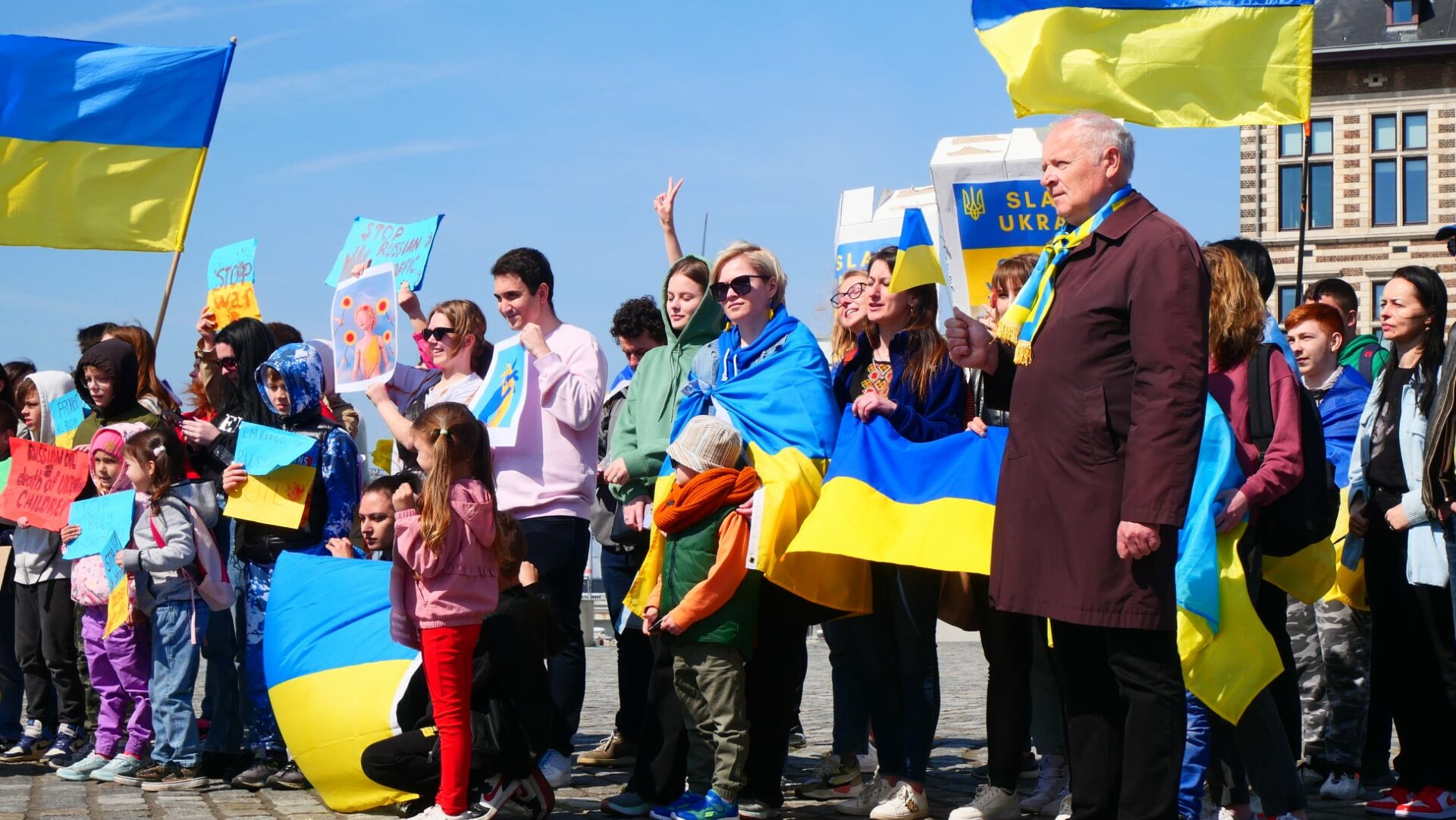 In total, over the course of one week in April, 21 Russian oil tankers entered European waters. Almost half of these ships docked at Belgian ports, just 30 miles from European Union institutions where sanctions against Russia have been approved.
The Port of Antwerp is one of Europe's largest ports and one of the main drivers of economic growth in Belgium. More than 230 million tonnes of maritime freight pass through the more than 11,000 hectares of port infrastructure each year.
In a press release, Promote Ukraine provided data on the entry of Russian ships into the Port of Antwerp. On 8 April, liquid natural gas (LNG) tanker Boris Vilkitsky, for example, entered the port of Zeebrugge with up to 177,000 metres cubed of gas from the Russian port of Sabetta.
The Boris Vilkitsy was previously refused permission to unload its cargo in Kent, UK.
The port Sabetta is partly controlled by the Russian government and under strong sanctions by the US. Nevertheless, exceptions to the EU's sanctions regimes have enabled the continued entry of the Russian tanker ship into European ports.
Funding the Kremlin
The profits and taxes paid by the Russian fuel industry, the organisers say, will go towards financing Russia's war against Ukraine. Currently, the sale of oil and natural gas makes up nearly 40% of Russia's total budget. Russia is set to earn around $321 billion from energy exports this year.
"If Russia did not have the income from oil and gas sales," Promote Ukraine said, "it would be incapable of financing its army and that would bring an end to this bloody war, this act of genocide."
Related News
Oksana Bulda, a volunteer from Promote Ukraine, said that the current exceptions to European sanctions on Russian shipping are hurting Ukraine.
"Partial sanctions do not work. If we do not impose a full embargo on trade with Russia, they will always find loopholes," the organiser said.
Promote Ukraine will host several protests across Brussels in the coming weeks to protest the trade of Russian gas and oil. Details of the events can be found on the NGO's Facebook page.