After saving a historically high amount of their income in 2020, families in Belgium are once again setting aside a similar amount of money for savings as they were before the pandemic.
Families in Belgium saved an average of 12.5% of their income in the last three months of 2021, a savings ratio similar to the pre-pandemic level, according to data from the Institute of National Accounts (INR) published by the National Bank on Friday.
"For the whole year 2021, the saving ratio amounted to 16.4 %, which represents a clear decline from the historically high level reached in 2020 (20.1%)," a statement read.
This level is still higher than at the end of 2019, just before the pandemic broke out and when the savings rate in Belgium stood at 12.3%. During the first months of the crisis, families were spending little money due to the lockdowns, saving massively instead.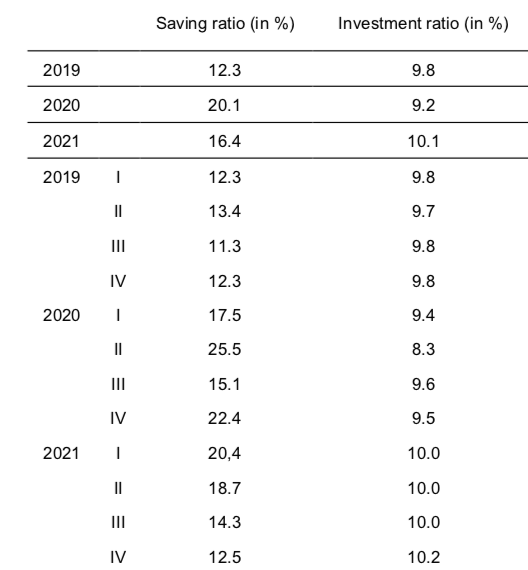 The savings ratio peaked at 25.5% in the second quarter of 2020. However, over the course of last year, as travel restrictions and Covid-19 measures were lifted, household savings gradually returned to a normal level.
Related News
Final consumption expenditure continued to rise but at a more moderate pace, with an increase of 1.2% compared to the third quarter, which resulted in the downward trend of the savings ratio.
While families saved less in 2021, they invested more in, for example, the construction and renovation of homes. The investment ratio for the whole year 2021 was 10.1%, compared to 9.2% in 2020.