The European Union continues to lag behind the United States when it comes to 'deep tech' development, according to a joint report by the European Investment Bank (EIB) and the European Patent Office (EPO) published on Thursday.
The term generally refers to companies – usually startups – dedicated to the pursuit of advanced technological solutions to massive and complex engineering problems. It is a dynamic sector where scientific breakthroughs and landmark discoveries are common.
Deep tech developments are wide-reaching and include disruptive innovations and concepts within biotech, AI and blockchain technology. Some of the most common fields in which deep tech research is being done are agriculture, aerospace, chemistry, life sciences and sustainable energy.
But while the United States boasts 6,517 small businesses patenting smart, connected devices – a branch of deep tech sometimes called the "Fourth Industrial Revolution" or 4IR – the European Union has less than half that number, with 2,634.
Missing out on the Fourth Industrial Revolution
"Market fragmentation across the EU and access to top talent continue to hold companies back," the report noted.
"Despite robust patent activity, the EU bloc shows the lowest specialisation in 4IR technology innovation relative to its overall innovation capacity. Top global innovation centres such as the United States, Japan, China and South Korea show the highest specialisation in the field."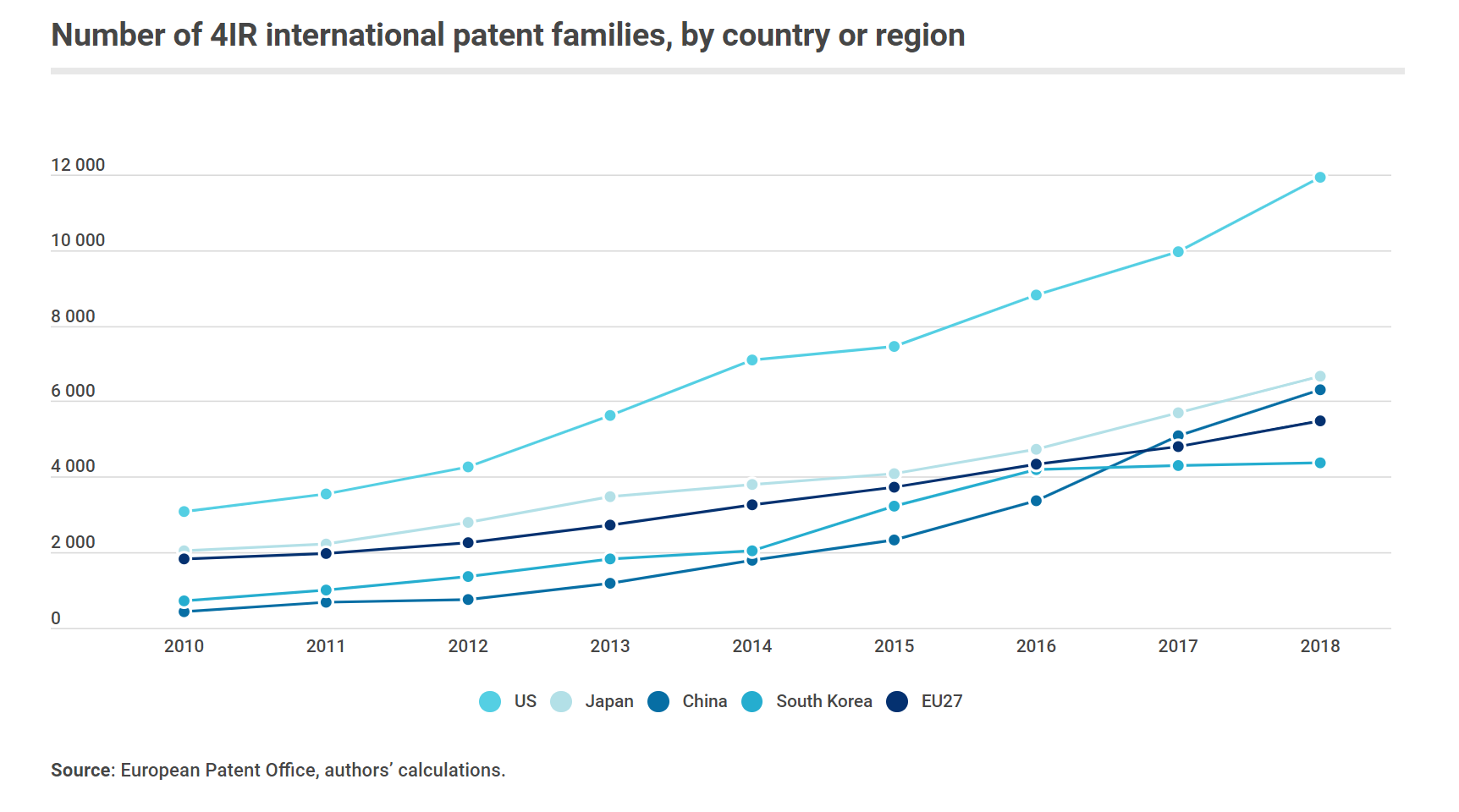 The United States dominates 4IR patents even though small businesses make up a smaller share of the American economy.
A bright future
Although the EU is lagging behind the US, the sector still remains strong.
"From the internet to cloud computing, 5G and artificial intelligence, innovations in smart connected technologies are disrupting the status quo across the globe," said EPO President António Campinos.
"Europe's small but highly innovative companies working in these areas can play a decisive role in advancing its competitive position in digital technologies."
🇫🇮 Supporting innovation & technology of the future: We are proud to back #deeptech companies by boosting manufacturing investments. @meetIQM in #Finland, Europe's first quantum-dedicated fabrication facility, gets a €35 million boost from the EIB 👉 https://t.co/u4Fk3h7gn5 pic.twitter.com/yEjpZmDwJz

— European Investment Bank (@EIB) April 28, 2022
Germany leads the way in the sector, with 570 SMEs developing 4IR technologies. France has 400 and Italy 273, with Belgium further down the order with 106. Interestingly, some smaller EU countries – namely Finland (268), Sweden (234), Ireland (102) and Denmark (111) – are outperforming much larger EU Member States thanks to their high concentration of small 4IR businesses.
Outside the European Union, the United Kingdom, Switzerland and Norway also perform exceptionally well.