Kanal-Centre Pompidou is set to be one of the largest modern and contemporary art museums in the world when it opens along the Brussels canal in a former Citroën showroom and garage. But can it fulfil its artistic aims and breathe life into the city's forgotten neighbourhoods? The Brussels Times spoke with Kanal's art director Kasia Redzisz about the bold project to create a new art hub in the city.
It's been almost a decade in the making but in a little over a year, Brussels will welcome Kanal-Centre Pompidou, one of the largest modern and contemporary art museums in the world. The museum, sometimes styled as KANAL, will offer music, film, painting, digital media, sculpture, performance, immersive experiences as well as housing the rich collections of architecture and urbanism of the CIVA Foundation (Centre International pour la Ville, l'Architecture et le Paysage). Housed in a historic, modernist former Citroën garage and showroom, Kanal is also part of an effort to reinvigorate the north canal zone and the knit together of disparate neighbourhoods.
Can a museum achieve such different goals? Kasia Redzisz, who became the institution's first artistic director in February, thinks so. "Brussels is home to citizens of many nations, with a growing number of artists from diverse backgrounds, and numerous cultural organizations," she says. "They will be fundamental for the future of Kanal, a museum which should be equipped to respond to the ever-changing world, relevant for global debates but committed to its locality."
Polish-born Redzisz says she wants the museum to be a global art centre, leveraging its position in Brussels next to the European Union's institutions. "That automatically exposes you to a global dialogue," she says. "But my ambition is to really balance it out with commitments to locality on this hyper-local level of really working with constituents and communities, to not only bring them to the museum but for people to feel welcome, to feel represented to feel a certain level of ownership of that institution, so I think that the biggest challenge is to balance out those two aspirations."
Redzisz is also committed to creating jobs in the community. "I'm very utopian," she says. "I think big public institutions have a social responsibility to create equal access and to create equal opportunities."
The building certainly has the artistic and architectural calibre to carry such important but completely different aspirations. But the success of the venture will depend on the art and artists associated with Kanal.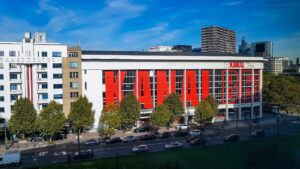 Redzisz is ultimately responsible for this, creating a new institution for 21st century art in a 90-year-old space. "I want the museum to show a programme that blurs the diversities of art, which traces the art history of the 20th century, showcasing artists who were pioneering yet forgotten, and the artists who challenged the Western canon of art," she says. Indeed, the museum aims to only buy 21st century art – although loans for temporary exhibitions and donations to the collection may be from earlier periods.
Warsaw, London, Liverpool, Brussels
So, who is she? Redzisz, who graduated from the University of Warsaw with a degree in art history, was the founding director of Open Art Projects, a Warsaw-based non-profit devoted to new commissions and international programmes with institutions in Poland, the UK, Germany, Brazil and the US.
She joined Tate Modern in London in 2010 where she organised touring retrospectives, curated group shows and contributed to the museum's international collection strategy, working mostly on acquisitions in Russia and eastern Europe. After five years at Tate Modern, she was named Senior Curator at Tate Liverpool, where she oversaw the exhibition programmes and international collaborations.
"I spent almost 11 years of working in a big organisation operating at the highest standards and I'm very much aware of policies and procedures and processes. While at Tate I worked with museums such as MOMA in New York, Stedelijk in Amsterdam so I have a know-how of how museums of that scale operate, what are their timeline requirements, the standards, so that's certainly helpful," she says.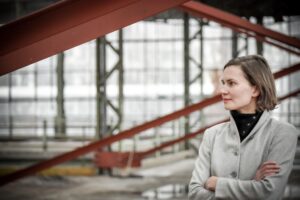 At both Tates, Redzisz also ran a big public engagement agenda which she now hopes to continue at Kanal – along with commitments to diversity, equality and cross-border dialogue. "My vision for Kanal is of a dynamic, responsive, interdisciplinary museum, a space for paradigm-smashing experimentation, which brings us together to celebrate art and to keep rethinking its crucial role in our lives," she says.
Despite her storied resumé, Redzisz's appointment stirred controversy. The museum's board had convened an international independent jury to choose an artistic director and they voted for her. But in a surprise turn, the board overturned the jury's choice, and instead announced that the position would be held by two people, Redzisz and Bernard Blistène currently the director of the Pompidou's Musée National d'Art Moderne.
However, the board's intervention triggered an outcry. An open letter signed by 800 members said Redzisz was "internationally renowned and appreciated," and "there is not the slightest doubt that she would not be perfectly capable of doing this job on her own." For good measure, it added that teaming her up with an older man was "an offensive act of sexism and a blatant insult to her expertise and capacities."
The furore prompted the board to reverse their decision, issuing an apologetic statement committing to a collaboration that, "fully integrates Kasia Redzisz as artistic director, while allowing the foundation to benefit from Bernard Blistène's experience."
Kanal plus
The museum is located on the Place Sainctelette, a key city crossroads. It is a huge multilevel, ungainly intersection that straddles the canal and is used by trams, busses, metros, cars, tunnel traffic, bicycles, electric scooters, pedestrians and boats. Bordering the Brussels city and Molenbeek communes, it is saturated, messy and dangerous. Although it is where the Maritime Quarter, the North Quarter and city centre meet, the canal and the anarchy of the Place Sainctelette keep the communities from one another.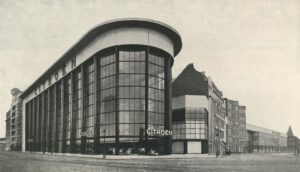 The Brussels Region already has elaborate plans for the renaissance of the neighbourhoods all along the canal with more than 50 public and private projects in the works. In March, the region's authorities formally requested planning permission for the complete redevelopment of the wider Sainctelette and Yser area that limits road traffic, simplifies the crossroads and frees up a large "bridge square" public space to bring the city districts together again. The scheme will also connect the district to a new 10-acre linear park along the west bank of the canal, and to the east a completely renovated and expanded Maximilian Park including the uncovering of a section of the Senne river. There will also be new housing for all economic levels and a greening of the connecting streets and boulevards.
At the heart of this array of projects is the Citroën building, which the regional government has long imagined as the home of a cultural institution that would bring together the various communities.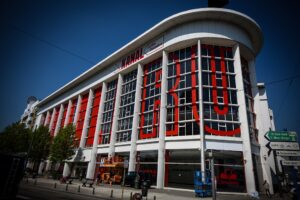 The original idea was for the new museum to display modern and contemporary art from the collection of Belgium's Royal Museum of Fine Arts, a federal institution. When they were unable to reach a deal, the Region turned to the Centre Pompidou in Paris: it agreed to provide pieces from its collection of over 120,000 works of art for the Kanal-Centre Pompidou partnership.
Once the main stakeholders were in place, the Region tested the concept with a two-year programme of exhibitions, workshops, performances and events entitled Kanal Brut, eliciting an enthusiastic public response. When the longer-term plan was announced, Brussels-Capital Region Minister-President Rudi Vervoort promised the new building would "create a cultural beacon" and "create bridges both physical and spiritual between all the city's citizens," while Brussels Mobility and Public Works Minister Pascal Smet said it would give the city and its crossroads of cultures "a new precious tool to meet and learn from each other, internationally and locally."
But all this means the project has accumulated multiple goals: showcasing a coherent collection of modern and contemporary art; attracting visitors from all walks of life and all parts of the world; giving exposure to the vibrant and burgeoning art scene in Brussels; and knitting together the city's disparate neighbourhoods and communities.
Yet Redzisz is undaunted by the task as she prepared to fill the current blank slate that covers some 48,000 square metres. She compares it to the Tate Modern in London, which opened in 2000 with almost 35,000 square metres of space. "Yes, it is a challenge," she says. "But it is a great challenge to have."
---
How Citroën blended form and function
André Citroën believed in distinctive design and aggressive marketing to sell his cars. Starting his own automobile company in 1919 he built large multifunctional showrooms with offices, repair workshops, service stations, newspaper kiosks, hair salons, even restaurants. To design and build it all he had an in-house architecture department which under Maurice-Jacques Ravazé designed everything in the newly emerging modernist style.
Belgium was a receptive market for the Citroën products, and the Belgian subsidiary was set up in 1924. Faced with growing demand, by the early 1930s, the firm decided to regroup all its facilities in Brussels in one location: André Citroën built what turned out to be the largest automobile complex in Europe and drew the preliminary plans himself.
Ravazé, with Belgian architects Alexis Dumont and Marcel Van Goethem, completed a striking glass, steel and concrete structure in just six months. The building dazzled day and night. During the day, a vast showroom with a 21m-high ceiling, a news shop, offices, a bar, and a waiting area were on display behind a rounded, glass curtain wall. And at night, an ingenious lighting scheme attracted passers-by, making the model cars sparkle like precious gems. André Citroën's strict design standards turned commerce into art. He would probably consider it entirely natural that his automobile complex should become a major modern and contemporary art museum.
The architecture offices of noAarchitecten (Brussels), EM2N (Zurich) and Sergison Bates architects (London) which are tasked with completing the €125 million conversion have insisted on restoring and conserving as much of the original elements as possible. The showroom will regain its 21m height with the removal of the floors added during the 1950s. The aluminium façade added in the 1970s will be replaced with glass and steel in line with the original plans. The angled roof will be made horizontal to create a roof terrace with spectacular views. Set back from the roofline there will be a bar and a covered patio. It should ensure the site once again becomes one of the canal's dazzling draws.