Lenn Morel, a 5-year-old boy who recently survived cancer of the bone, was able to celebrate this weekend by fulfilling his wish to play the bagpipes under the First World War memorial at the Menin Gate in Ypres this weekend.
Thanks to the work of the Make-A-Wish foundation, Lenn was able to join the bagpipers at Sunday's memorial event at the Menin Gate.
At such a young age, Lenn has not yet learnt how to play the instrument, but Make-A-Wish provided a mini-bagpipe for him to carry around, and someone also sewed a custom Highlander uniform so he could stand between the parading band.
The gate is a memorial for the British and Commonwealth soldiers who died during the First World War in the Ypres Salient on the Western Front, many of which were Scottish soldiers from Highlands regiments.
Family love of bagpipes
Always fascinated by bagpipes, Lenn's family are in a local bagpipes band, the Ypres Surrey Pipes & Drums (YSPD). The Ypres band, which plays traditional Scottish music, continues the tradition in tribute to the Scottish soldiers and pipers by playing in Ypres for remembrance events.
His mother Virginie and father Christophe play in the band and his 8-year-old big sister Liana is also a highland dancer. "Lenn experienced the rehearsals from the womb and hasn't missed a rehearsal or trip since birth," said Virginie.
"If we can, we are always there. Since 11 November, he has been completely fascinated by the pipers. He already saw us march through the Menin Gate, but so far he had never stood between us."
Highland regiments in the First World War
Bagpipes, a traditional Scottish instrument, accompanied many of the Scottish and Canadian Highlander battalions in the trenches in the First World War. It is thought that as many as 2,500 bagpipers served in the trenches during the war.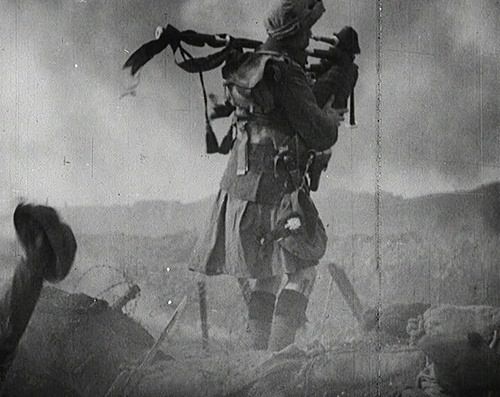 They played an important role for the British Army, often acting as a call to arms for British soldiers before leading attacks 'over the top' of trenches against the German lines.
The 51st Highland Division served in Ypres, and is famed for having bagpipe players embedded with soldiers in the trenches. Pipers were often regular soldiers who would take jobs as pipers to earn extra money.
Highland regiments also wore kilts in all weather conditions. They were known to be fierce fighters, with German troops dubbing the 51st Highlanders "the ladies from hell."