In a dramatic showdown of the Belgian First Division, Club Brugge managed to scrape past Union Saint-Gilloise with a 1-0 victory after Video Assistant Referee (VAR) cruelly but correctly disallowed Casper Nielsen's wonderful strike in the 89th minute for offside.
A draw last night would have kept Union in the title race, but after losing 1-0 with only two games left, Club Brugge now have a three-point lead over the Brussels team. After winning both playoff games, Brugge have almost certainly put USG's dreams of a surprise championship title to bed, although it is still mathematically possible.
Playing in a packed-out Jan Breydel Stadium in Brugge and with very different weather conditions to Sunday's sunshine as the rain bucketed down, Union dominated the start of play.
Around the half-hour mark, Union midfielder Lazare was booked for his second yellow card and was extremely lucky not to be sent off, the referee showing his generous side.
In both halves, Club Brugge's goalkeeper Simon Mignolet produced a number of spectacular saves denying Union the chance to take the lead. The former Premier League and Liverpool goalkeeper showed his experience and was easily Brugge's best player.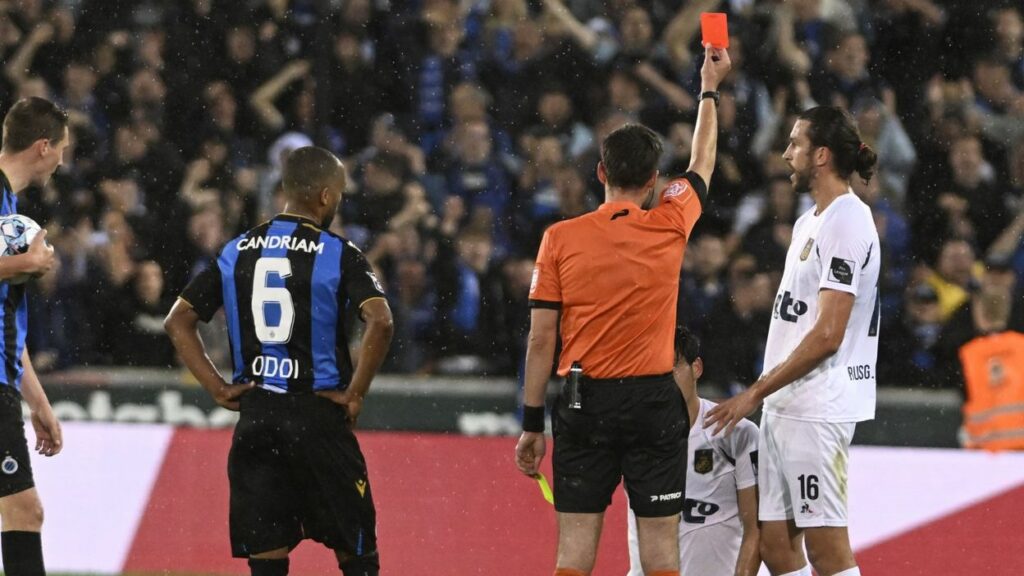 As the rain poured down, Union's lack of discipline started to show, with Machida being sent off in the 59th minute and reducing Union to ten men.
Five minutes later Club Brugge took the lead as a cross from Brugge's Buchanan was pushed by Union's keeper Moris against his own defender, Bager, and then back off Moris' ankle for a bizarre own goal.
With ten minutes remaining on the clock, the drama began. Playing to the roars of their home crowd, Club Brugge pushed for a second and nearly found it when the referee awarded them a penalty for a handball. But VAR stepped in and overturned the decision: no penalty.
The ten men of Union Saint-Gilloise did not give up, and in the 89th minute launched an attack on the break with forward Undav charging down the left side. After cutting inside he found Casper Nielsen, who hit a wonder strike from outside the box. The ball kept low and found its way into the far left corner of the net.
But as the away crowd went wild, it was heartbreak for Les Unionistes as VAR calling Undav offside, a cruel but correct decision in a season-defining moment.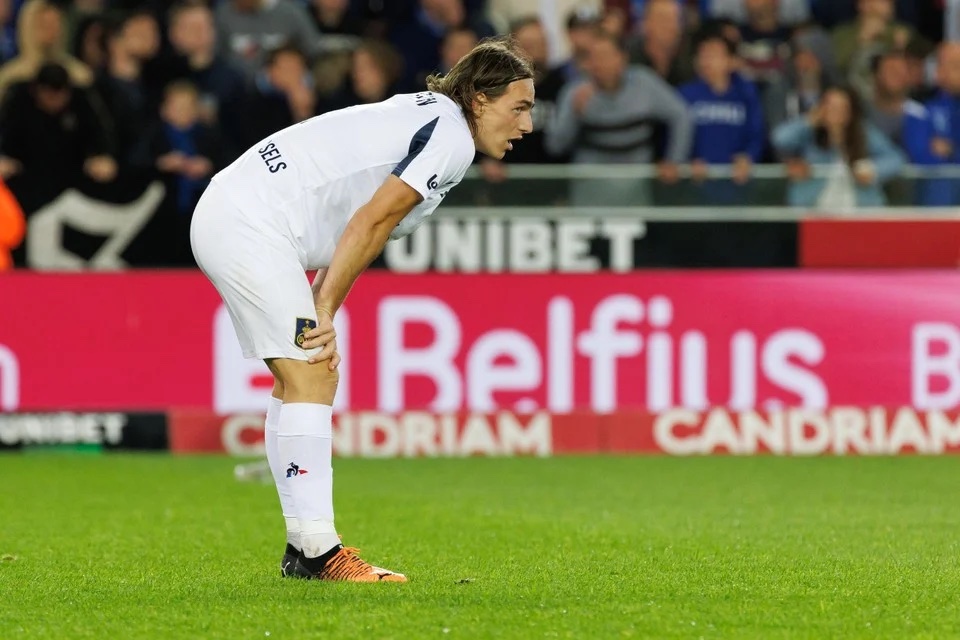 Club Brugge would also have Buchanan sent off for a second yellow in the 93rd, but the defending champions held on, and are now one win away from retaining the championship and a place in the Champions League.
A valiant performance
Union's players were visibly devastated at the final whistle, standing underneath the corner of travelling Union supporters, who as usual could be heard throughout the game.
Union's manager Felice Mazzu said in a post-match interview that having only just been promoted from the Second Division, the team needs to mature and be effective in the big games.
But he was also proud of his team and everything they have achieved, beating all odds: "I hope that all of Belgium will be proud of our team." Brussels most certainly is.