After two years of limiting close contacts and dreaming of carefree gatherings, social life is back with a boom. Cafes and bars are reopening and outdoor events thriving. After a forced foray into digital, the art world has also largely moved back to the physical medium.
Antwerp artist and curator Tsjêbbe Van Damme was eager to celebrate the lifting of travel restrictions and got international artists from all over the world to unite in his home city. The Dalek Art Gallery in the heart of Antwerp hosted their artworks.
The international artists formed a community of over one hundred people, named Cane-Yo, of which nearly a third came brought their work together for the exhibition in Belgium. Their work will be exhibited until 29 May, which you can visit every weekend from 13:00 to 18:00.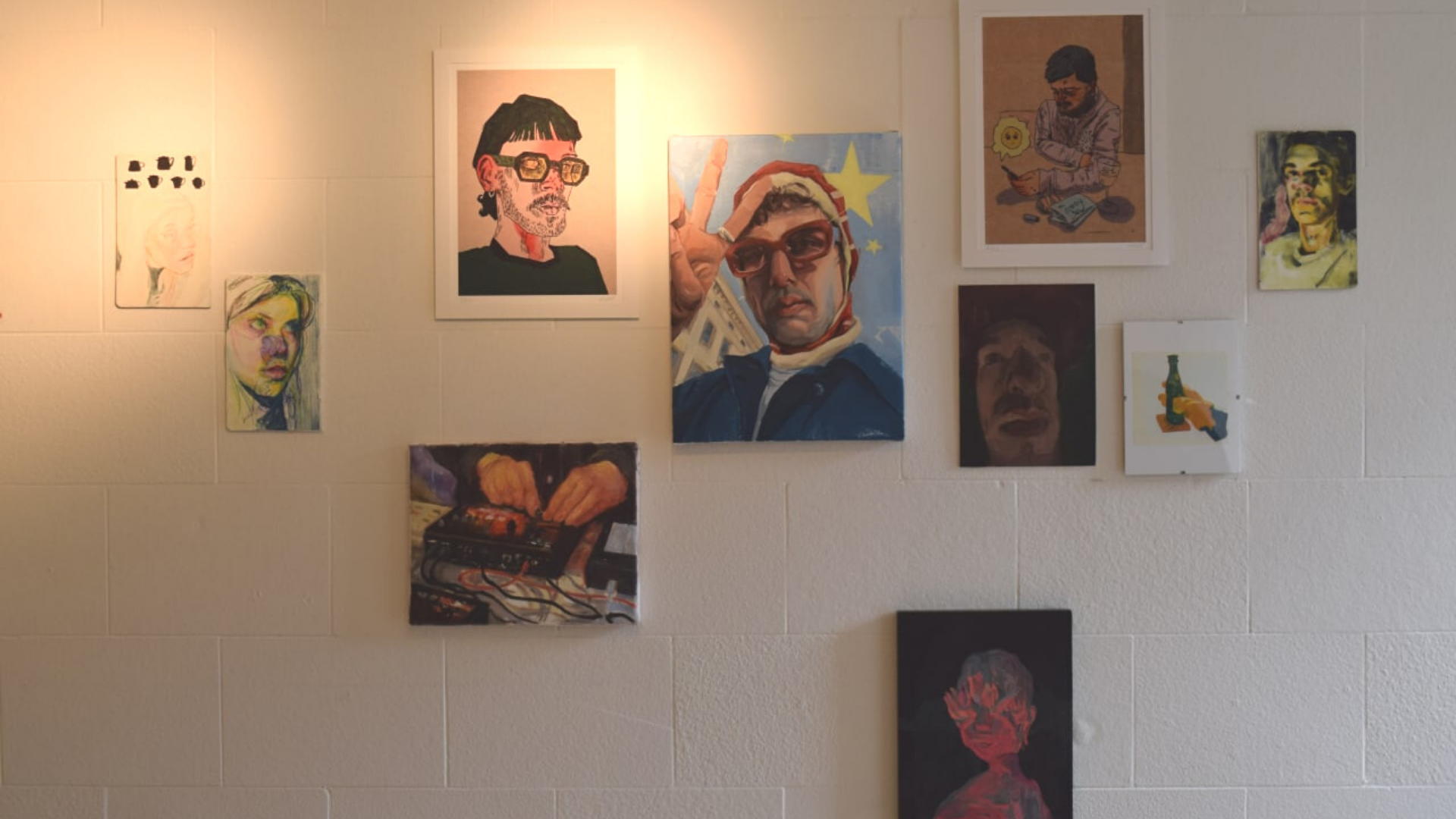 Cane-Yo
The community of artists, Cane-Yo, formed online a few years ago. What started as a group of four people grew into a community of more than 100 artists, who have been connecting and collaborating on different online platforms.
The group has been in touch ever since but this month was the first time most of them met in person. A dozen of artists from all over the world, from Malta to Chicago, travelled to Belgium for the opening.
The exhibition turned out even better than curator Van Damme could have predicted: "I've never experienced such friendships before. You think you barely know each other because you've only been talking online, but it's friendship and I feel connected to them."
"I've always been interested in people behind the art but I would never have imagined that people from so far away would come to Belgium for the show."
The exhibition's title, based of the 1975 Pink Floyd song 'Wish You Were Here', turned out to be more than just words. "Every time I see those words, I get reminded of all those friends, and I really do wish they were here," Van Damme says.
"I haven't drawn a line in weeks, but it's all worth it," says artist Camilo Carreño, based in Chicago. "I really want my art to be the vehicle to take me to other places, meet other artists and make friends around the world."
Logistical complications
Not every step of the way was easy for Van Damme. "It was a rocky road," he says. "Everyone needed to ship their work, we've had some struggles with that."
While most artworks made it to Antwerp just in time, two works got lost while one was sent back to its place of origin. One work arrived when the exhibition had already started and was added to the collection later.
Still, around 30 to 40 works made it to the exhibition – and will need to be shipped back to their original creators. "Some people have told me to keep their works but I'm not doing it for that. I will send everything back."
Figurative art
The artwork was mainly figurative, meaning it depicts recognisable things. Whether an animal, a person or a silhouette, there is a figure present in the artwork. Van Damme chose works that were breaking a typical theme or style of painting.
Maltese artist Nicole Sciberras Debono has work that is graphically intriguing, while other works are more fantasy-like. "As a community, we're mostly focused on representing the figure in a contemporary way," she says. "There are Renaissance-style figures which are very perfect, while we look for weird life conditions, strange poses, and unique perspectives."
Spotlight
When the artists arrived in Antwerp at night, they passed by the closed gallery. Intuitively, they took out their phones and lit their torches to catch a glimpse of each others' works before the official opening. "That was their first reaction to seeing the works," says Van Damme.
When they properly saw the pieces the next day, it was silent for a couple of minutes. "We knew the works already, but it's different in real life. The admiration we already had for each other became even stronger. It's a very talented group."
The exhibition inspired future plans and travels, as everyone involved was keen to continue collaborating. "Personally, I feel that I need to travel to change my world view," says Van Damme.
The gallery owner has proposed an annual show; this could feature those artists that were unable to make it this time.