The Botanic Sanctuary Hotel in Antwerp is one of Belgium's most exclusive hotels with a five star + rating. A room can cost up to €5,000 a night, a Porsche Panamera works as a shuttle service and the restaurant is catered to by Belgian top chef Gert De Mangeleer.
The hotel aims for the highest level of service, which also means some of the most demanding clientele. The hotel has been renovated from a former medieval hospital and monastery, which took four years. Now, it boasts five different buildings in 108 rooms, with 18 conference rooms, four top restaurants, a whiskey cellar and a spa and a gym.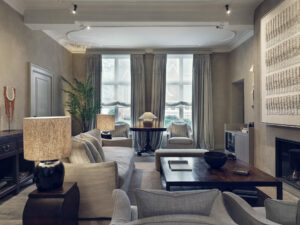 Comes with a price
At its busiest, 240 people worked on the site. The owner, Antwerp project developer Eric De Vocht, proposed a budget of €55 million, which looks likely to be exceed.
But business is already going well for the hotel. "Since May 1, we have been pretty much fully booked almost every day," said director of sales Sandrine Versavel, which isn't a small thing considering the price tags. The cheapest room is the Comfort Room, consisting of 25 square meters for two people and costs €295 per night.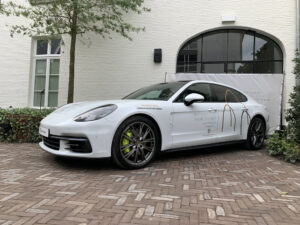 Moving up the price ladder, a suite with two bedrooms, a lounge and a terrace costs €1,995 per night. The most expensive room - the Diamond Suite - will cost €5,000. In exchange, guests will benefit from a room of 140 square meters
with two bedrooms, two bathrooms, a lounge and also a private wellness area with a whirlpool Jacuzzi, sauna and fitness.
Work in progress
Currently, the conference rooms are open, but the hotel aims to launch its Health & Spa Club soon. The health club will contain several saunas, an eighteen-metre swimming pool, a whirlpool, footbaths, ice fountains, salt saunas, infrared cabins and a fitness club led by a personal coach.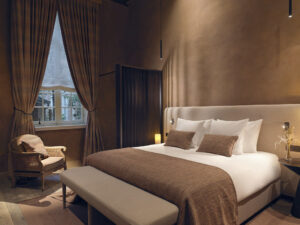 In terms of rooms, 62 of the 108 are currently finished, while another 35 will be finished after the summer. "Time is
time because we are preserving the historic character, some of the room walls are simply heritage," says
Versavel. "That way every room is unique."
The clientele
The hotel has 27 different target groups in mind, according to managing director Marc Alofs. "That could be a foreign artist or someone who has something special to celebrate. That includes people from Belgium who want a nice experience, but of course also an international audience," Alofs said.
He added that that the hotel's team had given presentations in Singapore and Sydney. "We are aiming for people who travel for gastronomy, but who also come to the fashion city of Antwerp. Or who are interested in our art, diamonds and, of course, our pioneering spa," said Alofs. Business people are also among the target groups.
In total, a few hundred people can stay there. These guests can have butler service included during their stay as well as fresh flowers, although these come at an added price.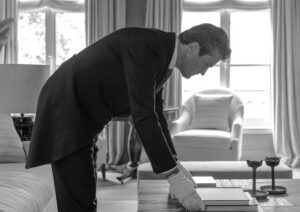 "Although full house is not our primary goal," said Alofs. "At this level, you don't aim for quantity, but rather quality: tranquillity, service and details. Anyone who runs a five-star superior must focus on details." To get that, you need people. "We have a staff of 120 people. That is a lot. That's right. One for every two guest," stressed Alofs.