Animal welfare organisations launched on Wednesday an initiative for a ban on fur farming and marketing of farmed fur products in the EU.
The Fur-Free Europe European Citizen Initiative (ECI) was officially registered by the European Commission two months ago and will run from 18 May for one year. It has already collected 50,000 signatures. The aim is to collect at least 1 million signatories in at least seven EU Member States.
A previous initiative to prohibit the use of cages for farmed animals was supported by 1.4 million citizens across all Member States and resulted last year in a Commission decision to put forward a legislative proposal. The new initiative has a good chance of succeeding, with several Member States already in favour of a ban on fur farming.
To date, 13 Member States have totally or partially banned or strictly regulated fur farming, sometimes with phasing-out periods. There is also support for the Fur-Free ECI in the European Parliament. "Confining wild animals in small wire cages for the trivial purpose of fur production should be consigned to the past," said Dutch MEP Anja Hazekamp, Animal Welfare Intergroup President, last year.
Related News
The Netherlands adopted a ban on fur farming already in 2013. The industry was due to be phased out by 1st January 2024 but the government was forced to an early shutdown of its mink industry due to outbreaks of COVID-19 on its remaining fur farms. The most recent country to join the list was Ireland, which in March 2022 finalised legislation for a ban and is expected to close all farms this year.
"We have an unprecedented opportunity to finally put an end to this cruel and unnecessary practise," commented Reineke Hameleers, CEO, Eurogroup for Animals. "European citizens have been asking for it for a long time, and their wishes started changing the fashion system, with many historic brands going fur-free."
The new ECI aims to achieve an EU-wide ban on keeping and killing of animals for the sole or main purpose of fur production and placing farmed animal fur, and products containing such fur, on the EU market.
Reasons for double ban
Animal welfare organisations list several reasons for such a double ban. The complex behavioural needs of wild animals cannot be met in fur farms. Furthermore, fur farms pose a risk to animal and human health, as proved during the COVID-19 pandemic, when hundreds of mink farms were affected by coronavirus outbreaks, and new variants of the virus were transmitted from animals to humans.
Fur farming has a significant environmental impact since the dressing and dyeing of fur involves the use of toxic chemicals. The fur industry also poses a serious threat to native biodiversity, with some farmed species, which escaped from fur farms and are now considered Invasive alien species causing adverse impacts on European native wildlife.
A marked divergence between national laws with respect to the fur production sector has also led to a distortion in the EU's internal market.
Eurogroup for Animals told The Brussels Times that the political support to ban fur farming in the European Parliament is encouraging but is not enough in itself to start the legislative process. The ECI goes further than most Member States in calling not only for a ban on fur farming but also on a ban on the placing and marketing of farmed fur products in the European market.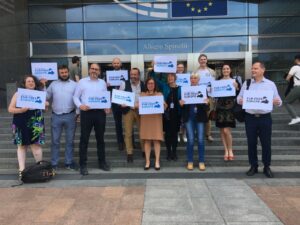 "The ECI will provide the European citizens with a powerful tool to ask the Commission to act, as the public support for a ban has already been expressed several times in opinion polls. Once the 1 million signatures are validated, the Commission is obliged to respond and take action."
"This would lead to an end of fur in Europe so we won't end up with importing fur products from countries with lower welfare standards," a spokesperson explained. "Given the size and importance of the European market globally, such a ban would be felt across the globe. Any harmonisation of manufacturing practices by fashion retailers would likely mean adoption of European norm."
Available data show that fur farming is concentrated in some EU countries, such as Sweden with 27 mink farms, Finland with 762 fur farms (mink, foxes and raccoon dogs) and Poland with 666 fur farms. In Bulgaria there is only one mink farm left but reportedly with a large number of animals.
During the height of the COVID-19 crisis, eight Member States identified COVID-19 positive animals on mink farms: Denmark (289 farms), France (1 farm), Greece (12 farms), Italy (1 farm), Lithuania (1 farm), Netherlands (70 farms), Spain (1 farm), Sweden (13 farms). COVID-19 positive mink has also been found on a fur farm in Poland.
M. Apelblat
The Brussels Times