An increasing number of companies in Brussels are exchanging their vans for more environmentally friendly, and often faster, cargo bikes. Before the increase in popularity, only one in a thousand deliveries were made by bicycle.
Now, it is closer to one in a hundred, about six million per year. In other words, the cargo bike will undoubtedly play a role in the more sustainable "last-mile" deliveries of the future, reports RTBF. That "last mile," or kilometre, is known to be the most expensive and environmentally polluting of the entire delivery process.
FoodSprint is one of the companies that is committed to a more sustainable Brussels logistics sector by utilising bicycles for its deliveries. For several months now, they have been delivering goods by bicycle for companies such as supermarket chain Colruyt and the Brussels meat processing company Walravens.
Bicycle logistics is more than just driving around with a cargo bike, emphasised founder of FoodSprint Dario Vunckx. "For example, we work with refrigerated goods, which is very complex. The entire process, from supplier to end customer, must be closely monitored."
"All the products arrive in large trucks, which we unload and register the orders in the system," said Achraf Senhaji, FoodSprint's delivery manager, who oversees the process from its beginning in the early hours of every morning.
"This way, the couriers can get on the road quickly and without worries." Mondays, Wednesdays and Fridays are the busiest days at FoodSprint. During these days they make about 60 deliveries per day, which is five to six per bicycle courier.
"For the average bicycle user, Brussels is already a serious challenge, let alone as a bicycle courier with a load of more than 100 kilograms," Senhaji said. Additionally, he said, it is too easy to blame everything on the infrastructure. "It is also partly down to the road users we share the road with, whether they are motorists or pedestrians."
Switching between bicycles and vans
Bicycle logistics remains a relatively new concept and has many advantages, Vunckx emphasised. However, there are also disadvantages. "We can only transport a limited volume. For long distances and heavy loads, vans still remain the best vehicle. It is an 'and-and' story. Bicycles will take over a large part of the deliveries, but certainly not everything."
This opinion is shared by Brussels Mobility Minister Elke Van den Brandt. Studies show that about 25% of all goods, 50% of all deliveries, can be delivered with cargo or similar bicycles. "More and more companies in Brussels are doing the same," said Stefan Vandenhende, mobility advisor for the Van den Brandt cabinet.
"In London, for example, they came to the conclusion that a cargo bike can deliver about ten small packages per hour, while with a traditional van it is around six per hour."
Brussels is still a long way from achieving this 25% of all deliveries. They also know this at Urbike, one of the leading companies in the field of bicycle logistics. "It is a very rough estimate, but currently about one in a hundred orders are done by bike," said CEO Philippe Lovens. "The potential is much higher, but just like our colleagues, we do not claim that everything can be done by bike."
Vunckx, himself an avid cyclist, sees that the Brussels government wants to encourage bicycle deliveries. "It is slowly getting better, the cycle paths are getting wider, but the motorist is still king." However, he is satisfied with the infrastructure investments but "more needs to be invested in a change in mentality."
New cycle paths
This is a long-term project, according to Stefan Vandenhende, the advisor to Minister Van den Brandt. "New cycle paths must be wider for cargo bikes, but we must also not hinder other active road users," he said. At the moment, a cargo bike may be between 1m to 1.20m wide.
This should not cause any difficulties on most cycling infrastructure. The minimum width for a one-way cycle path is already 1.50m, for a two-way cycle path 2.50m. But it is difficult to place separation poles and that can cause other problems.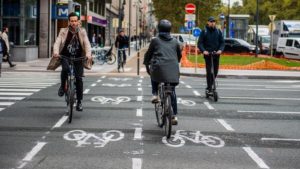 "Certain people abuse wide cycle paths without poles," said Vandenhende. "It is a difficult balance, since the poles protect the cyclist, but are also an obstacle."
The main factors for increasing the popularity of bicycles are to provide safe, easy parking spaces to avoid theft, and increase good infrastructure. According to Vandenhende, the second may also simply mean that car traffic must decrease. "For example, with a new circulation plan, cycling simply becomes more comfortable and safer."
The advantages of cargo bikes should not be underestimated in a city like Brussels. The traffic jams are only getting worse and vans that do manage to make their way find it difficult to unload their goods. Bicycles are dynamic, and more manoeuvrable in traffic.
Vunckx is convinced: "We are simply faster and can bring a better service to the end customer."
Related News
One of the companies for which Vunckx and his bicycle couriers supply is the Brussels meat processing company Walravens. Sonja Kerremans, supply chain manager at the company, is satisfied with the choice to deliver partly by bike, but still sees areas for improvement. "The volumes are indeed sometimes a problem, and we still have to tinker with the flexibility of the cyclists."
According to Kerremans, the financial part is also impossible to ignore. "The costs have to be right, otherwise we deliver with our electric vans." Nevertheless, she is convinced that bicycle logistics is promising in Brussels. "Our focus is on sustainability and the cargo bike is just faster in smaller streets."
Urbike notices another phenomenon. "It is very striking how popular the job is." For every vacancy they publicise, the response is overwhelming. "People with all types of training, high and low, want to work as a bicycle courier," said Urbike's project manager Margot Vandorpe.
The Brussels government is committed to one big project, called Cairgo Bike. With this project, the government wants to introduce families and companies to the possibilities of cargo bikes. Together with Brussels Mobility and Urbike, companies that want to venture into the sector are advised and guided.
"In this way, we try to create a dynamic around logistics and the switch to cargo bikes," said Stefan Vandenhende. "In addition, we also offer subsidies to small and medium-sized enterprises to buy cargo bikes."
Companies can get 50% of their investment repaid. The maximum premium is €4,000 per cargo bike and €2,000 per trailer, for a maximum amount of €12,000 per year. Currently, for the first year of the project, there is no complete overview of the number of grants awarded.
At the start of the project, there were 40 companies in the guidance process. "That number has already risen to 85," Margot Vandorpe says. Companies that they got on board are, for example, VRT, Proximus and also Special Olympics Belgium.
In principle, the project will end in June 2023, but together with Brussels Mobility, an extension is already being considered, although those plans are not yet concrete.