War crimes perpetrated in Ukraine will be investigated and the atrocities committed will not go unpunished, European Commissioner for Justice Didier Reynders said on Saturday in Turin, Belga News Agency reports.
Reynders told the Italian daily La Stampa that 11 EU member States were conducting inquiries into war crimes in Ukraine and 600 suspects had already been identified.
The investigations are being carried out in Ukraine and other European countries based on the testimonies of people who fled the violence and fighting in Ukraine, the European commissioner said.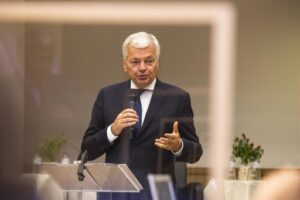 The evidence needs to be collected correctly, he stressed, adding that "if fake news is added, that would be a disaster."
A Russian soldier currently on trial in Kyiv for war crimes in Ukraine, should know his fate on Monday. He faces 10 to 15 years in prison according to Ukrainian law.
The soldier taken prisoner has pleaded guilty to the crime, shooting an unarmed civilian on a bicycle, when fleeing Ukrainian forces. He said in the trial that he had been ordered to kill the man so that he would not report him and other Russian soldiers.
Ukraine hopes that the hundreds of Ukrainian soldiers in the Azovstal steel plan in Mariupol that surrendered to Russia will be released in a prisoner exchange but they have been accused by Russia for war crimes and are portrayed as "Nazis" in Russian media.