Belgian cartoon artist Pieter de Poortere is putting his best known comic book character, Dickie, to use in the fight against plastic.
De Poortere had previously tried doing his bit for the environment by eating less meat and recycling more, but he soon realised that what people can do individually isn't enough.
"We think we are doing great because Belgium has special trash bags for recycling plastic. But very little plastic is actually recycled, instead, it is burnt or sent to developing countries," De Poortere pointed out.
Creating awareness through humour
De Poortere decided to use his character Dickie to create greater awareness of the problem of plastic pollution, as part of an international collaboration of artists, including in Louisiana and Taiwan, working on the same issue.
Dickie is a pudgy man, drawn with bright colours who he created nearly 20 years ago. The character now has a permanent home in the Brussels Comic Book Museum, where Belgium displays its rich history in comic books.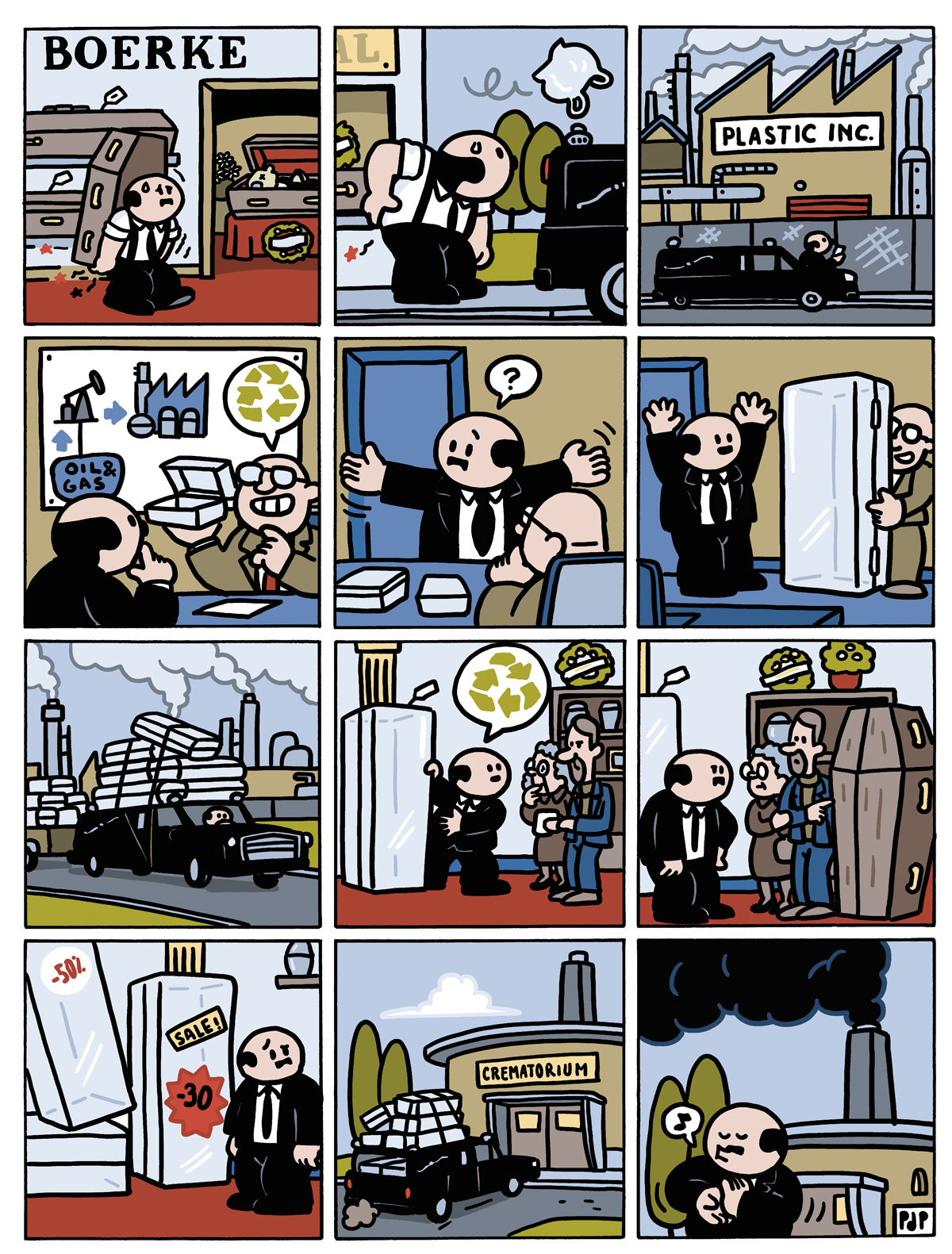 Dickie has featured in stories about farming, fairy tales as well as disasters concerning the environment, which he himself causes. There is one comic strip in which Dickie shoots a kangaroo because he tried cutting down on plastic use.
"Dickie is a universal loser because he does everything the wrong way," de Poortere said, adding that there are similarities between Dickie and people in general.
"He is a character in whom we can recognise our deficits. We are doing the wrong things but can't stop ourselves, we just keep going the same way. There is tragedy in that, but it's also a good resource to make jokes."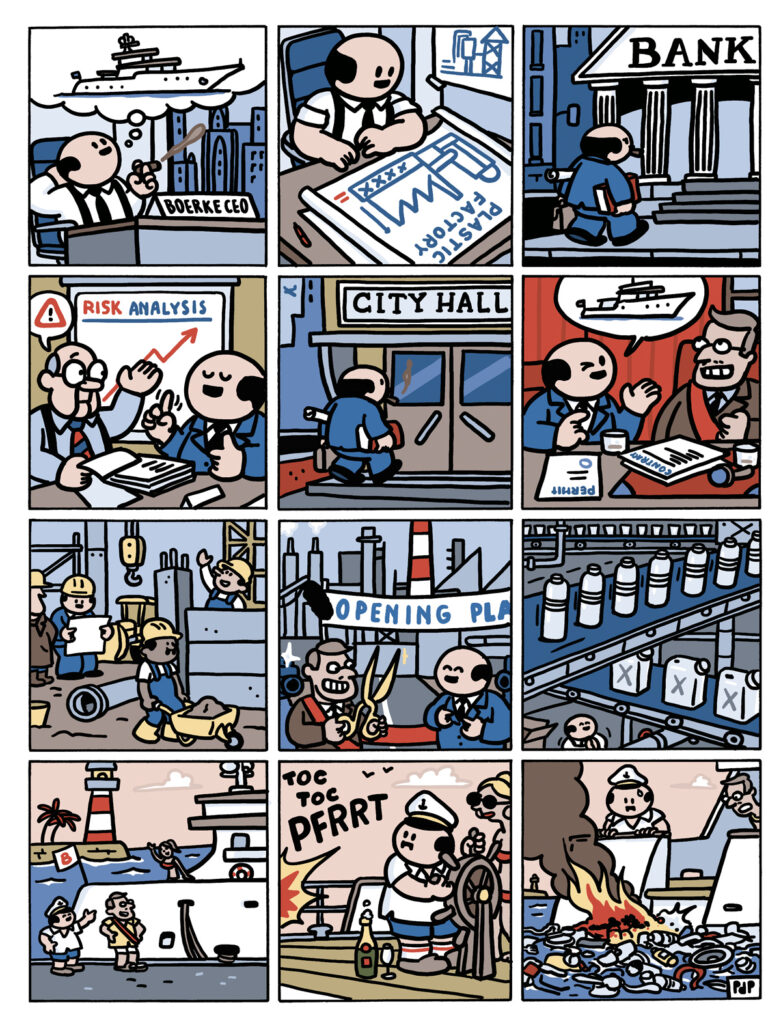 De Poortere's work is part of an art project called the Magnify initiative. The organisation behind Magnify is Cosmic Foundation, created by producer Camille Duran. For Duran, highlighting the production of plastic, not just people's consumption of it, is key.
"Demand for plastic is set to reduce due to policy directives, but market structures aren't taking that into account and their decisions are based on speculation, so basically there will still be an overcapacity of plastic products permitted regardless of demands," Duran said.
Plastic production to increase
Globally, only 9% of plastic is recycled, according to an OECD report, with the bulk of it incinerated or leaking into the environment. Nearly half of all plastic waste comes from OECD countries such as Belgium.
"Plastic consumption has quadrupled over the past 30 years, driven by growth in emerging markets. Global plastics production doubled from 2000 to 2019 to reach 460 million tonnes," the report reads, adding that plastic is responsible for 3.4% of global greenhouse gas emissions.
Based on current trends, there will make four times more plastic waste than ever before in the next 30 years, according to Science, a peer-reviewed journal.
Related News
The project organisers behind the Magnify initiative hope that the Dickie series will help lunch support against a plastic plant to be built in Antwerp by British petrochemical mogul Ineos. Environmental NGOs have put up a legal challenge to Antwerp for allowing Ineos to build a "chemicals installation to make ethylene from fracked US shale gas," the Guardian reported.
De Poortere's cartoon sequence on plastic will be available during Mary in the Dutch-language weekly paper Knack. The cartoon artist intends to include the series in a book about environmental issues to come out in 2023.
"Humour is more convincing to the public than nagging. We want to make them laugh, then think about what they've read," said De Poortere.