Belgium has fallen on the NewClimate Institute's Climate Change Performance Index (CCPI) for the second year in a row, dropping nine places to 49th in 2022. The report indicates that Belgium has a "low performance" in reducing greenhouse gas (GHG) emissions.
According to the data, Belgium lags behind many of its European neighbours in terms of GHG emissions per capita, releasing 10.09 tonnes of CO2 per person. Of the 27 EU Member States, this is the eighth-worst performance.
The findings account for GHG emissions, renewable energy, energy use, and climate policy. All considered, Belgium is ranked now behind Belarus and just ahead of Slovenia.
Greenhouse gas emissions
The report gives a 40% weighting in its results to GHG emissions, which are responsible for rising global temperatures and extreme changes in weather and climate. During the Covid-19 pandemic, there was a "sharp, globally unrepresented 5.4% drop in CO2 emissions."
Unfortunately, GHG emissions have rebounded strongly, by around 4.8% in January-July 2021.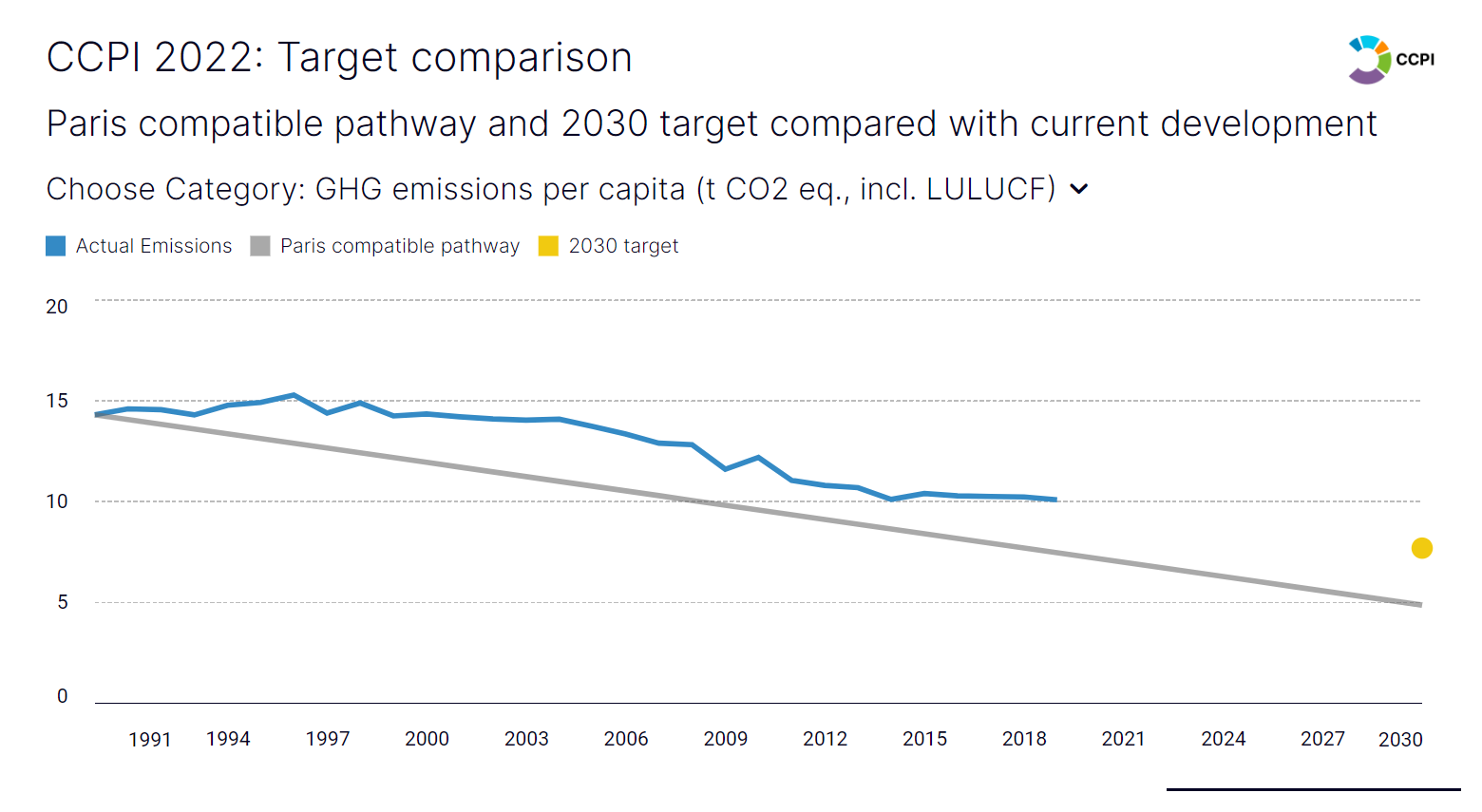 The best performing EU nation was Sweden (ranked 5th in the world). Other states, including Malta, Denmark, and Germany, made 'high' levels of progress in cutting emissions. Belgium's poor performance was only beaten by Czechia, Poland, Ireland, and Slovenia who received 'very low' rankings.
Related News
In terms of improvements to its GHG emissions, Belgium ranks below many developing nations such as Vietnam, Algeria, South Africa, Colombia, and Thailand.
Energy struggles
There is also much room for improvement in Belgium's renewable energy supply. Both Belgium and France rank 'low' for improvements in the development of the renewable energy sector.
To date, under 20% of electricity produced in Belgium came from renewable sources, according to data published by the Belgian federal energy regulator CREG.
In 2021, the EU endorsed Belgium's National Recovery and Resilience Plan, which included investments and reforms that aim to improve the country's environmental performance.
But while the plans are seen as an improvement, the EU Commission noted that the plan "lacks reforms towards better climate policy". The Belgian Federal and Regional governments have been repeatedly criticised for their inaction on the climate crisis.
Belgian contributors to the CCPI have welcomed changes to Federal and Regional climate targets but argue that "Belgium's overall climate ambition is still held back by the Flemish government."
Ahead of the COP26 conference, Zanna Vanrenterghem, Greenpeace Belgium's representative for the Klimaatcoalitie, told the Brussels Times that "Flanders is completely obstructive and is acting like a toddler who just doesn't feel like doing anything."