1,000 tonnes of rubbish are dumped by drivers along Walloon motorways each year, according to statistics published on 1 June by the Walloon infrastructure funding body, SOFICO.
The cost of cleaning this up, SOFICO estimates, is an annual cost of €4 million, which comes from the pockets of Wallonia's taxpayers. Motorway users also leave nearly 3,000 tonnes of rubbish in or around rubbish bins at roadside resting areas, costing an additional €2 million.
To tackle the trash, SOFICO has launched a new campaign to discourage the tossing of rubbish from car windows, which according to the Walloon agency, "are harmful not only to the environment, but also to public finances and everyone's safety."
To spread the message, SOFICO has teamed up with French-language radio station VivaCité, who are hosting a broadcasted debate from 17:00 to 19:00 on littering and public finances.
SOFICO has published two different campaign posters, sharing statistics about how much waste is collected each year and how much it costs the taxpayer to do so.
Related News
Phillipe Henry, Walloon Minister for Mobility and Infrastructure, underlined the importance of the campaign.
"It is essential to raise awareness about not only the right measures to adopt in terms of cleanliness, but also the costs generated by the collection of all this waste thrown out the window of cars," the minister said.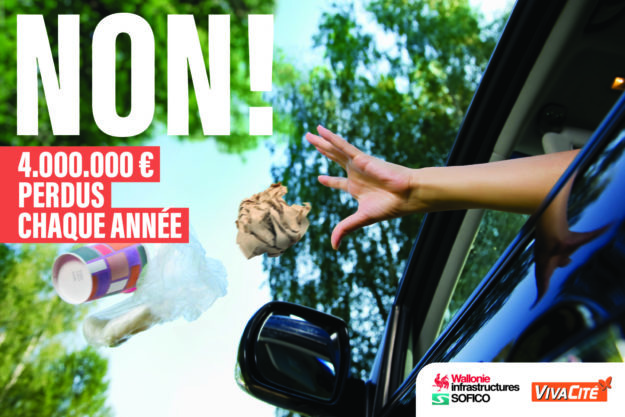 Alongside posters, SOFICO will also share videos on its social media accounts including real images of litter along the sides of Walloon motorways. According to Henry, rubbish thrown out of windows can pose a serious risk to the safety of other motorists.
"This debris can also clog the drains and increase the risk of aquaplaning," he explains.
In a time of tight public finances in the Walloon region and concerns over unnecessary spending, the Walloon minister is keen to raise awareness about the costs associated with littering.
"Don't throw money out the window! We would prefer to devote the entire budget to the renovation and maintenance of our roads and we hope that these messages will make it possible to raise the awareness of certain motorists, who fortunately constitute only a minority," Henry said.
Fortunately, some reductions in roadside litter have been identified along ordinary Walloons on ordinary roads. Non-profit Be WaPP, which organises Wallonia's annual 'Big Clean' litter collection event, noted that they have seen yearly reductions in waste on roadsides.