In the first quarter of 2022, Belgian companies created 205,877 job vacancies, compared to 196,140 in the same period last year, according to Statbel, Belgium's statistics agency.
The number of vacancies has been growing steadily since 2013 and is now at its highest point on record. The job vacancy rate, the number of job vacancies compared to the total number of jobs in companies, has also risen from 4.72% to 4.83%.
New job vacancies exploded at the start of 2021 following a strong recovery from the Covid-19 pandemic. Between the fourth quarter of 2020 and the third quarter of 2021, the total number of permanent positions rose around 70%.
Belgium is currently recording a high level of employment due to a strong recovery following the pandemic. Currently, employment is sitting around 70% but there are hopes to raise this to around 80%, finding jobs for 300,000 jobseekers and 400,000 other Belgians.
Vacancies based on location and size
The data shows that the majority of job vacancies can be found in Flanders (67.95%). In total, there were an additional 6,232 new jobs in Flanders compared to the end of last year, while 19.62% of job vacancies can be found in Wallonia, and 12.43% in the Brussels-Capital Region.
The job vacancy rate is also much higher in Flanders at 5.51%, compared to 3.77% in Wallonia.
The data also reveals some interesting dynamics in Belgium employment. There are 4.5 times more job vacancies in large and medium-sized enterprises in Belgium than there are in small ones.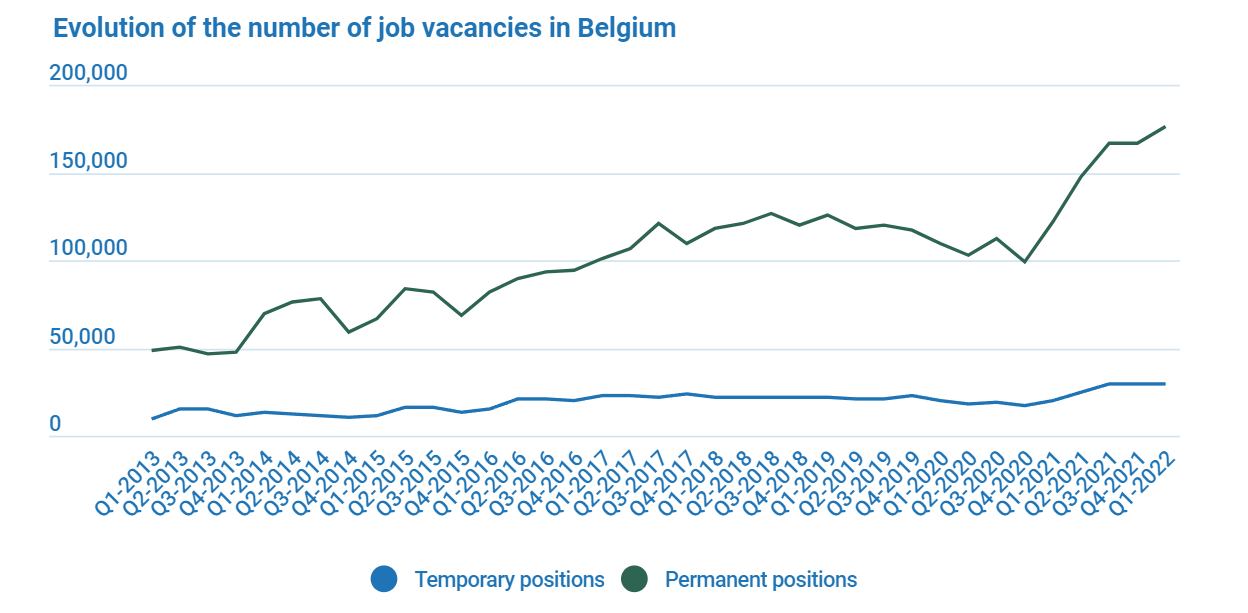 Nevertheless, the job vacancy rate among small businesses is much higher (6.98%) than in medium and large businesses (4.53%).
Most vacancies in non-profit
More than three-quarters of all jobs in Belgium were found in the non-profit sectors, scientific and administrative services, manufacturing, wholesale and retail trade, and construction.
By far the largest amount of job vacancies were available in the non-profit sectors, which are attracted to Belgium for their location due to its proximity to European institutions. Over one-fifth of all available job listings in the country are offered by this sector.
A further 17% of job vacancies are in "sciences and services." Belgium is a major chemical and pharmaceuticals producer, with major corporations from across the world hiring for positions in Belgium. Likewise, a further 15% of vacancies are in industry (ie factories, manufacturing).
Related News
The highest share of job vacancies to total jobs in companies in Belgium is found in the hospitality sector, where there is a 9.5% share of vacancies. This sector has been struggling to fill positions since the pandemic struck.
Other industries with high levels of vacancies include information and communications, construction, sciences, and transportation.
In Brussels, data shows that the applied sciences, paramedical sector, administrative, and social work sectors offered the best employment rates to young graduates in the capital. Holding a university degree is becoming increasingly important, as the share of jobs that require higher education has increased dramatically over the last decade.