Budget airline Ryanair has said that unlike many other airlines operating on the continent, it does not expect any impactful disruption of flights during the summer as a result of union action or staff shortages.
Last week, Brussels Airlines announced it would be cancelling flights to alleviate the workload on staff, with further cancellations expected as a result of strikes announced by cabin crew and pilot unions starting from 20 June.
Ryanair's CEO Michael O'Leary, who has a reputation for dismissing unions and strike notices, said during a press conference on Tuesday that he expects little disruption to flights during the summer months. O'Leary stated that Ryanair is not suffering from staff shortages as many other EU airlines are.
When asked about possible strikes by The Brussels Times, he said that discussions are ongoing to come to agreements with unions. "We hope there won't be a strike but if there is, most people won't even notice it."
Possible strikes
From 22 to 24 April, Ryanair cancelled several flights from Brussels International Airport and Charleroi Airport as a result of strikes organised in light of failed negotiations with unions regarding the working conditions of staff.
O'Leary claims that these strikes affected less than 40% of Ryanair flights in Belgium and added that any strikes in June would have the same impact. Now, he announced an agreement with unions regarding wages for 90% of its pilots in Belgium, adding that the company would be meeting with cabin crew unions on Wednesday. "We are close to reaching agreements so it is not appropriate for (unions) to be threatening strikes in June," he said.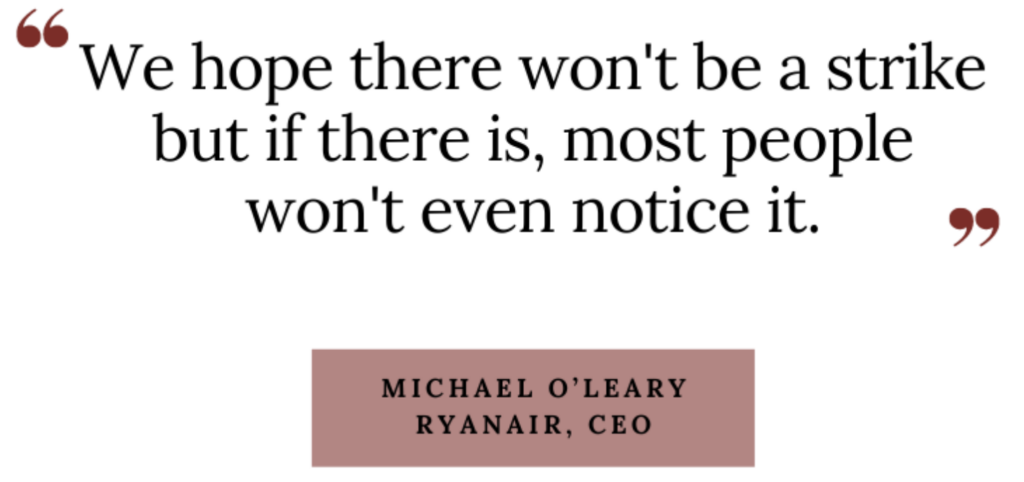 However, the Christian trade unions ACV Puls and CNE denied that agreements have been reached, either for cabin crew or pilots: "What he had said is a lie. There are discussions which are ongoing, we are holding discussions this week too, but no agreement has been reached," Didier Lebbe, Permanent Secretary with the French-speaking CNE union, told The Brussels Times.
O'Leary disparaged the media attention on strike notices filed by "Mickey-Mouse" unions (Spanish unions USO and SITCPLA announced a six-day strike on Monday) without noting that Ryanair has "already reached pay agreements with around 90% of our unions in Europe, from Poland to Portugal."
Related News
When asked about adopting the Belgian labour law — that ACV Puls says Ryanair is not applying correctly — O'Leary insisted that the company complies fully with the law.
"We have labour agreements with both the cabin crew and pilot unions. You should all calm down and stop panicking because some union issued a strike notice. Anyway, Belgium is riddled with strikes," he said, referring to recent strikes affecting public transport operators.
EU flight experience disrupted
O'Leary's attempts to reassure passengers come in light of the aviation sector in Europe facing various challenges. Fares are increasing as a result of rising fuel prices, making travel more expensive as the cost of living tightens consumer budgets.
After two years of the pandemic, there is still a growing appetite for air travel and yet many airlines had reduced staff numbers and now find themselves unable to cater for the rise in passenger numbers. This has seen airlines from Lufthansa to Air France-KLM cancel flights. O'Leary said that Ryanair started actively recruiting new personnel in November, meaning it should be less impacted by staff shortages.
He claimed that the difficulties affecting the European travel industry should be resolved by the end of June, ahead of the summer season. "At the moment, many travellers are not having a pleasant experience when travelling by plane."
Finally, O'Leary discussed the European Parliament's vote on 8 June to extend Europe's Emissions Trading Scheme ("ETS") to all long-haul flights departing from the European Union to "avoid poorer families carrying the burden of this cost alone."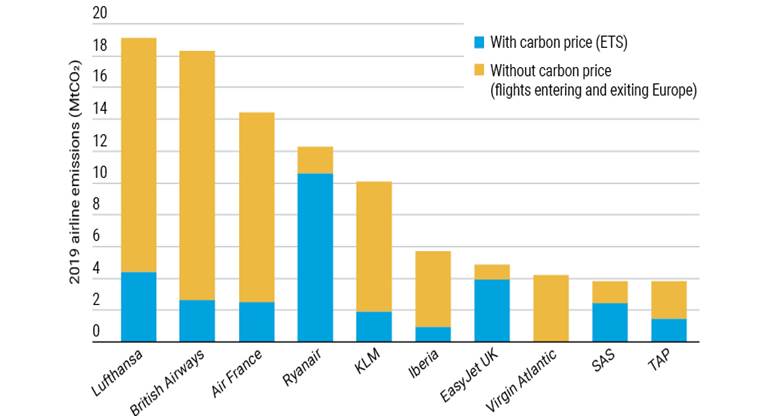 "The richest long-haul passengers should pay their fair share of European ETS taxes, and hard-pressed European consumers and their families should pay a lower, more equitable share of ETS taxes." O'Leary said that the short-haul flights of these lower-income passengers account for less than 50% of European aviation CO2 emissions.