The Eurozone's annual inflation rate continues to soar. In May, it reached 8.1% – up 0.7% since April – which was confirmed by statistics released by Eurostat on 17 June. This time last year, the annual inflation rate was just 2%.
In the European Union, inflation increased to 8.8%, also up 0.7%. Just a year prior, it was 2.3%. According to Eurostat, in Belgium, inflation reached a staggering 9.9%, levels unseen in over 40 years. The National Bank of Belgium believes that Belgian inflation stands at 8.97%.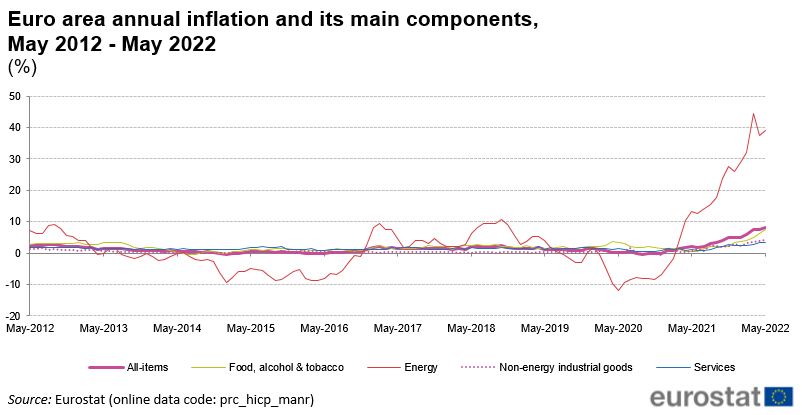 Belgian consumers are feeling the impact of inflation at the pump, in their electricity bills, in their rents, heating oil bills, at the supermarket, when buying cars, drinks, foreign holidays, and more.
Energy continues to be the biggest driver of high inflation in Belgium. Energy prices contributed 3.87 percentage points alone. The price of food products, services, and industrial goods have also driven up inflation across the Eurozone.
Recent trends indicate that this surge in inflation is not simply a consequence of high energy prices. Core inflation, which excludes food, energy, alcohol and tobacco, is also on the up.
The highest annual rates of inflation were observed in Estonia (20.1%), Lithuania (18.5%), and Latvia (16.8%). Across the European Union, only one country saw reductions in inflation. In all over 26 nations, increases were reported.

Inflation in the Eurozone is way outside the European Central Bank (ECB) target of 2%. American economist Richard Cookson, in a comment to American economic publication Bloomberg, stated that the ECB can no-longer target inflation, failing in what of its core goals.
There are now rising calls for the ECB to be much more aggressive in order to control inflation and act in the interests of European citizens. The ECB suggests that recent wage growth will be enough to prevent a price-wage spiral, but Belgian employers are already struggling to keep up with indexed wages as a result of inflation.
It is unlikely that inflation will improve anytime soon, but the National Bank of Belgium has predicted that life will become slightly "less expensive after summer."