More than six decades of Democratic Republic of Congo's independence from Belgium were celebrated on Thursday with events in Kinshasa and Brussels including the burial of freedom fighter Patrice Lumumba's tooth and the removal of a controversial colonial statue.
Lumumba, a powerful voice in Africa's anti-colonial movement, was DR Congo's first democratically-elected prime minister after it won its independence on June 30, 1960. However, the outspoken premier was murdered by rebel militia the following year, with the complicity of Belgian and US agents.
A Belgian policeman dissolved Lumumba's body in acid but kept one of his gold-capped teeth as a trophy. The tooth was handed over to Lumumba's family last month and brought back to Kinshasa, where a funeral was held. Congolese President Félix Tshisekedi and Lumumba's family took part in the service, where the coffin was transferred to a specially built mausoleum.
Facing the past
Belgium is still struggling to address the devastating effects of its colonial rule in Congo, during which an estimated 10 million people died and the country's natural resources were ruthlessly plundered. In 2020, in the wake of the Black Lives Matter protests, King Philippe formally expressed his "regret" at Belgium's colonial abuses, and earlier this year, an official government report recommended that Brussels should remove most of its monuments to colonial figures like King Leopold II.
On Thursday, one of the most notorious statues was removed from the Square de Meeûs in Ixelles, that of General Émile Storms. The white stone bust had been regularly targeted by anti-colonial protesters, who would douse it with red paint to symbolise his bloody actions. The Ixelles authorities will transfer the bust to the Royal Museum for Central Africa.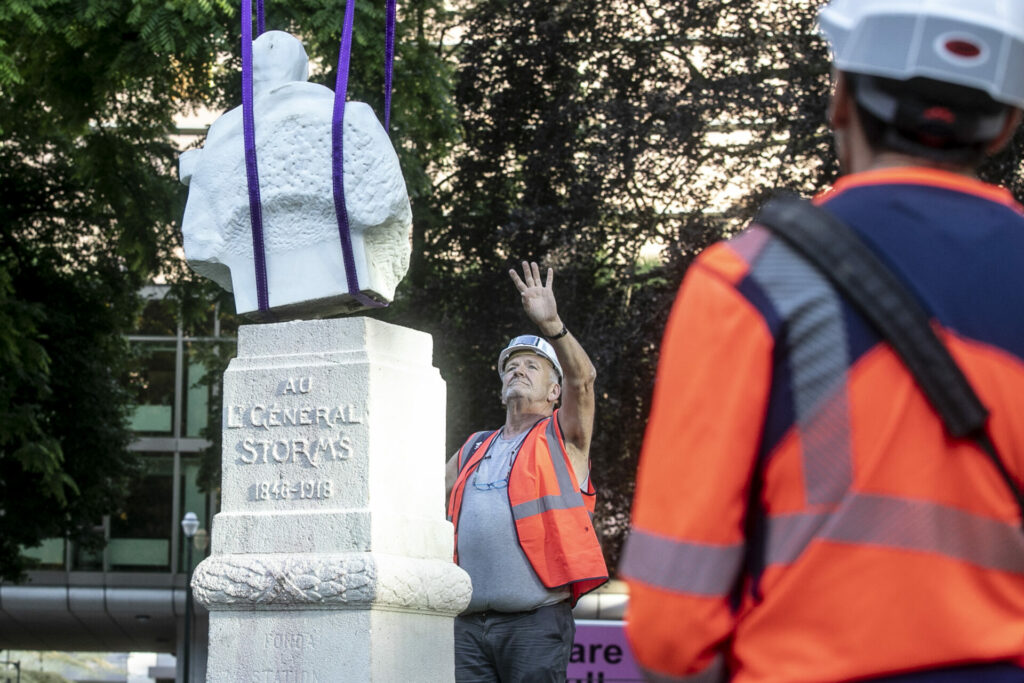 Storms was in the vanguard of the soldiers that Leopold II sent to take control of Congo after he laid claim to the territory in 1876. In 1884, after Storms was involved in a skirmish with a local community, he ordered his men to behead a slave trader, Lusinga lwa Ng'ombe. Storms then brought Lusinga's head back to Belgium, along with other skulls, keeping them in his home until his death in 1918.
Meanwhile, a plan to award the Order of Leopold II to key figures on Thursday was postponed after Groen Party leader Wouter De Vriendt objected to continuing with a national honour named after the colonial monarch. Former CD&V MP Eric Van Rompuy also complained, saying he "did not want to be honoured with an order named for one of the biggest killers in history." No new date has been given for the award ceremony, which may now be renamed.
Related News
De Vriendt, who also heads the Parliament's Special Commission Colonial History, spoke in the Parliament on Thursday at the opening of a special exhibition by Congolese-born artist David Katshiunga. He hailed the fact that Belgium was slowly addressing the sins of its colonial past and engaging with the Congolese diaspora to help heal the wounds.
Katshiunga's exhibition, open to the public in the Belgian Parliament until July 13, features paintings that address Belgium's current and historical links with Congo. It includes images of Lumumba, Leopold II, the Ku Klux Klan, Congolese soldiers recruited by the Belgian army and Nobel Prize-winning Congolese doctor Denis Mukwege. One of his paintings, entitled Saxe-Coburg, features Princess Elisabeth holding a Congolese mask. "Elisabeth is the future," Katshiunga told The Brussels Times. "I see her positively. I sense she is part of a new generation and that she will address the question of reparations for Congo."
By Leo Cendrowicz