In the spring of last year, performance artist Alain Verschueren made headlines around the world with his 'portable oasis,' a work of art that he designed about fifteen years ago and slightly adapted to fit the Covid-19 era.
The Brussels-based 62-year-old and his Covid-protecting 'bubble' – the item he wore in place of a face-covering during the pandemic – became something of a phenomenon in April 2021 when the international news agency Reuters first covered his walking installation. Soon, the image of Verschueren walking the streets of the Belgian capital in the glass box filled with plants was all popping up in newspapers and on news outlets around the world.
"When you have passed sixty, you can look at something like this with some perspective," he said. "I certainly enjoyed the press attention, but for me, the most important thing was that my message could reach more people. At the end of the day, it's about people's reactions, those contacts are really part of my performances. My work has a distinctly social dimension."
Related News
The portable oasis was Verschueren's first work as a performance artist, about fifteen years ago. It consists of a kind of small 'greenhouse' that rests on the shoulders, full of plants so that the wearer is in a fragrant bubble.
"It creates a healthy environment that protects against all the pollution outside, in the city for example," Verschueren said.
In this way, the artwork forms a symbolic social statement against various forms of environmental nuisance. Verschueren drew inspiration from the oases he saw in Tunisia, where he lived for two years. Since its conception, he has taken the portable oasis not only all over Belgium but also to events in Germany and Shanghai, China.
A pandemic adaptation
The Covid-19 crisis inspired Verschueren to adapt his oasis. While before it was mainly full of small palm trees, he replaced them with lavender, thyme, sage and rosemary, which he said can strengthen the immune system when processed into tea or meals. In this way, the oasis was a symbolic, green and healthy alternative to mouth masks.
Somewhat paradoxically, it also stimulates human contact. Because although the artist is completely in his own bubble with the oasis, the artwork obviously attracts attention. One reaction that has stayed with him, in particular, is that of the person who told him that he was already living in 2050 and that he was far ahead of his time.
Beyond the oasis
The pandemic also recently prompted Verschueren to revive another performance, Dans les bras, which involves hugging people by way of a life-size white doll. He first tried out this performance where he hugs strangers via white doll following the terrorist attacks in Brussels in 2016.
"If you approach someone as a stranger for a hug, they will react more quickly and dismissively, but with such a doll in between, it is a lot easier," Verschueren said.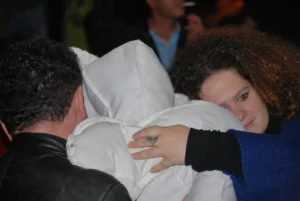 In the same way, the dolls can, in a small way, satisfy the need for physical contact, which the pandemic made that much harder. The need for physical contact is something Verschueren also had to deal with during his job as an educator for people with severe disabilities.
"It is vital for them to have a lot of physical contact, to grab you regularly," he said. "They couldn't understand that we had to stop during Covid-19. But warm contact is crucial for everyone. The cuddles with the dolls can have a therapeutic effect."
Verschueren's next project has been in the making for a while, waiting for the right conditions. For that project (called Ainsi fond, fond, fond...) he would walk like a human snowman among people, covered with a thick layer of snow. The warmth of human bodies would melt the layer of snow around him, eventually making him visible.
"But snowfall is becoming increasingly rare here in the region, which makes this performance a lot more difficult," Verschueren said. "On the other hand, it also points to a crucial quality of my art: a humility in the face of circumstances dictated by nature."