Belgian prisons are seeing an increasing number of prisoners from the Netherlands, with 363 Dutch nationals currently serving time in Belgium.
According to reports by Het Laatste Nieuws, in 2018, there were 285 Dutch nationals in Belgian prisons. This means that within four years, the Dutch prisoner population in Belgium has grown by almost 100.
This increase can be attributed to the intensified fight against organised crime and drug trafficking.
"Together with the local police in Antwerp, we make almost 1,000 arrests a year in the drugs scene," the mayor of Antwerp Bart De Wever said in an interview on Radio 1 last week.
Busting organised crime
However, only a part of them actually ends up behind bars. One of the biggest recent rises in the number of foreign prisoners from the Netherlands can be traced back to Operation Sky ECC.
The operation cracked phone messages that were used by criminal organisations to communicate, which then resulted in 200 raids across the country and the confiscation of cars, cash, luxury cars, firearms and cocaine.
The overall population of prisoners has also been on the rise and resulted in overcrowding. On 1 January 2022, there were 10,614 prisoners in Belgian cells — 322 more than one year before, though there is actually space only for 9,600.
"[Operation Sky ECC] file alone accounts for more than 800 arrests, of which more than 250 are in pre-trial detention," Minister of Justice Vincent Van Quickenborne said.
Related News
Overcrowding has been the most prevalent in these pre-trial detention centres, like in Saint-Gilles Prison where the current population is 100 over the capacity of the prison. Though this is not a new problem — the prison, as all others in Belgium, has been growing over-populous for years.
From 2009 to 2016, Belgium rented cell space in a prison in Tilburg, the Netherlands, as a solution to overcrowding in its own prisons.
Up to 650 Belgian prisoners resided in this prison. However, in 2016, the prison closed its doors for good forcing this population back into Belgian prisons which also can be said to contribute to the rise in overcrowding.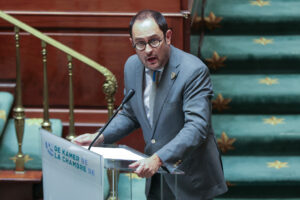 Of the total prison population, no fewer than 4,667 (44%) are of foreign origin: a proportion that has remained consistently high in recent years, according to figures the MP Dries Van Langenhove obtained through a parliamentary question to Van Quickenborne. Van Langenhove responded by calling for more pressure to be placed on other countries to have convicted foreign criminals serve their sentence in their native countries.
"In 2021, there were 91 transfers of illegal detainees, the highest number in the last 10 years," Van Quickenborne said. "We are also in talks with the most important countries to further increase the proportion of foreign nationals to be returned."