A young Belgian entrepreneur is following in the footsteps of famous pioneers such as Steve Jobs, Mark Zuckerberg and Bill Gates by ditching his studies to create something real in the world that can help improve the lives of others.
23-year-old Brussels resident Morgan Wirtz and his team have developed RISE, the first Belgian bank card and app for teenagers, which aims to teach young people basic financial principles. Like those luminaries before him, he did not consider a university degree necessary for this.
"Quitting my studies was the easiest decision I've ever made," he says. "For traditional banks, teenagers are not the core audience, they just slightly customise the services they have for adults," Wirtz says. "However, more than ever, attention is needed for the specific needs of young people, now that finances are arranged more digitally, and children often also receive their pocket money digitally. Moreover, teenagers today are very interested in money matters. We hear from teachers in primary schools how children talk about bitcoins, for example. The problem is that they do that without understanding much about it and learn little about it at school."
RISE's mission is to make 10- to 18-year-olds financially literate in order to reduce the risk of money problems later in life.
Through the app, the young people receive advice in a simple and playful way on how to save in the first instance and later also to invest. Their parents continue to hold the reins: they can control their children's financial behaviour and adjust it when necessary.
"So that the young people learn to deal with money matters in complete safety," says Wirtz. "We think that's the best way. Because there is already a lot of information about finances available for young people, in articles and videos, but that information barely reaches them."
While Jobs, Gates and Zuckerberg may have blazed a trail in their respective fields, Wirtz actually looks to the Irish wonderboy John Collison for inspiration. Collison stopped his studies at Harvard University to focus on developing the payment service Stripe, with which companies can accept online payments. In 2016, at the age of 26, he was the youngest billionaire in the world.
Coincidentally, Wirtz met his idol a few weeks ago in Amsterdam.
"We had contact with Stripe before and apparently his team was impressed with our project," Wirtz says. "Collison turned out to be a very normal person, with whom it was easy to chat. I think that attitude helps him, despite his status, to keep a good relationship with his team. In addition, he clearly has a huge passion to perfect his product. I can totally agree with that."
Related News
Wirtz himself is also starting to make a name for himself in the entrepreneurial world. For example, he was recently included in the prestigious '30 under 30' list, with which business magazine Forbes puts talented entrepreneurs and leaders under 30 in the spotlight. But the people of Brussels deal with that soberly.
"Above all, it is a confirmation that our mission is meaningful, that people believe in our product," he says.
Wirtz also learns best by doing. He started with management studies at the Brussels management school Ichec but soon gave up.
"I was already fully engaged in entrepreneurship at the time and the theoretical approach at the university was not for me. I learned a lot more from the people in the field. Quitting those studies was the easiest decision I've ever made."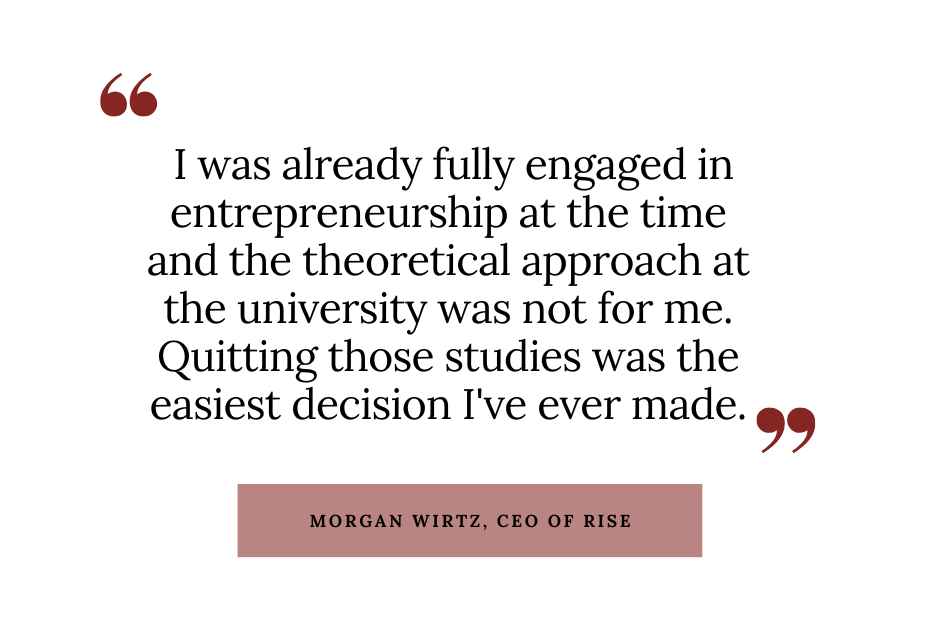 After that decision, Wirtz quickly set up his own marketing agency to finance the start-up of RISE. However, for a long time, it looked like Wirtz's life would go in a completely different direction.
Until a few years ago, the Brussels native was one of the greatest sailing talents in Belgium. His father, an amateur sailor, passed on the sailing bug to him.
"At first I didn't need to know anything about it, but during a holiday on Lake Como in Italy I became obsessed with the sport," says Wirtz. "I was very bored in high school at the time, with bad marks as a result, and thanks to sailing I finally found a goal to pursue. I'm very competitive, I need to focus on one target and then really want to become the best at it."
That worked out well for him. At the end of 2018, he and teammate Henri Demesmaeker became vice world champions in Miami. After which he abruptly said goodbye to the sport.
"I realize that that may seem strange, but I had already decided very clearly at that moment to dedicate myself to RISE. I'm glad I was able to say goodbye at a peak."
When asked if he sometimes still gets into a sailboat, Wirtz smiles.
"Very rarely, although my father often asks me to go, and I still love the sport. The problem is that I realise that I can't sail at the same level as before. It just feels bad to sail without going for it one hundred percent. I hate myself for that sometimes," he laughs.