While using code words to discreetly signal that you feel unsafe has been a well-known practice on nights out in other countries for years, the phenomenon is now also making its way to bars and nightclubs in Belgium. Are you feeling threatened or unsafe? Ask for Angela.
Angela Crompton was an English woman who was assaulted and murdered by her husband in 2012, after an argument that got out of hand. Today, her name is being used as a code word to prevent sexual and gender-based violence across the world: bars, nightclubs and even festivals are encouraging people who feel unsafe to "Ask for Angela" as part of their safety strategy.
During the summer of 2021, Laura Tilliet decided to bring the phenomenon to Belgium after three men followed her to her car after a night out in Brussels, she told The Brussels Times.
"I did not ever want to feel so scared again, and I did not want anyone else to have to experience that feeling either," she said. "But I thought that if we had to wait for someone else to launch a project, we might have to wait for a long time. So we decided to do something ourselves."
A woman on a mission
So, Tilliet started looking for existing ways to prevent and deal with sexual harassment, and came across the 'Ask for Angela' project, which had flown over from England and was being launched in two cities in France: Tours and Caen.
Since then, the campaign had spread to countries like Canada, Switzerland, Germany, and the United States, but not always with the same name. In Germany, people can ask for Luisa, and in Canada, it is Angelo. "But to gain as much traction as possible, we chose to take the same name as England and France."
After some help from the people who organised to project in France, Tilliet decided to enlist a full team on her mission: her friend Pauline Lebutte does PR, her brother Maxime Tilliet designs the posters, her father Pascal Tilliet does the non-profit's administration work, and Ha Vu manages the social media.
"We launched the campaign in September 2021. In the beginning, we went to a number of bars to see if they were interested and wanted to put up our posters in the toilets," Tilliet said.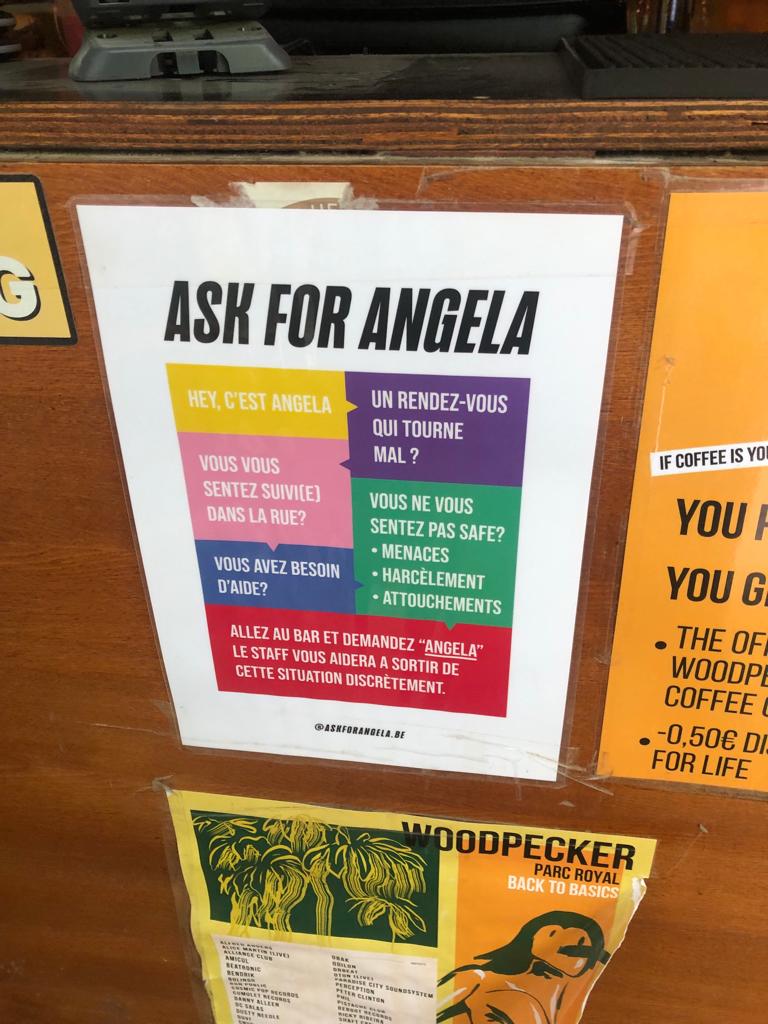 Not long after, however, the #BalanceTonBar movement took off in Brussels, following allegations of rape and sexual assault by staff in several bars in the Cimetière d'Ixelles district. Hundreds of testimonies were shared online, sparking widespread outrage and several demonstrations and protest marches.
"The movement really helped us to get known, and we received many requests from bars and nightclubs who wanted to put up our posters," Tilliet said.
To make sure the partners are not just paying lip service to the movement but are actually concerned with people's safety in their establishment and will follow through when someone approaches them, they have to sign a charter before they can put up the posters – which come in English, French and Dutch.
By now, people who feel unsafe can ask for Angela in several Belgian cities, such Brussels, Waterloo, Louvain-la-Neuve, Ghent, Antwerp, Leuven and Charleroi. This summer, posters will also be put up at three festivals: Tomorrowland, We Can Dance and Reggae Geel.
What happens when you ask for 'Angela'?
By approaching someone from the staff and asking them a variation of "is Angela working tonight?" or "where can I find Angela?" they will immediately understand that you feel unsafe and try to help you.
They will do this by taking you to a "safer space" in the establishment – usually a separate area such as a room reserved for the staff, or they will ask you to wait behind the bar. A staff member will then ask you how they can best help you.
"Sometimes helping is offering a glass of water, sometimes it means calling a taxi," said Tilliet. "Staff can also contact a friend, the police, an ambulance, or someone else, or they can kick the aggressor out. It depends on the situation and on the person."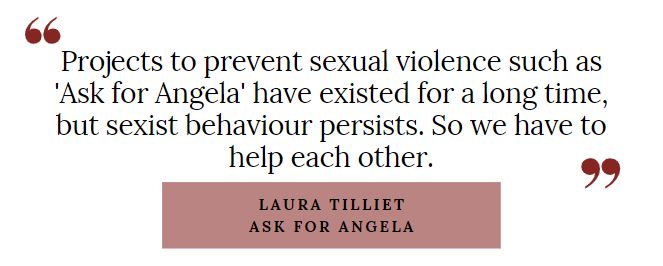 However, she stressed that asking for help – from staff members or anyone else – is always possible, even without the correct code. For example, at the We Can Dance festival, which starts on the Belgian coast this weekend, the organisation is also working with the 'Ask for Angela' posters, and mainly hopes to work preventively.
The organisation trained the entire crew to respond correctly when someone approaches them, meaning they know they have to guide people to the festival's designated safer space, which is a low-stress area that serves as a kind of 'call centre' at the festival. Once there, staff will refer people to the police, first aid, or someone else, depending on the situation.
Related News
There will also be 'spotters' at agreed locations whom people can approach if they feel unsafe, and the organisation also activated a WhatsApp number that people can message if they have a problem and are afraid to report it face-to-face.
"The Angela code should help you to get help fast without describing your whole situation," Tilliet said. "But what really matters is that people get the help they need and that we can reduce this kind of behaviour as much as possible within society."
"Projects aiming to prevent sexual harassment and abuse such as 'Ask for Angela' have existed for a long time, but sexist behaviour persists," she added. "So we have to help each other."