Russian Julia walks down a road in Salzburg, Austria, giggling while filming herself.
"Hey, girls, Glory to Russia," she exclaims at two Ukrainian women passing by. "Russia will win, Russia will win," she then starts singing.
The Ukrainian women look puzzled but keep moving without answering.
"Who owns Kherson," she then asks referencing the occupied city in the south of Ukraine, which Ukraine aims to liberate. "Ukraine? Yeah, sure. But now they will hold a referendum! F*** off with your Ukraine," she ends the video, which she shared with her 90,000 followers on a now-deleted Telegram account.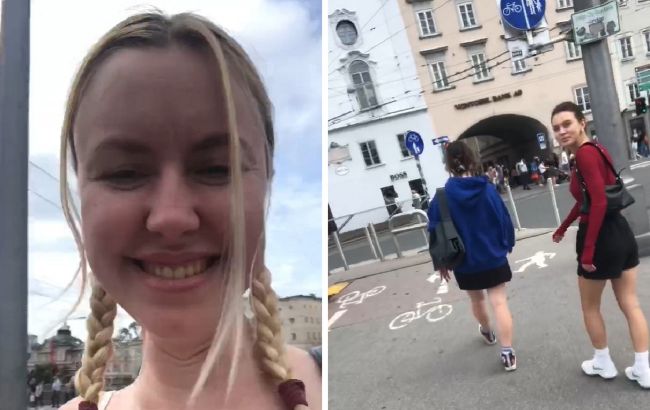 The video is from the start of August, but has already circulated European social media and has made Julia the most hated tourist on the continent.
She had previously bragged on her Telegram account about how she was going on holiday to Vienna, a trip she had paid for in Russian rubbles with a credit card from a sanctioned Russian bank in a booking app.
"1-O to the aggressor," she wrote.
The day after, there were consequences not just for Julia but for her beloved Russia.
She is just one example of a person posting about her shameless behaviour on social media, but has crystalised the issue of allowing Russian tourists to Europe.
Many countries have stopped issuing visas, but after Russia lifted its remaining coronavirus restrictions last month, Russian tourism to Europe has exploded. Many Russians go through Finland in order to fly to other European destinations after direct routes from Russia were closed after the country's invasion of Ukraine.
A political party in Finland has since paid for an advert to be posted near the Russian border, reading: "While you are enjoying your holiday, many Ukrainians are left without a home to return to."
Russian tourist travelling through the Baltics has also soared, leading several Baltic countries to urge the EU to block visas to Russian tourists.
Some countries are using more creative methods in their approach to Russian tourists.
In Georgia, Russian guests are asked if they ever voted for Putin, and whether they respect the borders of Ukraine and Georgia before they can be served a drink, according to Current Time.
The Moscow Times reported that wealthy Russians have been dismissed when attempting to buy jewellery and luxury bags in Nice, Rome and Berlin.
Related News
Other users on Twitter express annoyance with the behaviour of Russians in various European cities. "I'm in Paris today," writes on user, adding "many Russians here enjoying shopping, cages. Brutal, rudeness, a new condescension as they feel (like they are) 'winning'. It's palpable."
What responsibility do Russians have?
Many Europeans are frustrated with seeing Russians on holiday in different European cities, while the Ukrainians are suffering. At stake is whether all Russians are responsible for Putin's actions.
Yes, was Ukrainian President Volodomyr Zelensky's answer recently in the The Washington Posts. Thousands of Russians have fled Russia, including journalists, dissidents and others who are critical of Putin's regime, yet Zelensky has now said that in order to enact change in Russia they should go home.
A blanket ban would hurt them too and could be counterproductive. A spokesperson for Russian opposition politician Alexei Navalny argued that such a move would play into Russian propaganda.
For ordinary Russians, the sanctions seem to have come as a surprise. For Julia, it appeared to come as a shock that reality caught up with her personally. She lives in Germany, but her videos have garnered attention.
For months, she has argued for a nuclear strike against Ukraine and that Russia should keep moving its imperialist ventures forward all the way to Berlin, all while posing with Starbucks coffee and enjoying the good life in Europe.
But after her video, her booking to Vienna was cancelled by booking.com and her account was closed, she posted on her Telegram account.
https://streamable.com/1ew8ra
"What the hell, are you happy now? You've ruined my holiday," she complains.