For months now, people have been sleeping on the streets instead of receiving the shelter that they are entitled to, as a result of Belgium's system for receiving asylum seekers and refugees being completely saturated.
This week, however, the situation has come to a boiling point.
On Thursday, around 150 refugees camped outside the closed gates of the Brussels' reception centre Klein Kasteeltje (Petit Chateau), with long lines of people sleeping on the floor painting a dire picture of the situation.
Following complaints by locals, the police moved the entrance to the front of the building near the canal, but this only resulted in the centre being closed as staff no longer had a separate entrance to guarantee their safety.
"The main reason we could not open yesterday was because it just was not safe for the staff to carry out the intakes at the entrance, it was pure chaos here. Organisationally, this was just not possible," one Fedasil employee told The Brussels Times.
While State Secretary for Asylum and Migration Nicole de Moor said that what happened on Thursday "cannot be repeated" and the doors must be reopened, she has been called on to create more capacity to provide shelter.
"The house is currently on fire and must first be extinguished before you can start rebuilding it," said Thomas Willekens of Vluchtelingenwerk Vlaanderen (Refugee Work Flanders). "First, give shelter to everyone who is entitled to it."
Belgium in Brief is a free daily roundup of the top stories to get you through your lunch break conversations. To receive it straight to your inbox every day, sign up below:
Those who work full-time in the office instead of from home this winter can save up to €85 on energy bills per week, according to calculations based on office workers' behaviour and electricity consumption. Read more.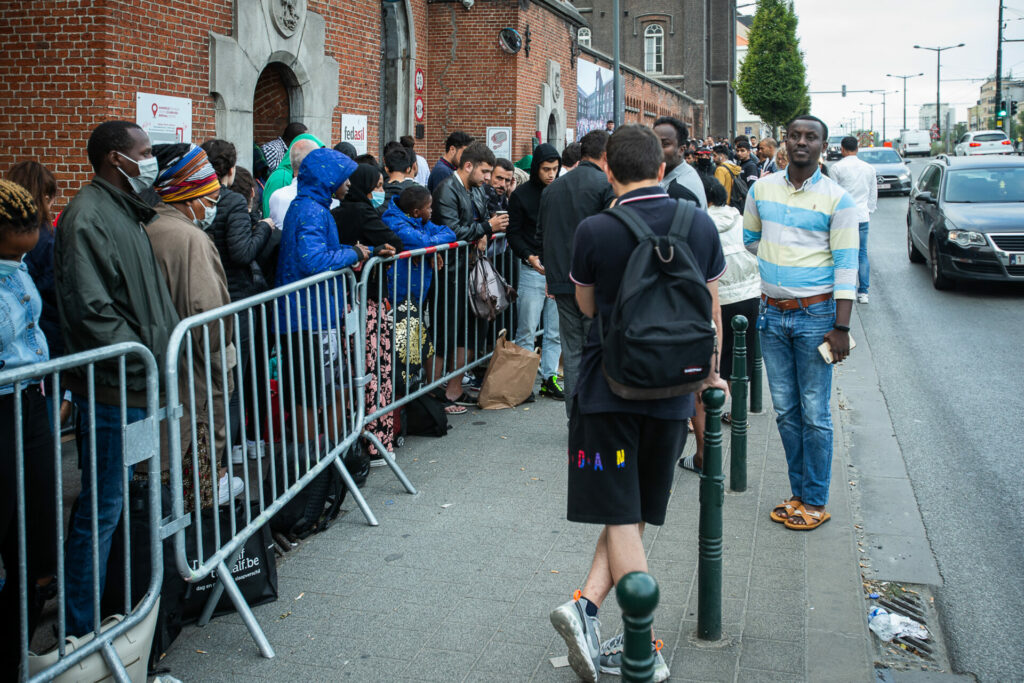 Belgium's system for receiving asylum seekers and refugees has been completely saturated for months now, resulting in people sleeping on the streets rather than receiving shelter as they are entitled to, but the situation has come to a boiling point this week. Read more.
Though still far higher than last year, the price of a barrel of oil has dropped below $100 again and prices at fuel pumps are back to under €2 per litre. Both petrol and diesel have lowered in price this summer. Read more.
The Covid-19 situation in Belgium continues to improve, as an average of 1,706 new daily infections were identified between 9 and 15 August, down 32% from the previous seven days, and the lowest rate since the start of June. Read more.
Belgian businesses and households produced 68 million tonnes of waste in 2020, according to statistics published by Statbel on 18 August. Annual waste production has stagnated compared to 2018, when Belgium produced roughly the same amount. Read more.
Paper invoices are increasingly going out of fashion as more and more systems are becoming digitalised. Of all invoices received by the government in recent months, fewer and fewer are in paper format. Read more.
It is one of the most beautiful bookshops in Europe. But also one of the most discreet. Founded in 1984, Tropismes occupies a beautiful interior in a quiet side arcade of the Galeries Royales Saint-Hubert. Read more.