Four cafés and three kiosks in parks across Brussels, that's the Woodpecker Family! The perfect spot to have breakfast and brunch or enjoy an evening with friends in the park with homemade food, refreshing drinks and live music.
Cafes
Woodpecker 47 opened its doors in 2014 on a small cobblestone street near Grand Place, and this is where the family's journey began. Since then, three more cafés have opened across Brussels, serving brunch all day, every day.
At the heart of this concept are the #PerfectlyPoachedEggs, served on savoury waffles covered in silky hollandaise sauce with a twist. An original Belgian-inspired take on the classic Eggs Benedict. While the eggs stole the show, the menu also features other delicious breakfast and brunch options such as fluffy pancakes, French toasts and breakfast bowls. Pair it with freshly squeezed juices, homemade smoothies, funky cocktails or a craft-brewed Belgian beer, and do not forget a cup of Colombian specialty coffee roasted in Brussels.
Woodpecker Family works with local initiatives that support green and inclusive solutions:
•
Recyclo, a bicycle collection system for organic waste and an urban composting system.
•
Doupo, buy a coffee and get one for a person in need.
•
Billie Cup, a reusable take-away cups deposit system.
Kiosks
In the Brussels urban jungle, several parks offer a green refuge.
Woodpecker Kiosks are an open-air oasis full of music, fun, homemade food and refreshing drinks.
These open-air gems are open daily and offer a large outdoor terrace with comfy deck chairs where you can relax and enjoy craft Belgian beers of Brasserie de la Senne, cocktails, selection of wine, a cup of Colombian speciality coffee or an ice cream from Gaston. On the menu you will find a selection of homemade dishes, including juicy burgers (meat or veggie), salads, hot dogs, toasts, nachos, fries, waffles and cakes.
In summer, events take place from Friday to Sunday, filling the park with music from all genres. The programme features local artists and bands in live sessions as well as DJs from the emerging Brussels scene and international guests on tour.
Outdoor games (petanque, molky, kubb) are available free of charge to enjoy the afternoon in the park with friends and family.
The Woodpecker Kiosks is open all year round, with reduced opening hours in winter. The menu changes seasonally starring a raclette sandwich and mulled wine in crisp winter to warm up the customers.
Sit back on the terrace, relax and breathe in the atmosphere of the city.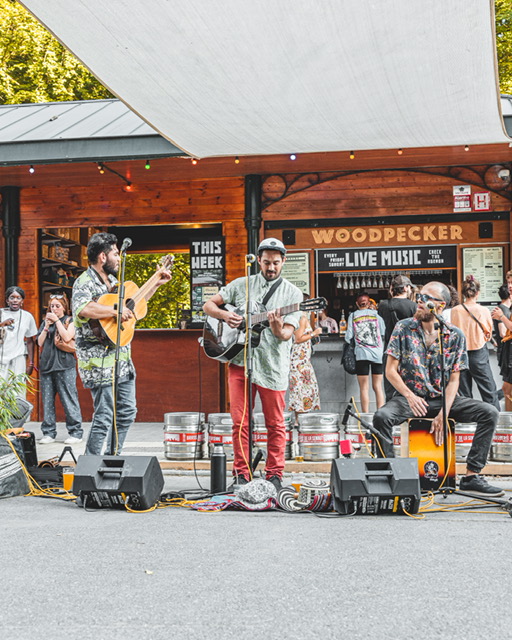 Woodpecker Cafés
Woodpecker 47 - Rue Marche aux Poulets 47
Woodpecker 20 - Rue Jourdan 20
Woodpecker St Catherine - Quai au Bois a Bruler 27
Woodpecker Schuman - Rue Breydel 46
Woodpecker Kiosks
Woodpecker - Brussels Park
Woodpecker - Bois de la Cambre
Woodpecker - Wolvendael
More info
Find out more on their Website, Instagram, Facebook Cafes and Facebook Kiosks.