Following a call for projects to make Brussels public space more female-friendly, six initiatives that focus on gender and urban planning were selected to make sure women and girls will feel safer in the city.
The public space belongs to everyone but is in practice often dominated by men, which is why it can sometimes feel unwelcome, frightening, and unsafe for girls, women and people who do not meet the classic gender norms.
"This was the first time we launched a call for projects on gender and urban planning, and we immediately received many responses. The theme is clearly 'alive' in the city," said Brussels City Councillor for Urban Planning and Public Spaces Ans Persoons.
While these projects are not permanent solutions to make women and girls safer in Brussels, the aim is to institutionalise gender-sensitive urban planning in the long term, her spokesperson Jens Popelier told The Brussels Times. "Through this call, we work directly with important partners in civil society. Because of their work, many women and girls will be able to reflect on their position in public space."
Mapping and tackling barriers
The City's policy will then be based on the experiences that arise from the projects, explained Popelier. "This interaction, in combination with all the literature and research that has already been published on the theme, seems to be a good basis for the development of the City's long-term vision for the future redesign of public space."
Numerous studies show that women and girls are not safe in the public space, mainly due to the lack of a gender-sensitive approach in designing spaces. As urban planning and architecture have historically predominantly been male affairs, cities are often designed from a male perspective, without taking into account the needs of women and girls.
As a result, women and girls move through the city differently, and cannot make full use of it – and that is exactly what these six selected projects want to tackle.
"The selected projects are very different, but all relevant in their own way. Women and girls, as well as people from the LGBTQ+ community, are increasingly demanding their place in the public space, but still encounter many obstacles," Persoons added. "Through the selected projects, these barriers are what we want to map and tackle. The city belongs to everyone."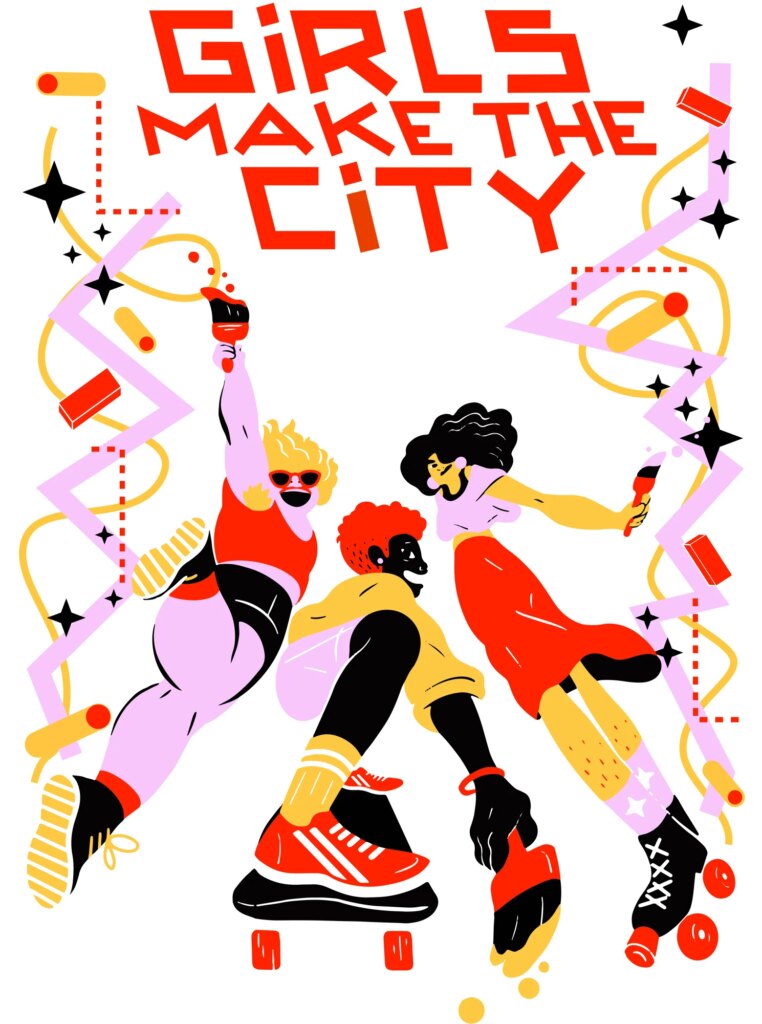 One of the chosen initiatives, called 'Girls make the City' by the ZIJkant non-profit organisation and Wetopia, is centred around a group of teenage girls who live and go to school at the foot of the Église de la Chapelle in the city centre.
Guided by experts, they will be encouraged to think about what they need to feel at home in that area. As part of the new traffic circulation plan and the scrapping of one car lane, an entirely new space will open up. Once the workshops are over, the aim is to carry out a concrete intervention by and for girls.
Another project, titled 'Stalingrad au féminin!', will aim to make women more visible and present in the public space around the Brussels South/Midi station, while 'Girls 'n Play' will organise eight workshops focusing on the specific needs of girls when designing public spaces, such as their rights to safe, accessible and comfortable.
A fourth initiative, named Queering Brussels, will set up an exhibition in the Halles de Saint-Géry, taking stock of the city of Brussels through a queer lens – aiming to raise public awareness of the gender and queer dimension of architecture and the impact of LGBTQ+ sexuality issues in architecture and urban design.
Related News
The community working team of Jes Brussels, which has been active around Anneessens and the Rem des Moines for over 15 years, will also get funding to bring girls' experiences and needs to the surface through participatory workshops, as the renovation of the district is bringing major changes with it.
Lastly, the Bureau of City Collectors will settle in a square in the city for a week, inviting local residents, passers-by and other curious people to explore the square and think about how (and why) men and women use the square.
"Urban planning ensures a harmonious layout of the territory and to a certain extent plans its evolution. As is known, diversity and urban planning have a major influence on the security and accessibility of services for different user groups, including women and LGBTQ+ people," said Brussels City Councillor for Equal Opportunities Lydia Mutyebele.
She added that she is pleased that the City of Brussels will support these projects and proposals to "emasculate" the public space, since such actions are "important elements of the action plans for gender equality and LGBTQ+ equality of the city."