When a museum is closed, a decade seems like a century, especially for the largest one in Flanders with its most important art collection. But the €100 million renovation will arguably cement the KMSKA's place in history as one of the greatest museums and architectural feats in Belgium. It will also future-proof it for decades to come.
"The historical building has always been very iconic in Antwerp like a temple and important in the evolution of the city's south district," says KMSKA General Director Carmen Willems, who joined the museum midway through its transformation in 2017. "The new part makes it even more iconic. The museum will have a bright future for the coming 100 years." Known as the home of Flemish Masters, with more than 100 works on the Flemish government's official masterpiece list, it has an acclaimed art collection that spans seven centuries.
What was initially supposed to be just a "small renovation" and clean-up of the KMSKA turned into a complete overhaul and expansion. "There was an urgency to do something because the building was in a horrible state," explains Dikkie Scipio, lead architect and founding partner of KAAN Architecten of Rotterdam, which led the complex project. "It was leaking and in disrepair – a huge, dysfunctional building with a fantastic art collection. Plus, the neoclassical 19th century building was out of fashion. The architecture was heavy, and people wanted something more accessible, low-rise and democratic."
In 2003, the Flemish government held a competition for architectural firms to draw up a master plan to update the 19th-century building in keeping with 21st-century needs. In 2006, KAAN was chosen "because we wanted to renovate the old building, not put a new stamp on it to show our own architecture," Scipio says.
The project began in 2011 while trying to keep the museum open. But it was forced to close later that year as the presence of asbestos and the necessary repairs were much greater than expected. Beyond addressing these dire issues, the project evolved into massive renovation, restoration and landscaping under a three-phase master plan. "We didn't lose time during those 11 years," Willems says.
"It was the project of a lifetime, especially in Belgium," Scipio adds. "People told me when I started it that we should tear down the building, but we retained it because we thought its neoclassicism would be appreciated later on. In fact, the building is the largest piece of its own art collection. It was one of the very first buildings constructed as a public museum based on the idea of a palace, going from room to room. People went to this museum like a walk in the park and met people, socialising while looking at art. We tried to go back to this idea."
The KMSKA was first built as a centrepiece atop an old citadel that was part of a star-shaped design for its then city defences, Scipio explains. The Duke of Alva fortress, built in 1567 under the order of the duke and King Philip II of Spain, included five bastions. One was directly below the museum site and the fortress occupied what is now Antwerp's south district. Locals did not appreciate the fortress, so it was demolished in 1874 and the site changed from oppressive to expressive.
It was a huge challenge to preserve the history and heritage of the museum site above and below, not least because the Flemish government, which financed the whole project in several phases, did not initially have the budget for the master plan. Only €40 million of the €60 million estimated at the outset was available when ground broke. An extra €40 million was later needed for the third phase and five ministers of culture had to authorize funding along the way.
The KMSKA overhaul had three phases. The first included preparing above and below ground regarding art storage, the archaeological site, asbestos and additions to the original gallery space. The second was building new museum elements and restoring the original building inside and out. The third added elements to connect the two parts of the museum, creating a new garden, renovating office spaces and giving a facelift to the De Keyser Room, devoted to the 19th century romantic painter Nicaise de Keyser. Finally, an updated, cleaned and restored collection of 654 artworks was installed.
Bridges and stairs
Before any construction work began, remnants of the Duke of Alva fortress underground were partially excavated and carefully documented for historical and scientific purposes (there is no basement under the museum as a result). Then several additions in the historical building and extensive asbestos, typically found in buildings erected before the 1970s, had to be removed.
Seven art depots, some of which were external, were consolidated into one. This feat involved removing a bombproof bunker and nuclear shelter from the Cold War – a monumental task unto itself, requiring 2,448 work hours and demolition of 1,350 tonnes of concrete and 81 tonnes of steel. The demolition revealed several original columns that had been hidden for years behind a false wall.
The new depot has 3,660 square meters of racks for paintings on two floors. It is dust- and vibration-free with state-of-the-art climate control (the KMSKA says 20°C at 40-50 percent humidity are the perfect conditions in which to store art). It stores around 1,300 artworks that are too large or fragile to be moved or not loaned out for exhibitions.
In the second, transformative phase, the original 'daylight museum' was recreated with natural light showcasing artworks and continuous footpaths in two parts – a new, modern infill and restored original building – distinguished by 19th and 20th century art collections. The old part includes a new restaurant/café, coffee bar, bookshop, library with reading room, interactive information zone, experience space, depot, museum and restoration workshops, and offices. In addition, the museum's four external facades were restored; a new, large mosaic was installed at the entrance; and a garden with sculptures was planted around the entire museum.
The two museum parts or 'volumes' are complete opposites visually, only sharing an abundance of light. The 19th century part on two levels is classic with symmetry, antique wood and deep colours, while the 20th century part on three levels is modern in bright white, and asymmetric in height, volume and lighting. The two parts are connected via the stately, ornate De Keyser room that has two grand staircases. "It's two worlds in one building," Willems says.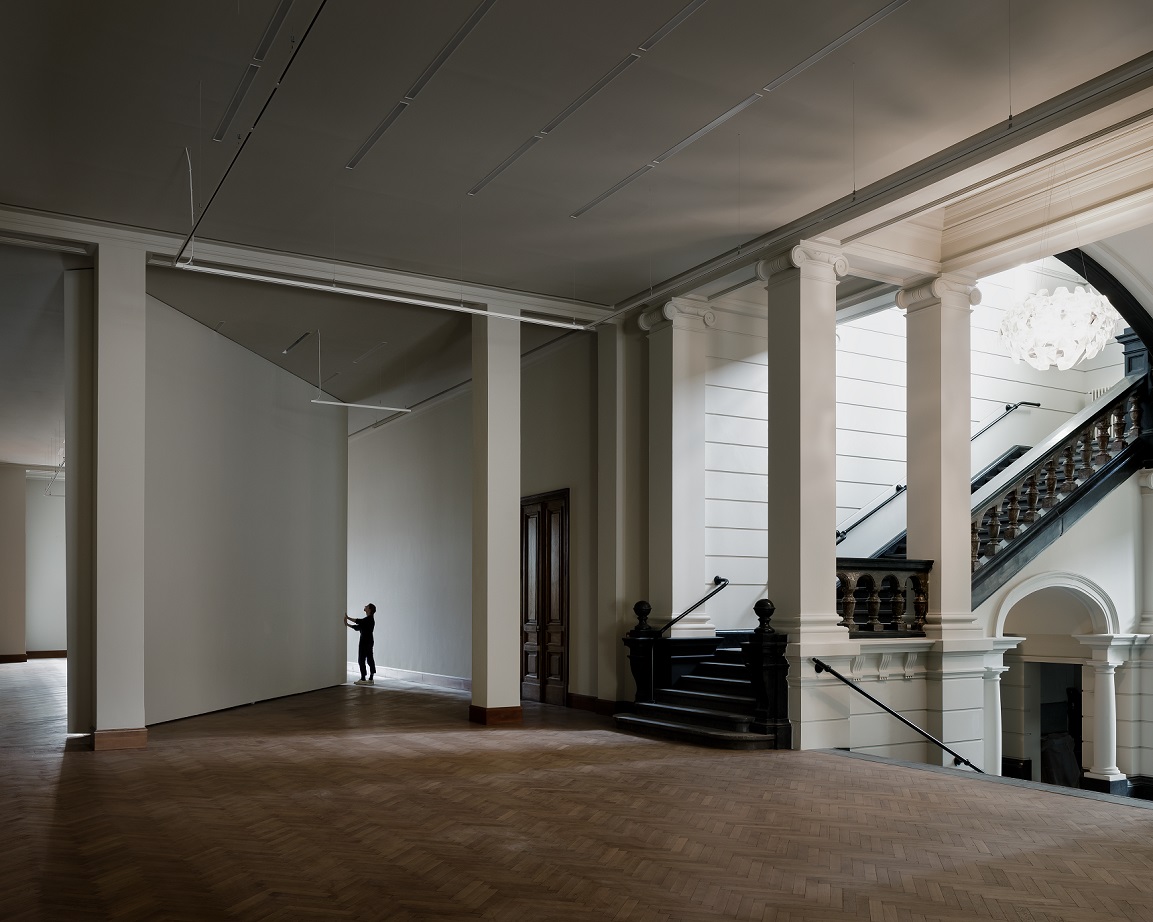 Staircases are highlights in the KMSKA. The museum entrance is accessed by a grand staircase and inside the entry hall is a modern, white, circular staircase that eloquently spirals down to the street level, where there is a cloakroom and second entrance for large groups. Adjacent to this modern staircase is the De Keyser Room with its dualling staircases.
Four courtyards in the original building were infilled with 10 galleries of modern and contemporary art, accounting for 40 percent more exhibition space. At the heart of the building, a giant, white Lego block cannot be seen from the old part and vice versa. The courtyards are seamlessly connected with hidden bridges within walls, while the top level rests like a tabletop on the four legs of the former courtyards.
"It's strange for architects to preserve an old building and make a new part invisible to the outside," Scipio says. But it allowed for the best use of space and preservation of heritage. A straight, tiered "stairway to heaven" connects galleries on the first floor to those on the top with a level in between.
Daylight and gold
The modern galleries are shiny white from floor to roof, apart from the intermediate floor, where dimly lit cabinets in midnight blue showcase etchings, drawings, sketches and small sculptures.
Nearly 200 triangular, three-dimensional skylights direct northern sunlight on the galleries. "Within the new halls, light is always oriented north so it never falls hard on paintings. Plus, the shape of the ceilings diffuses light," Scipio says.
Other technical installations optimise artificial light, programmable at different levels, and smart climate control. Two small, former patios were converted into technical towers to accommodate the high-tech design.
A continuous walkway was built through exhibition rooms, which meant designing a pitched roof and adding complex ceiling elements like sun blinds. "Daylight is not stable in Belgium, so it was hard to accommodate it in the design," Scipio says. "The pitched, glass roof in the old building breaks the light. Fabric can roll out or back to adjust for sunlight to protect artworks."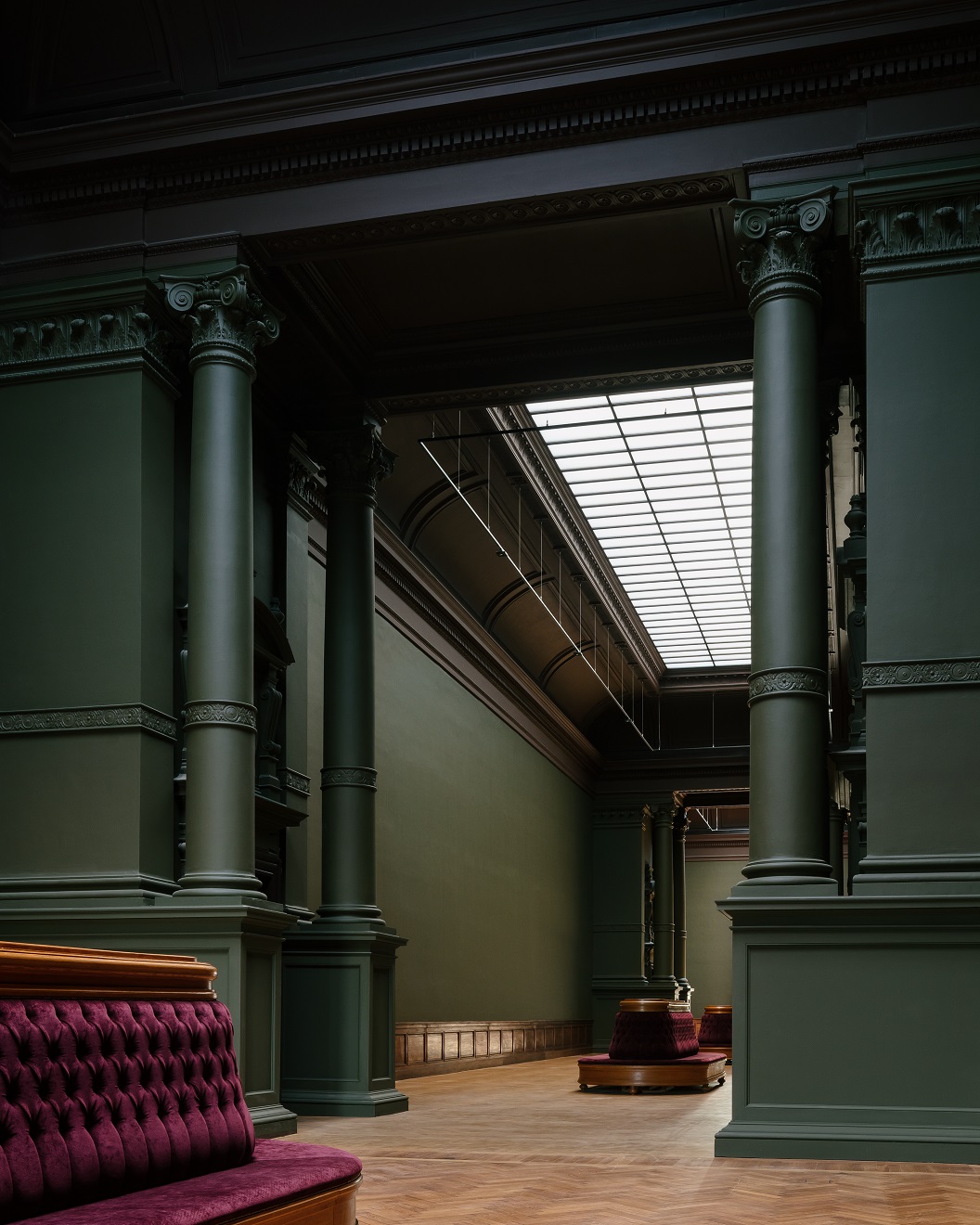 For all elements, KAAN went back as much as possible to the original 19th century drawings. The galleries were restored to their original colours of antique red, olive green and Pompeian red with high columns and plaster ceiling ornaments. Historic stucco, carpentry, parquet floors and oak doors were preserved where possible. Velvety, burgundy benches with internal heating were restored or recreated to their original grandeur. Gold decorations were added to ornamental frames in the galleries of honour (Rubens and Van Eyck) per the drawings, even though they were not realised at that time due to lack of funding.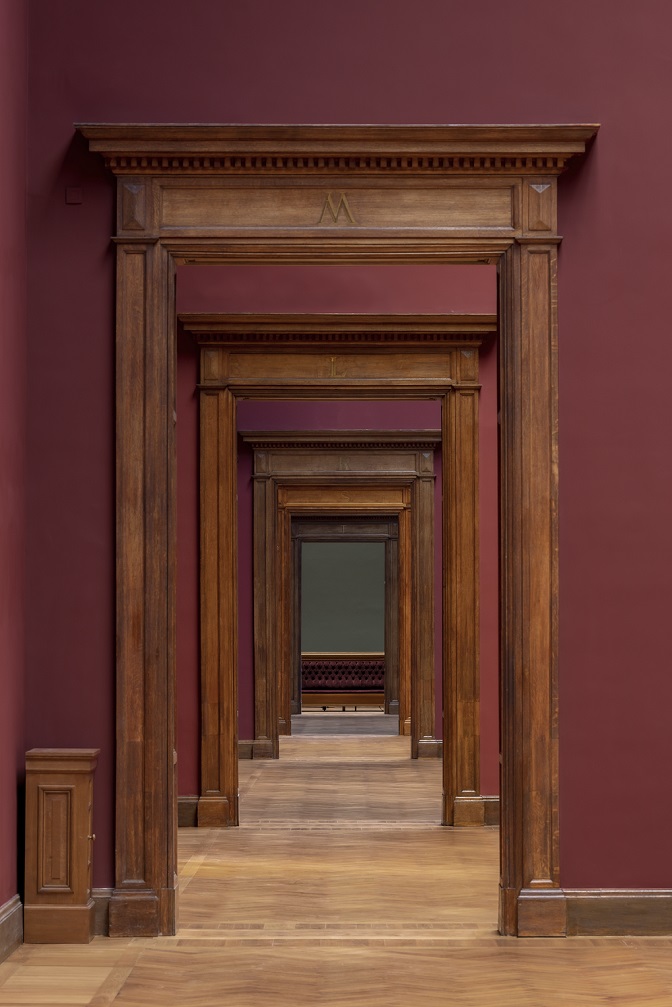 Everything is in keeping with the original drawings except for glass fibre-based wallpaper, which most museums use today to make for easy replacement in changing artwork.
The museum's four external facades were also restored to their former splendour, each taking six months to complete. Their age-induced grey was turned back into shades of pink, yellow, orange and blue. Statues on the facades were treated to stabilise their condition and slow degradation. On the roof, iconic horses and chariots were restored and new copper was added.
The red room and mosaic
The mosaic in front of the museum entrance, replaced in 1977, was redone based on a new concept by Belgian artist Marie Zolamian. It's a welcome mat in small stones with heads, insects, hands and crowns. Renowned Belgian studio Mosaico di Due, which has been restoring floors in the museum for the past 30 years, transformed the design into a painting of 600,000 stones. It is the largest European art mosaic of the last 20 years.
Finally, the new permanent art collection of 654 works was installed. During the museum's closure, all passed through a conservation studio to ensure or restore them to good condition. "Not only will the building shine, but also our art collection," says Willems. Cleaning removed filthy, yellow varnish and restore bright colours. Some 200 paintings and sculptures that had visible damage were restored. According to KMSKA Curator Herwig Todts, three paintings in the KMSKA's collection took 16 years to restore with four people working on them up to four days a week at €50,000 per year.
Everything will be ready by the reopening, Willems promises, except for the installation of two new, mirrored doors facing a balcony in a salon of the historical museum. The doors, which will have special climate control to give visitors access to the balcony, will be unveiled around Christmas. Meanwhile, the KMSKA makeover has already won a European Award for Architectural Heritage Intervention, joining the ranks of Maison Saint-Cyr and the Citroën garage in Brussels.
Hailing the Masters
While the KMSKA has art from the 14th to 20th century, with 22 percent from Old Masters, the largest part of its collection is devoted to the 19th and 20th centuries (36 percent and 42 percent, respectively), including a mix of local, international and academic painters as well as modernists like James Ensor of Ostend. The collection is divided into works produced up to 1880 and then afterwards, with Ensor, one of Belgium's most revered painters, as the link between the two parts.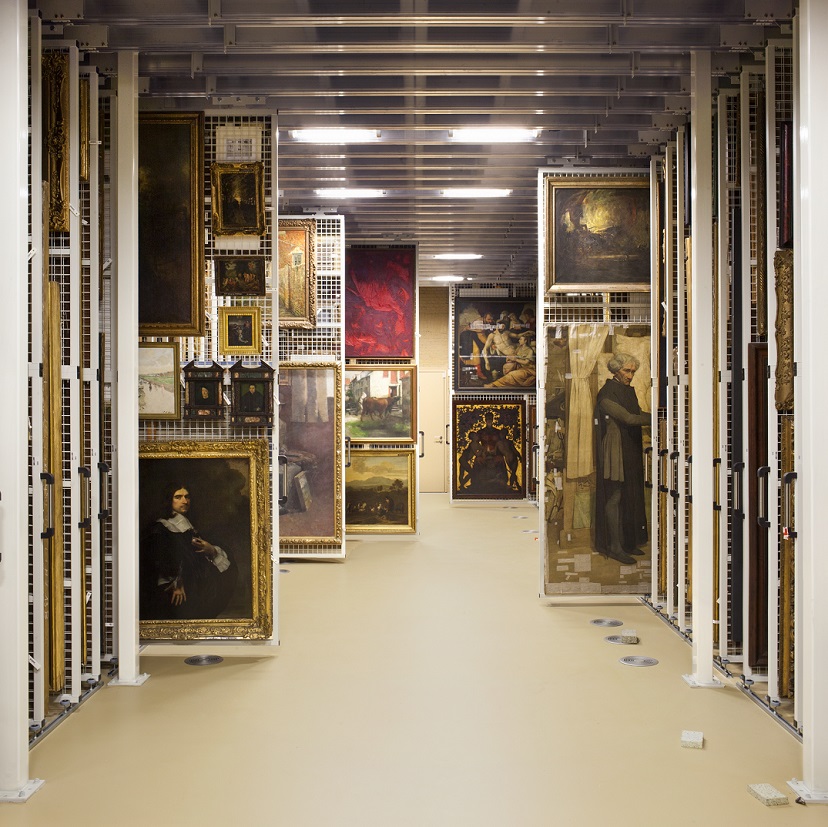 "The collection is firmly anchored locally," says Herwig Todts, the KMSKA curator. "It reflects the tastes of Antwerp citizens and collectors." It has the world's largest and most important collections by Ensor (39 paintings and 650 drawings) and Rik Wouters of Mechelen (13 paintings, eight sculptures and 36 drawings and watercolours). Among 111 Flemish masterpieces are two paintings by Jan Van Eyck of Bruges out of 21 still in existence and church altarpieces by Peter Paul Rubens of Antwerp. Top international artists, such as sculptor Auguste Rodin and painter Marc Chagall, are also represented along with contemporary artists like painter Pierre Alechinsky.
Todts organised sub-collections by theme rather than chronology, unlike most other museums. The pre-1880 themes include iconography, the suffering of Christ, landscapes and still life whereas the post-1880 works are grouped by colour, light and form.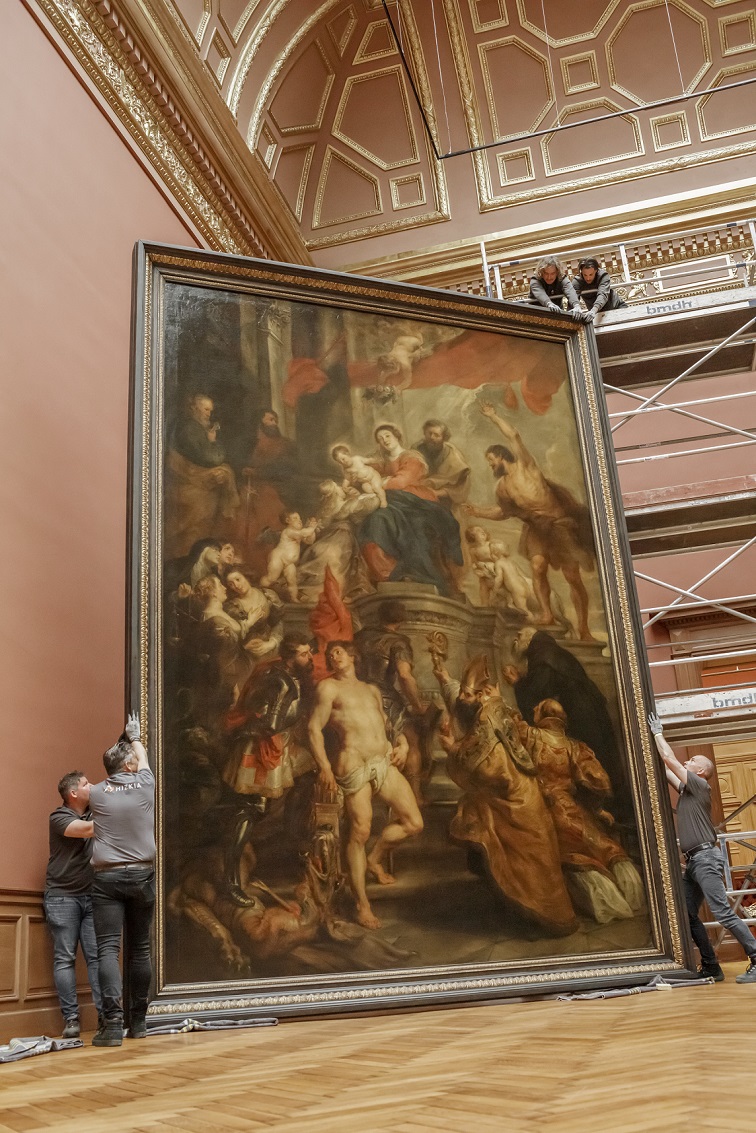 The 19th-century art collection is presented in three consecutive salons in a cramped style, popular in Paris at that time. Subjects are narrative or naturalistic, such as Orientalism, patriotic history and everyday life of the bourgeoisie. Modern works from 1880 to the second half of the 20th century are more experimental per the KMSKA as those artists "turned the rules upside down," using alternative materials and/or working in three dimensions. "Old Masters' art is harder to appreciate now so it's important to provide links to modern art," Todts says.
Ensor works in the new part of the museum bridge the pre- and post-1880 collections because they represent both eras as he reinvented himself several times. "Ensor was a modernist game-change," Todts says. "He helped change the rules of art at the end of 19th century to the free use of form, light and colour to be either abstract or expressionist. He has a mixture of earnestness, depth and absurd humour."
With much more gallery space, the KMSKA significantly expanded its permanent collection and temporary exhibition space. "While the museum was closed, we did a critical review of our art collection to determine which works are really the most important, distinctive and representative of the KMSKA," Todts says. "We came up with a shortlist of three iconic works that each symbolise an important sub-collection and 25 highlights that are an essential part of any museum visit. For those who want to see more, but not all 654 works on display, 100 core works offer a fascinating immersion into the art world of the KMSKA."
In the permanent collection, there will be ongoing small changes to surprise regular visitors, and drawings will change every quarter due to their sensitivity to light. There will also be regular temporary exhibitions and contemporary installations by Antwerp artists.
Re-opening festival
For the KMSKA's grand re-opening, two temporary exhibitions will showcase the renovation itself and contemporary photography until September 2023. The first, called 'The Making Of,' will cover the 20-year timeline of the project detailing 10 years of demolition, construction and restoration.
The second, entitled 'Cosmorama', will display photographs by Ive Maes of Antwerp, who shows the heritage of world fairs and their architectural remains from 1851 to 2015. World fairs often pave the way for museums. While the KMSKA is not a direct descendant of one, its history is strongly intertwined with world fairs in Antwerp in 1885 and 1894. Until January 2023, the print room will display 57 lacunary drawings by Antwerp artist Michel Seuphor, who donated the works to the KMSKA.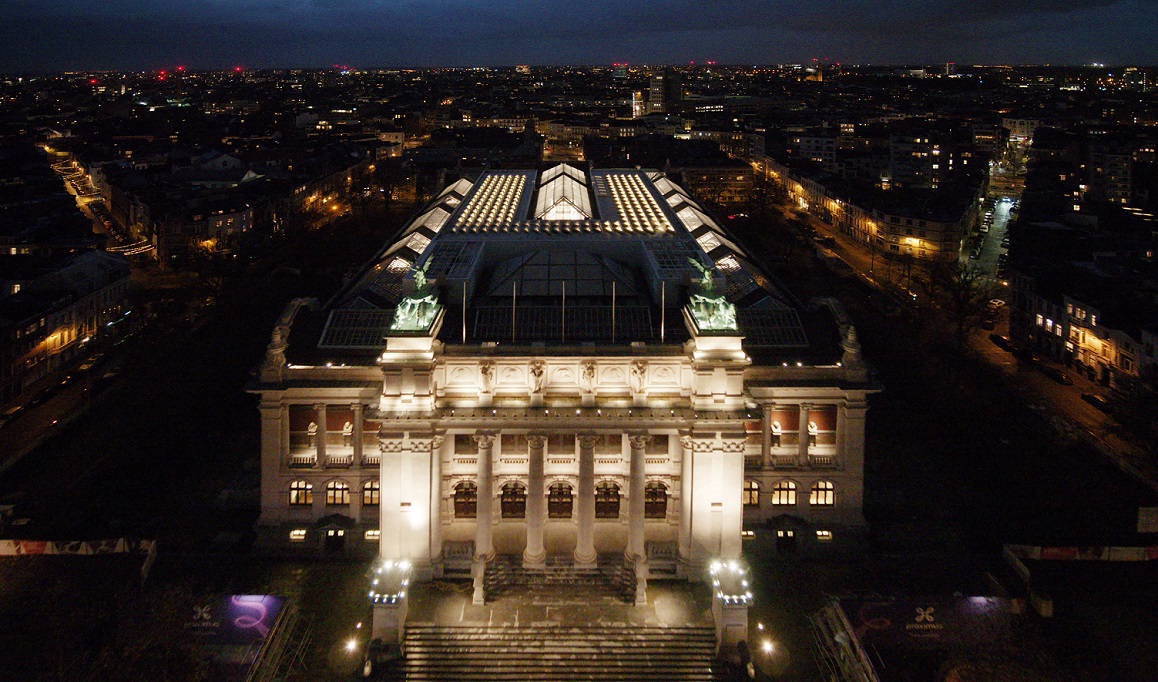 "The Finest Opening Festival" on September 24-25 will feature a massive, free performing arts festival on the museum square as well as 10 special installations and sculptures inside. Artist and opera director Christophe Coppens created 'The 10' based on striking details from paintings. Performers will include artists in residence, from musicians to dancers as well as a 120-member choir and brass band with pompoms. All styles of music from classical to blues as well as dance from ballet to hip-hop will be covered throughout the days. In the evening Stef Kamil Carlens, Admiral Freebee, IKRAAAN and Jaouad Alloul and Meesters will perform special concerts, while on Sunday morning, the Antwerp Symphony Orchestra will play.
There will also be a whimsical Ensor parade, short films, live painting to music, characters from paintings on stilts, circus acts, and several interactive opportunities to immerse visitors in the world of art. The latter includes a modern dance workshop, mask-making from one's own face, painting areas and photos next to masterpieces or the museum building. One can even virtually walk through Rubens' painting studio or step into a painting.
The public can even invest in art and help the KMSKA strengthen its collection by buying a virtual share of Ensor's 'Carnaval de Binche' painting in an Art Security Tokens Offering. The KMSKA is the first museum in Europe to adopt such an innovative funding program. Until August 2023, buying a full-admission ticket to the KMSKA enables a 50 percent discount on a ticket to another Antwerp museum. Plus, every child between six and 12 is given a free sketchbook and pencil. "I'm sure our public will like this new museum," Willems says confidently. "It's very special to work for such a place and feel the wonder of visitors."
---
The KMSKA finest
More than 8,400 works are in the total KMSKA collection, which represents the art heritage of the Flemish community. One hundred of them "excel historically, artistically and/or in terms of content slightly more than the rest," according to the KMSKA, and "provide a framework for viewing the other works of a particular theme in the same or a different perspective."
Some 25 of these have exceptional appeal due to their historical importance, mastery and subjects, three of which (in bold below) are deemed 'icons' that symbolise each sub-collection:
1. Fall of the Rebel Angels, Frans Floris I
2. Madonna Surrounded by Seraphim and Cherubim, Jean Fouquet
3. Altarpiece of the Cabinetmakers, Quinten Massijs
4. Orsini Polyptych, Simone Martini
5. Adoration of the Magi, Peter Paul Rubens
6. Lamentation of Christ, Anthony van Dyck
7. Saint Barbara, Jan van Eyck
8. Two Girls as Saint Agnes and Saint Dorothea, Michaelina Wautier
9. As the Old Sang, so the Young Pipe, Jacob Jordaens
10. God the Father with Singing and Music-making Angels, Hans Memling
11. The Prodigal Son, Peter Paul Rubens
12. The Parisian Sphinx, Alfred Stevens
13. Cleopatra, Alexandre Cabanel
14. Pierre de Wissant, Auguste Rodin
15. The Man in the Chair, Henri De Braekelee
16. The Intrigue, James Ensor
17. Woman Ironing, Rik Wouters
18. Sitting Nude, Amadeo Modigliani
19. The Oyster Eaters, James Ensor
20. Rhytmus van lichtgolvingen. (Rhythm of light waves) Street, sun and crowd, Jules Schmalzigaug
21. Maria Sèthe, future Mrs Henry Van de Velde, Theo Van Rysselberghe
22. Sixteenth of September, René Magritte
23. Spring, Jean Brusselman
24. The Last Day, Pierre Alechinsky
25. Jacopo Pesaro being presented by Pope Alexander VI to Saint Peter, Titian
KMSKA vital statistics
Client: Government of Flanders, Department of Culture, Youth and Media
Estimated final budget: €100 million
Total area of museum building: 21,000 m² (13,000 m² public zone)
Increase in exhibition space: 40 percent
Number of museum galleries: 50, including 37 for the museum's own collection and 11 for temporary exhibitions
Number of exhibited works of art: 654, including 454 paintings and 200 sculptures
Heaviest painting in collection: 645 kg, The Baptism of Christ by Peter Paul Rubens (1604-05)
Total weight of paintings in depot: 25,000 kg
Amount of steel used in new galleries: 1 million kilograms
Number of books in library: 95,000 monographic publications, excluding periodicals and auction catalogues
Number of stones in art mosaic: 600,000