Powerful explosions have been detected near the Nord Stream pipeline leaks in the Baltic sea, Professor Björn Lund from the Swedish National Center for Seismology told Swedish news outlet SVT Nyheter.
The Nord Stream 1 pipeline sending Russian gas to Germany was impacted by two unexplained leaks, Danish and Swedish authorities said on Tuesday, following news on Monday that a separate leak in the Nord Stream 2 pipeline had occurred.
Two blasts were detected underwater "which were without a doubt due to an explosion or a detonation" near the Nord Stream 1 and 2 gas pipeline leaks, Lund said on Tuesday.
According Lund, one of the blasts was so powerful it could be detected in 30 observatory stations in the south of Sweden. "There is no doubt it was an explosion. We even had a station here in Gnosjö that recorded it," said Lund.
A "massive emission of energy" with a magnitude of 1.9 was recorded Sunday to Monday night at 2:03 a.m. southeast of the Danish island of Bornholm. This was followed by another explosion with a magnitude of 2.3 at 19:04. The Swedish institute of seismology has sent the information on to the Swedish Defence Ministry.
Authorities have banned naval and air traffic from the area near the leakages due to safety concerns, TV2 news reported. If a ship sails near an area with gas, it can lose buoyancy. Similarly, high concentrations of gas can ignite if there are sparks nearby.
Gas prices shoot up
Following the discovery of leaks in the Nord Stream pipelines, gas prices jumped to 9.87% on Tuesday. The leaks have further raised uncertainty over the future of Russian supplies. Gas prices had recently fallen to their lowest levels since July.
Danish authorities said on Tuesday that they had discovered leakages in the Nord Stream 1 pipeline near the Danish island Bornholm in the Baltic Sea. Huge amounts of gas are pouring out into the ocean.
"We are concerned over what is happening out there. And if anything else will happen," the director of the Ministry of Danish Energy stated.
On Monday, news broke that the Nord Stream 2 pipeline also had a leak. German authorities confirmed that they detected a loss of pressure in the Nord Stream 1 pipeline.
Neither pipeline is operational. Russian gas giant Gazprom has closed Nord Stream 1 pipeline, while Nord Stream 2 was never in use.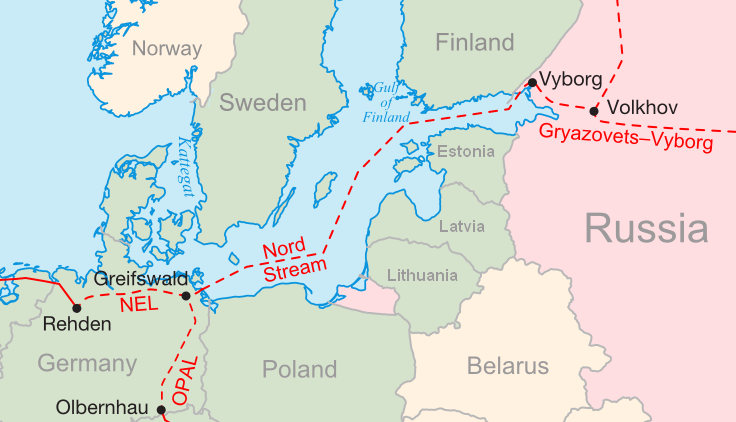 Sweden's Defence Minister Peter Hultqvist called on his Danish counterparts for a crisis meeting. The cause for the leakages is still unclear.
Russia benefits
Experts doubt the damages to the pipelines are coincidental: "It is in Russia's interest to be able to claim that they're unable to deliver gas to Europe," professor of war studies Magnus Christiansson told Swedish newspaper Göteborgs Posten. "Especially if it was a case of force majeure in which you can claim it is an accident."
There is still no official explanation for the leaks in Nordstream 1 and 2 pipelines. Russia continues to deny any involvement. Christiansson assumes that they will instead "claim that what is happening is down to Russophobia."
Kremlin spokesperson Dmitriy Peskov stated that it was too early to draw any conclusions on the leaks but that the Kremlin won't rule out sabotage, Reuters reported.