Inflation in Belgium has risen to 11.27% in September after nearing 10% last month, reaching its highest level in almost five decades, but what does this mean on a daily basis?
As a result of interrelated economic and geopolitical factors, the annual increase in average consumer prices reached the highest level since August 1975, when inflation stood at 11.42%. At the time, Belgium, like the rest of the world, was struggling with an oil shock.
"Life in the last month was 11.3% more expensive than in September 2021. A normal, desirable inflation rate is (just under) 2%. So in one year, life became more expensive at the same rate that you would normally expect to see in almost six years," Employment Economics Professor Stijn Baert explained on Twitter.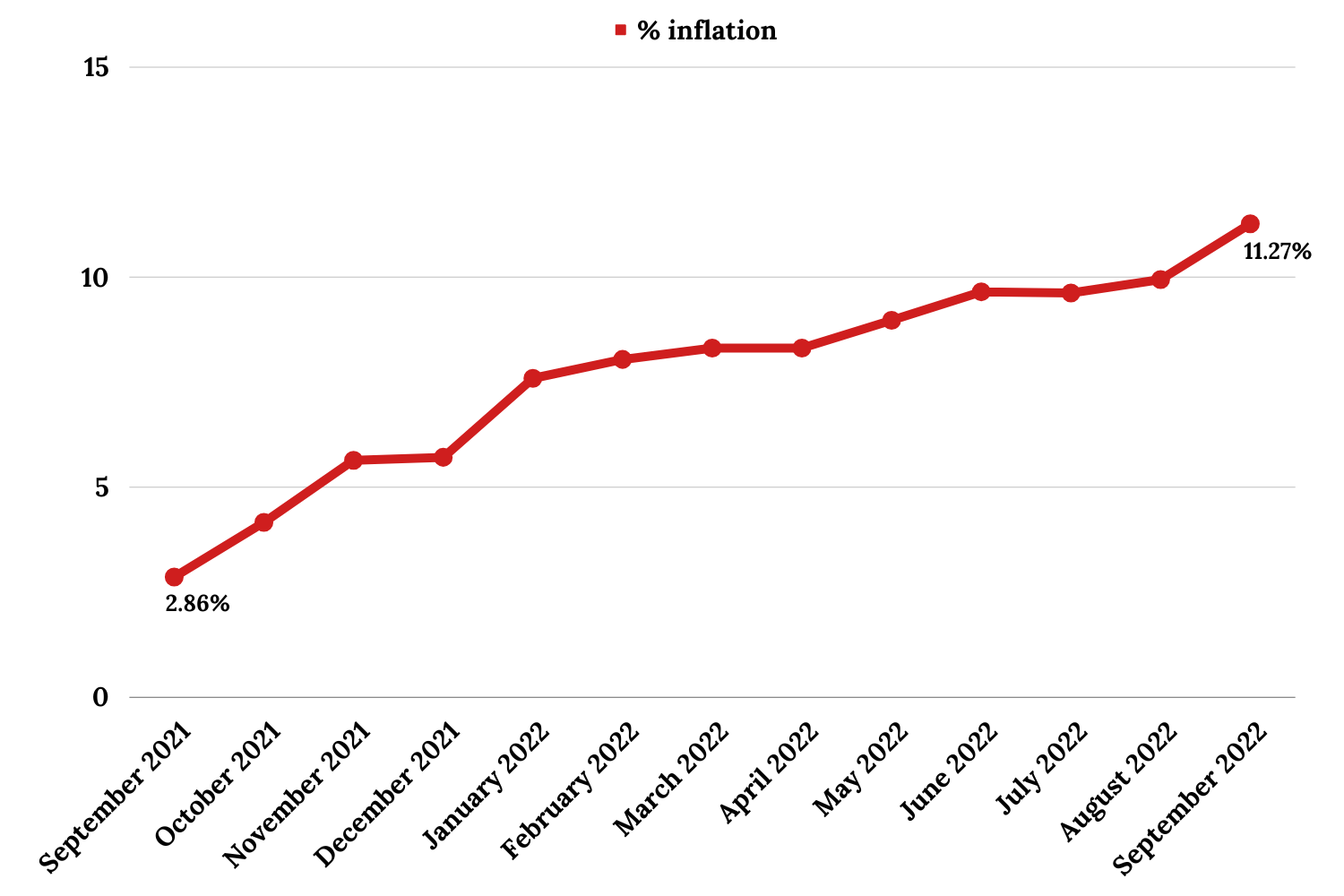 "Overall, the inflation figures confirm what many already felt: life is very much more expensive than a year ago, and when it comes to energy prices, it is about to explode," he said.
Trickle-down effect
As was the case in the last few months, the skyrocketing inflation is largely due to high energy prices (energy inflation currently stands at 60.54%, compared to 49.81% last month).
Electricity is now 81.3% more expensive than a year ago, while natural gas costs 130.6% more. "Essentially, this means that if consumers had paid €100 last September to buy a certain amount of natural gas, they had to pay €234.9 in September 2022," IESEG School of Management's economist Eric Dor explained.
Related News
As energy is an input for almost all economic activities, an increase in energy prices implies an increase in the costs incurred by all the sectors, which in turn results in the affected sectors trying to preserve their profit margins by increasing the prices at which they sell their products.
Dor explained this is how an initial increase in energy prices progressively implied an increase in food prices, resulting in food inflation rising sharply in recent months (to 10.40% in September).
Silver lining?
One relative light in the darkness, according to Baert, is the health index, which is used among other things to calculate the indexation of wages, social benefits and rents, and currently sits at 11.2%, meaning people's wages rising at almost the same level in the short or medium term.
However, Dor stressed that the automatic indexation of wages based on consumer prices triggers an automatic increase in wages and thus an increase in the labour cost of companies, which react to this by once again increasing their prices.
Another important aspect to consider is that these inflation figures apply to an average family. "A family that spends a large part of its budget on energy, especially if it uses gas and falls outside the social tariff, may have seen life become a lot more expensive than 11.3%,"
The inflation rate also massively impacts the worth of people's savings, as Tom Simonts, Senior Financial Economist at KBC, explained.
"Currently, some €300 billion are being kept on savings accounts. At this rate, €33.8 billion are evaporating on an annual basis, or €92 million a day."