If the weather allows, a partial eclipse will be visible from Belgium for almost two hours, starting around noon on Tuesday 25 October. Around 30% of the surface of the sun will be covered.
From 11:09 on the last Tuesday morning of the month, the first small "bite" will be taken from the top of the solar surface. Minute by minute, the moon will glide further in front of the sun until at 12:04 the partial eclipse reaches its maximum coverage.
The moon's orbit will then pull it away from the path of sunlight to the earth until at 13:01 the spectacle will be over. The event will be visible across Europe, as well as in South and West Asia, North and East Africa and the Atlantic.
Solar eclipses occur quite regularly – so far this century there will be 224 solar eclipses (most of them partial). But they often take place at night or when it is cloudy (as was the case in 2015 when 84% of the sun's surface was covered by the moon).
The last time a total solar eclipse was visible in Belgium was in August 1999. The next total solar eclipse that could be visible from Belgium will take place in September 2090.
Educational opportunity
As this October's eclipse will take place during school hours, a campaign has been launched to encourage teachers in Flanders to experience the phenomenon with their pupils.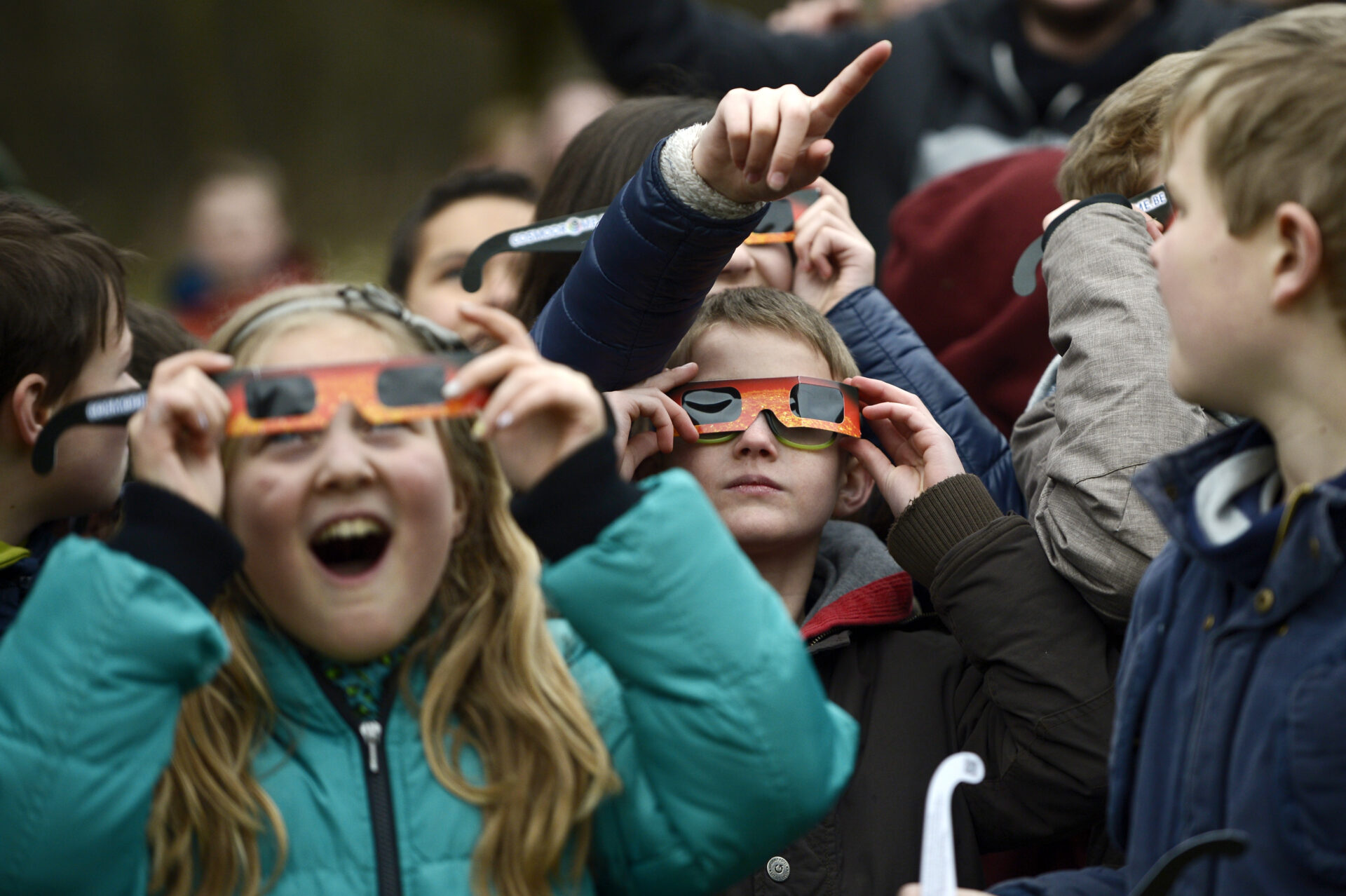 Public observatories are therefore providing the necessary teaching materials to show how the sun, earth and moon move and relate to each other.
"A fascinating natural phenomenon can make science tangible and attractive to a young audience," Education Minister Ben Weyts said.
Tips to watch it
While everyone in Belgium should be able to see the partial solar eclipse if the weather permits, it is important to take appropriate precautions when viewing it.
In other words, don't just rely on sunglasses but instead use eclipse glasses or a special solar filter, which are the only safe options to view the solar eclipse.
When buying eclipse glasses, make sure they are tested and certified according to regulations, meaning they've met standards for eye safety when looking at the sun.
Related News
Importantly, reusing glasses from 2015 (the last solar eclipse) is also discouraged as the paper and adhesive they are made of may be damaged. Exposing the retina to direct sunlight could lead to severe eye damage or even blindness.
Colour film, medical X-ray film, smoked glass or floppy disks can also not be used for this purpose. People without eclipse glasses can project the image of the solar eclipse on a piece of paper or cardboard by using a colander.