Another European Summit will take place in Brussels on Thursday 20 and Friday 21 October 2022, resulting in car traffic and public transport in the European Quarter being disrupted for two days.
Leaders of EU Member States, the President of the European Council (Charles Michel) and the President of the European Commission Ursula von der Leyen will be gathering in ten days in Brussels to discuss the most pressing issues facing the bloc at the European Council near the Schuman roundabout.
A security perimeter (of which a detailed roadmap was published on the City of Brussels' website) will be set up, which will see some streets only accessible to local traffic, while others will be completely shut off.
"As during the previous summits, the mayor and police of Brussels will minimise disruptions in your neighbourhood whilst guaranteeing the security of Heads of State, citizens and goods," a statement on its website read.
What areas will be affected?
The security zone will include the entire Schuman roundabout, Rue Froissart from number 101 to 143 and Rue de la Loi between the Schuman roundabout and the Résidence Palace, the police reported (as shown coloured red in the map above).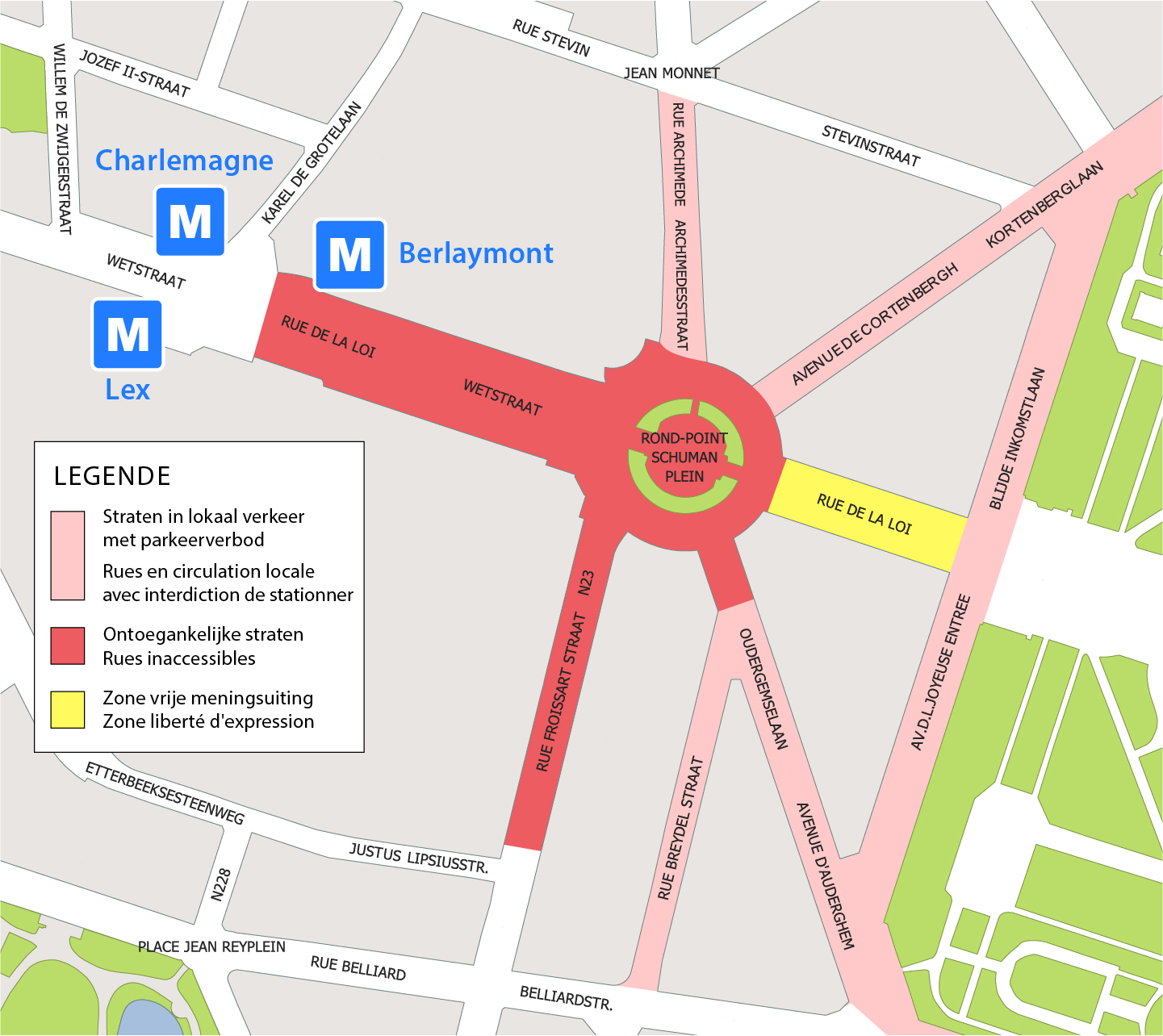 Traffic and parking are strictly prohibited in the safety zone on the above dates and places for all types of vehicles (not just for cars, but also for motorcycles, bicycles, and scooters). Only authorised people can enter on foot.
Only local inhabitants accredited by the police will be able to access the zone with a vehicle (access only through avenue d'Auderghem), and they will need a pass for this, as well as people working in the area. This pass can be obtained online on the police zone's website.
Deliveries will not be possible here throughout the two days, while garbage bags, bicycles and terraces are not allowed within the safety zone, the police stated. "For security reasons, all windows of the buildings must be closed."
Related News
Meanwhile, certain streets (pink on the map) will only be accessible to local traffic, while above ground, there will be a parking ban. These include parts of rue Archimède, avenue de Cortenberg, rue de la Loi, avenue d'Auderghem and rue Breydel.
De Lijn and STIB buses that usually pass through this perimeter will be diverted, while a series of entrances for the Schuman metro/train station will be closed off.
As was the case during the first meeting of the European Political Community (EPC) last week, various issues are high up on the EU's agenda at the moment, including Russia's war in Ukraine, energy (and the introduction of a cap on the price of gas) and the economic crisis.