With only 8.8 public charging points per 100 kilometres, Belgium is underperforming in a European comparison by automobile federation ACEA. The Netherlands is the European leader at 64.3 charging points per 100 kilometres, nearly eight times more than Belgium.
The figure for Belgium is especially low considering it is such a densely populated country with a lot of car traffic.
"If we want to convince citizens across Europe to switch to electric cars, charging should be as easy as refuelling is now," said ACEA director Sigrid de Vries.
The Netherlands takes the lead
Except for France, where 70% of the country consists of rural villages, all Belgium's neighbouring countries score better.
"It is again the story of the chicken and the egg," said Filip Rylant of the mobility federation Traxio regarding Belgium running behind its neighbours. "The government hesitated for a long time to invest in charging infrastructure because there were too few electric cars driving around, and the consumer hesitates as long as there are too few charging points."
"When the first charging stations appeared on the streets in 2010, the Netherlands was a forerunner," explained Rico Luman, senior economist at ING in Amsterdam. "Today, you can find one in three of Europe's more than 325,000 charging points on Dutch soil."
Luman also explained that there are "hefty tax incentives" for those who bought electric cars, pushing the Netherlands towards the 100% electric car while "the focus in Belgium was first on plug-in hybrids."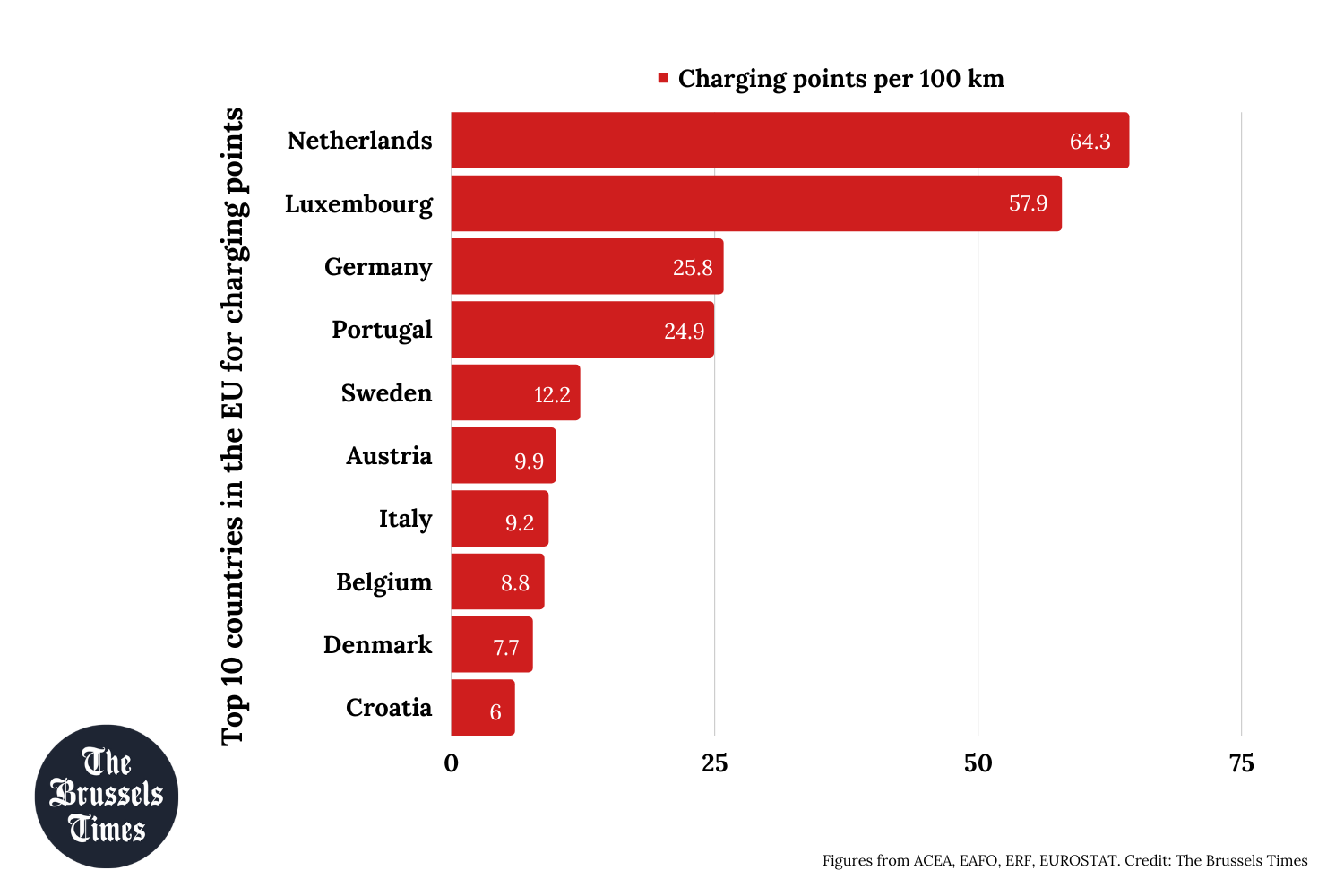 According to international studies, one charging point for every 10 electric cars is a minimum, reported Het Nieuwsblad. "When you know that by 2030 there will be over one million electric cars driving around in Belgium, it will be quite a job to get those more than 100,000 public charging points licensed and installed in time," feared Filip Rylant.
Related News
Especially knowing that, according to the EU's European Alternative Fuels Observatory (EAFO), today Belgium has just under 18,000 public charging points. "Flanders is catching up considerably and plans another 30,000 charging points, but in Brussels and especially Wallonia there is less urgency."
Manufacturers ready to roll out charging points
At ChargeUp Europe, the umbrella of companies installing charging infrastructure, secretary general Lucie Mattera affirmed that the industry is "ready to roll out charging infrastructure as fast as manufacturers can bring electric vehicles to market."
Mattera pointed out that "ACEA's figures only refer to public charging points, while more than 85% of all charging is done at home or at work."
Which is the truth, Rylant said, "but as more electric cars are driven, public charging points are becoming increasingly crucial: not everyone has the option of installing a charging point at home."