Belgium isn't known for its mountains and even less as a ski destination. Nevertheless, it has a long history of skiing and winter sports.
The Ardennes region, also popular for summer holidays, is home to several lesser-known ski resorts. With global warming affecting the way we travel and Belgians rediscovering the joys of their homeland during the pandemic, might skiing in the Ardennes become more common?
Belgian ski resorts offer both alpine and cross-country skiing options for fans of winter sports. Despite the fact that the highest point in Belgium, the Signal de Botrange, is just 694 metres above sea level, temperatures in the Ardennes stay below freezing during the winter period and snowfall typically covers the high plateau for over a month each year.
Is skiing in Belgium any good?
Admittedly, skiing in the Ardennes is completely different to the high mountains. With package deals offering destinations in the Alps, the Pyrenees and other mountain ranges, low-altitude Belgian ski resorts aren't in the same league. All the same, climate change has seen snow melt in several world-renowned ski stations recede and could change the way we do winter sports.
Ski seasons in classic hotspots are becoming shorter and less sustainable. Patrick Arnaud, manager of the Serre Chevalier area, warns that skiing in some parts of France will only be sustainable until 2050. Snowlines are receding and rise an average of 150 metres with each 1°c of warming. This sees more rain, which melts whatever snow has settled.
Lander Van Tricht, geographer and researcher at the Free University of Brussels (VUB), says that the Ardennes could prove a more affordable and sustainable alternative to traditional destinations, but with several caveats.
"At the highest locations of the Ardennes, it snows on average 40 days a year – quite a high number. But for sustainable skiing, a snow cover of about 30 cm is required. This limit is not often reached in the Ardennes.
However, snowfall can be supplemented with snow cannons, though the region has yet to make investments on this front.
Challenges and opportunities
The Ardennes will also receive less snowfall in the coming years. Yet with consumers growing more conscious of the impact of their travel and airfares currently rising there is still potential for the Belgian market to develop, given the right investment. Nevertheless, unpredictable snow in the Ardennes is more likely to attract last-minute, sporadic tourism.
"Skiing near home will not be possible every winter. Day tourists who decide at the last minute might go to the Ardennes when there is snow. But most tourists want to book their holiday in advance and choose bigger ski resorts with higher elevations and where artificial snow-making is highly advanced," Van Tricht states.
But the VUB researcher believes there might still be hope for skiing in Belgium, in particular for those looking to enjoy the sport without making a large financial and time commitment.
Where can I ski in Belgium?
Baraque de Fraiture
Also known simply as La Station, Baraque de Fraiture is an outdoor sporting centre known for its nature walks, BMX circuit, Luge, and most importantly, Alpine skiing. The resort is at one of the highest points in Belgium, with the highest point, the Plateau des Tailles, at 651 metres above sea level.
Fitted with three modern ski lifts, La Station offers skiers three runs of up to 1km in length. The ski resort also offers the opportunity for night skiing. There are also various cross-country trails, up to 21 kilometres in length. Equipment can be rented for €14 and a one-day pass for the lifts costs €14.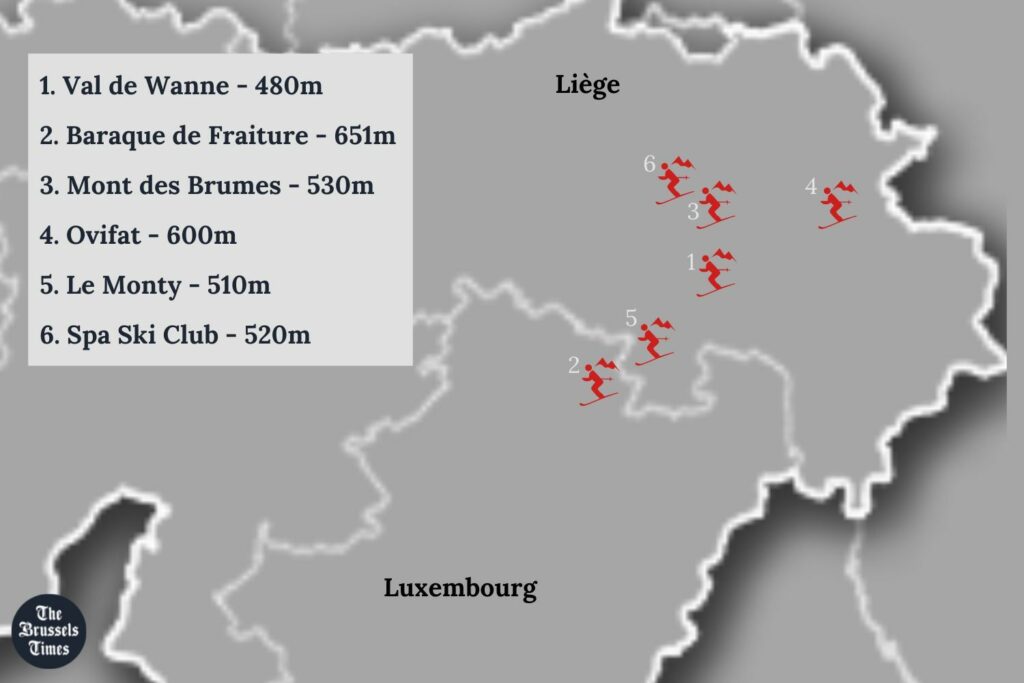 The resort is typically open for 20 days each year but has been known to be open for as long as two months in a particularly snowy season. Snowfall can vary wildly. According to Skiinfo.fr, in 2012-2013, 46 centimetres of natural snow fell throughout the ski season. Last year, there was almost none.
When (if) snow begins to fall in the Ardennes, consult Baraque de Fraiture's website for the latest information about the availability of runs.
Mont des Brumes
Located between the villages of Francorchamps and La Gleize, Mont des Brumes offers slopes for intermediate and beginner skiers. At 530 metres above sea level, it is not the highest resort but does have one of the longest runs in Belgium.
There are three ski lifts and two different runs, one steep red and one green. Snowfall is boosted with the aid of one snow cannon, which helps extend the total number of skiable days. Snowboarding is not permitted.
When snow cover is good, Mont des Brumes offers skiing from 10:00 to 17:00 on weekdays, and 09:00 to 17:00 on weekends. The resort has its own chalet-refuge which serves hot drinks and snacks.
A one-day pass costs just €15 and full equipment rental is €12. Ski lessons are also available on request and the site has free parking. The site typically opens for skiers at the start of January. Last year, there was a base of 20 cm of natural snow cover.
Ovifat
Located in the municipality of Waimes in the province of Liège, Ovifat is one of the largest ski areas in Belgium, featuring four ski lifts, three alpine ski slopes, and a toboggan run. Locals have skied on this hill since the 1930s, strapping planed ash planks onto their boots with leather straps.
The club was founded in 1952 and has attracted thousands of Belgians each year ever since. There is one 600-metre-long blue run, a green trail, and a challenging red track with a gradient of up to 80%. Snowboarding and monoskis are banned from the slopes.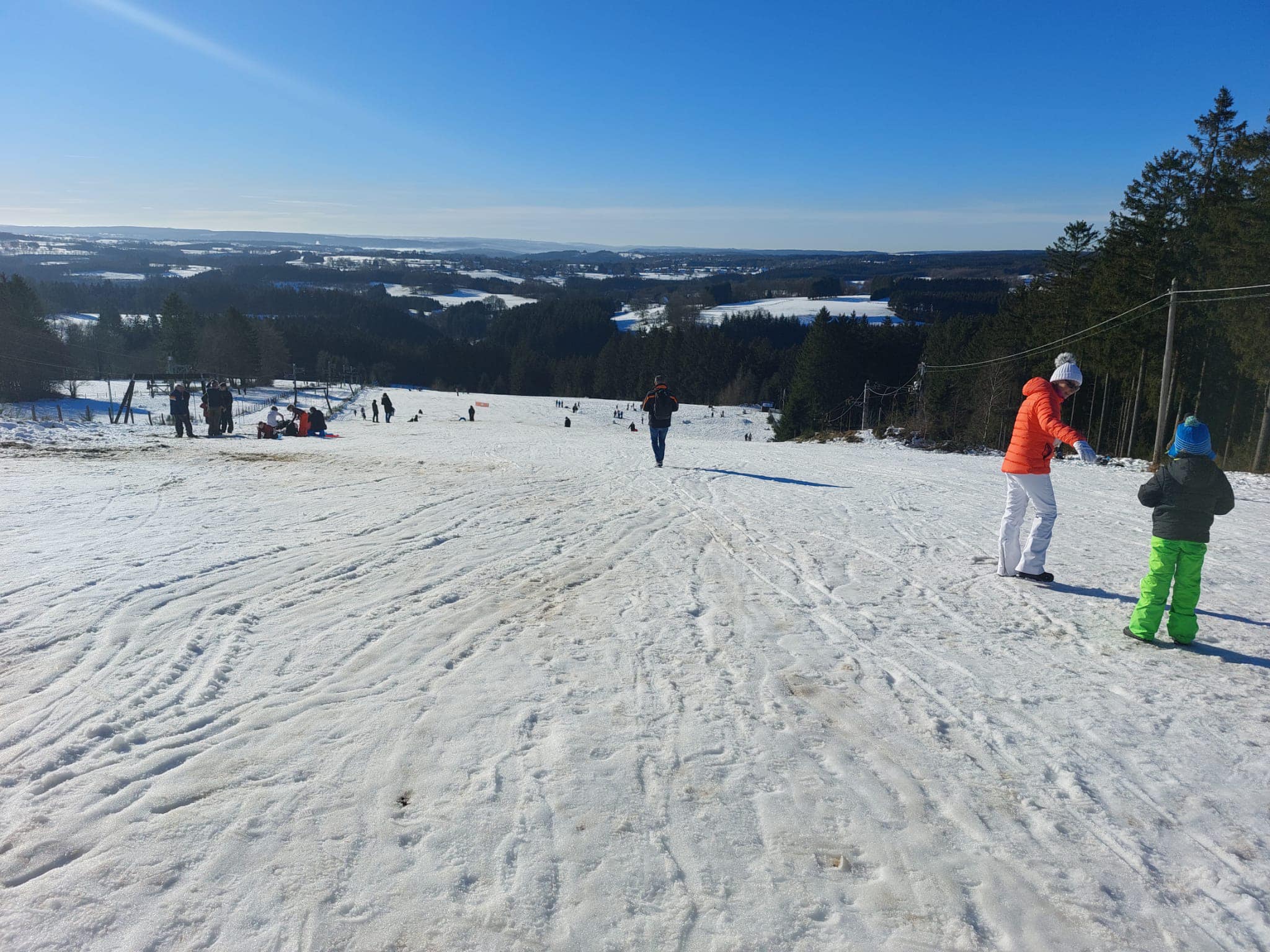 At the top of the slopes, Ovifat has its own brasserie and restaurant, Barra'Ski, which is perfect for apres-ski and bookings.
A one-day lift pass costs €25 and €20 for children and members. Ski lessons with certified instructors are available for €30 per hour and can be booked on the ski resorts' website.
Related News
While snowfall has been relatively light in recent years, the resort owns several snow cannons which provide a good winter base for skiers. Consult Ovifat's Facebook page for the latest update on ski conditions.
Val de Wanne
Open since the 1970s, Val de Wanne in the Belgian Ardennes features a 1-kilometre-long track at 480 metres altitude. While featuring just two tracks, one green and one blue, the resort also has two working lifts and a year-round brasserie and leisure centre. There are also two cross-country ski routes, 3 and 8 kilometres long.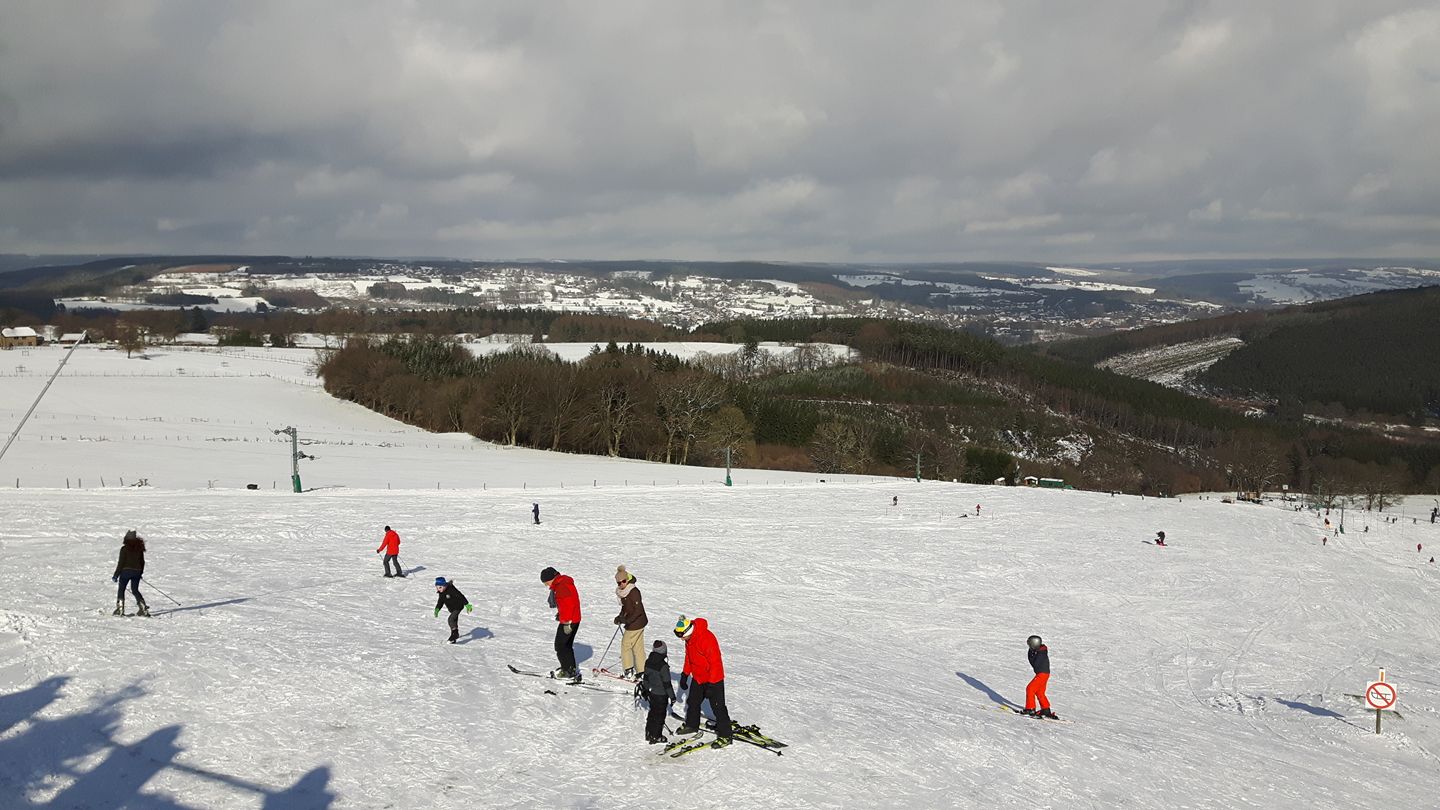 After a period of economic decline, the resort was purchased by a new owner, Henk Bleijenberg, in 2012 and works were undertaken to modernise the resort. Snowfall is boosted with the help of a snow cannon.
A day pass costs €14 and equipment can be rented. Halfway up the slopes is a restaurant, Chalet Loci, which offers locally sourced foods and beverages.