The British Film Institute (BFI) has published the highly anticipated results of its international poll of film critics. Carried out once each decade and revealed in its magazine Sight and Sound, Belgian filmmaker Chantal Akerman has become the first female director to top the list.
Akerman's film "Jeanne Dielman, 23, Quai du Commerce, 1080 Bruxelles" was named the best ever made by the Sight and Sound magazine on Thursday evening. This marks the first time in the poll's 70-year history that a film by a female filmmaker takes the top spot.
"Jeanne Dielman challenged the status quo when it was released in 1975 and continues to do so today. It's a landmark feminist film and its position at the top of the list is emblematic of better representation in the top 100 for women filmmakers," said Mike Williams, editor of Sight and Sound Magazine.
He added that the film's success "reminds us that there is a world of under-seen and under-appreciated gems" out there to be discovered. "The importance of repertory cinemas and home entertainment distributors cannot be overestimated in their continued spotlighting of films that demand to be seen."
Overload of achievements
Ten years ago, Akerman's film was in 36th place; it stands out as it was written and directed by the Belgian when she was just 25.
Following its release, the film was heralded by Le Monde as "the first masterpiece of the feminine in the history of the cinema." The experimental film follows the meticulous daily routine of a middle-aged widow (played by Delphine Seyrig) over the course of three days. It has since provoked analysis and debate by fanatics across the world.
It has also been an incredibly influential piece of filmmaking that is included in most film study curriculums at universities, one which scholars and critics have endlessly talked about it and that continues to inspire audiences and filmmakers.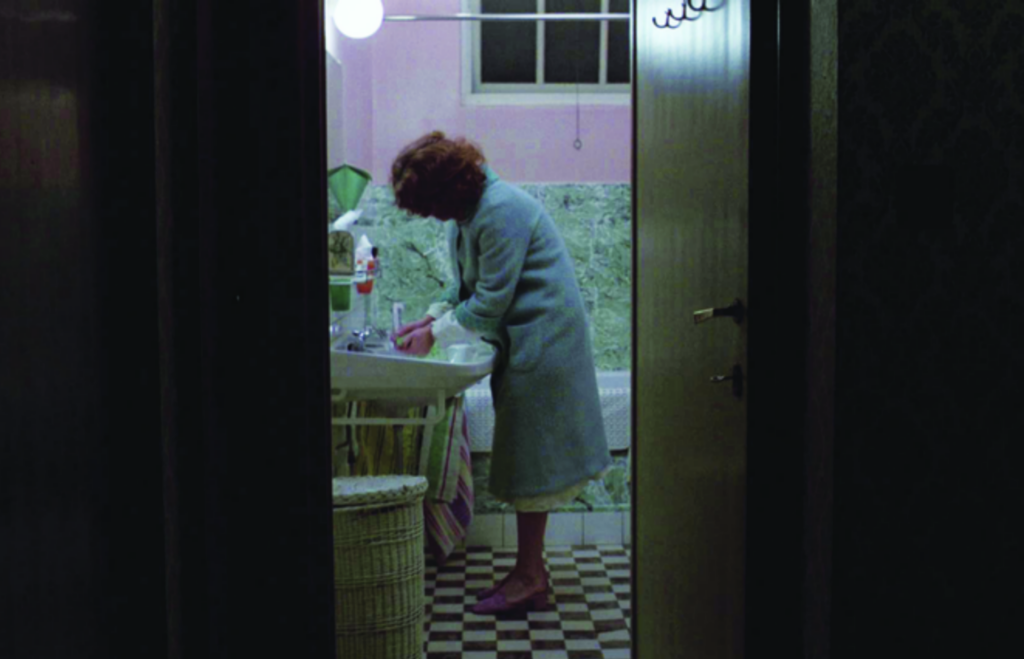 Despite this success, Akerman reportedly believed that the film had hampered her artistic career, British filmmaker Joanna Hogg said. "Having made the film when she was only 25 and it being hailed as such a masterpiece (just like Orson Welles and Citizen Kane), it was hard for her to live with that success in later years."
However, Akerman remained relevant throughout her career and continued to explore the interior lives of women. Even after her death in 2015, her work continues to be screened, especially in Brussels, her hometown.
"In a way, this film winning represents not only the importance of Jeanne Dielman but the importance of Akerman as a filmmaker. Her influence is irrefutable and it's just wonderful that the film has won this poll," Hogg concluded.
'Highly anticipated'
The list is published once a decade and is highly anticipated by film lovers and the industry alike. Films that previously topped the list have now made place for the Belgian classic: Alfred Hitchcock's "Vertigo" (1959) dropped to number two while Orson Welles's "Citizen Kane" (1941) (which had held the top spot for 50 years before that) is now number three.
According to the BFI, the list is the most ambitious to date, with more than 1,600 of the most influential international film critics, academics, distributors, writers, curators, archivists and programmers voting, almost double the number of participants in 2012. It incorporates the top 10 lists of over 1,600 participants.
The voters are asked to interpret 'Greatest' as they choose, either to reflect the film's importance in cinematic history, its aesthetic achievement, or perhaps its personal impact on their own lives and their view of cinema.
Related News
"As well as being a compelling list, one of the most important elements is that it shakes a fist at the established order," Jason Wood, BFI Executive Director of Public Programmes & Audiences said.
"Canons should be challenged and interrogated and as part of the BFI's remit to not only revisit film history but to also reframe it, it's so satisfying to see a list that feels quite radical in its sense of diversity and inclusion."
The Critics' top 20 Greatest Films of All Time are listed below:
1 Jeanne Dielman, 23, quai du Commerce, 1080 Bruxelles (Chantal Akerman, 1975)
2 Vertigo (Alfred Hitchcock, 1958)
3 Citizen Kane (Orson Welles, 1941)
4 Tokyo Story (Ozu Yasujiro, 1953)
5 In the Mood for Love (Wong Kar-wai, 2001)
6 2001: A Space Odyssey (Stanley Kubrick, 1968)
7 Beau travail (Claire Denis, 1998)
8 Mulholland Dr. (David Lynch, 2001)
9 Man with a Movie Camera (Dziga Vertov,1929)
10 Singin' in the Rain (Stanley Donen & Gene Kelly, 1951)
11 Sunrise: A Song of Two Humans (F.W. Murnau, 1927)
12 The Godfather (Francis Ford Coppola, 1972)
13 La Règle du jeu (Jean Renoir, 1939)
14 Cléo from 5 to 7 (Agnès Varda, 1962)
15 The Searchers (John Ford, 1956)
16 Meshes of the Afternoon (Maya Deren & Alexander Hammid, 1943)
17 Close-Up (Abbas Kiarostami, 1989)
18 Persona (Ingmar Bergman, 1966)
19 Apocalypse Now (Francis Ford Coppola, 1979)
20 Seven Samurai (Akira Kurosawa, 1954)