Bicycle theft continues to pose a major obstacle to Belgium's aim to get people to switch from fossil-fuelled vehicles to two-wheelers. A central register could be part of the solution.
In Belgium, some 38,000 bicycles are stolen every year, or over 100 bikes a day according to police figures. Moreover, around 65% of bicycle thefts are not reported, meaning the actual number is probably much higher. Whilst anti-theft measures have historically been fragmented, the various authorities in Belgium are now joining forces.
"Bicycle theft is a real scourge that does not stop at the borders of a city or a region. It can really put off people who want to cycle," said Georges Gilkinet, Federal Minister for Mobility, in a statement on Thursday. "It was, therefore, necessary to take action together at different policy levels."
Putting his words into action, Gilkinet brought the various regional administrations together to create MyBike, a free central bicycle register on which owners can log the details of their bicycle and file a report, as well as check whether a second-hand bicycle has been reported as stolen.
"This will give bicycle owners and also the police and justice system the tools to tackle bicycle theft more efficiently. It may not seem like much but it is an important step forward for day-to-day bicycle use."
Brussels-based ideas
The idea for a national bicycle register, which has been agreed upon after two years of negotiations, is based on the Brussels system "MyBike.Brussels". This was launched in 2019 and works with a QR code on a sticker that cannot be removed and unique number, allowing everyone to easily check if a bicycle has been reported stolen, and possibly contact the rightful owner.
The federal system will also rely on this principle. When buying a second-hand bicycle, the potential buyer can scan the code on the bicycle and check whether it has been reported stolen.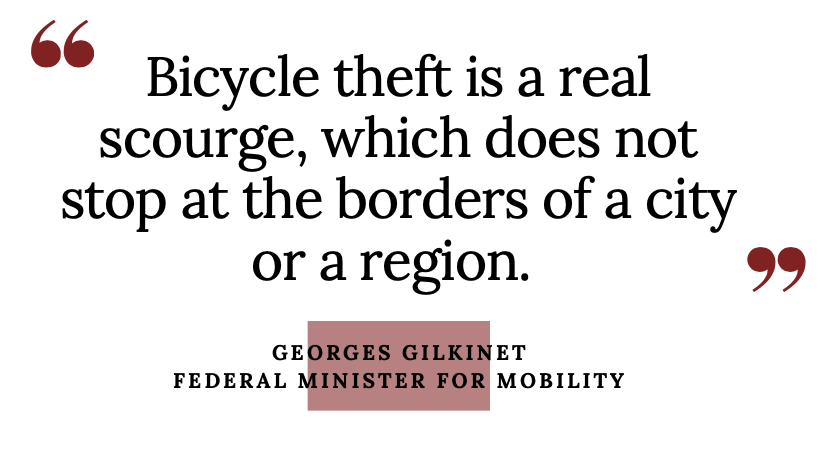 More than 37,000 bicycles have already been registered on MyBike.Brussels and more and more are being recovered. "The system has proven its efficiency. We are therefore very pleased that this best practice is now being extended to the whole country," Brussels State Secretary Barbara Trachte said.
The database is already under way and the Federal Government and the regions will soon start developing the user portal. A system is also being developed to "seamlessly integrate" current Brussels users into the new national system.
Related News
It is also hoped the new tool will help stop the vicious circle created by underreporting of thefts: the less available data, the more difficult it is to investigate certain practices.
"With this efficient system that can be applied everywhere in a similar way and encourages victims or witnesses to make a report, we can do everything to take more action against theft. Because they know that it provides police with opportunities to deal with it quickly and decisively," said Vincent Van Quickenborne, Federal Minister for Justice.